And then there were eight! Paralympic veteran and team flag bearer Zanele Situ threw an eighth Team South Africa medal into the kitty at the Rio Paralympics on Tuesday evening.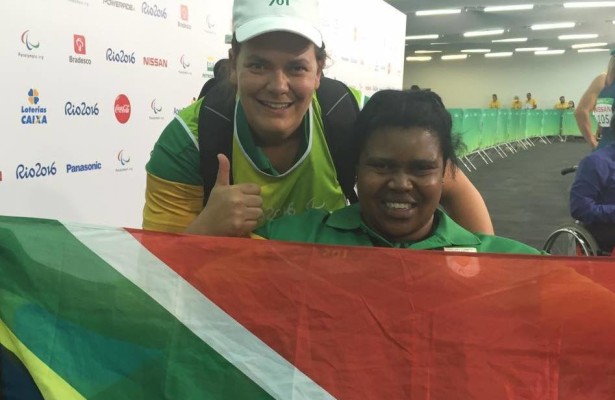 Situ, 45, who is now experiencing her fifth Paralympics, having already medalled in Sydney (2000) and Athens four years later, took bronze in the F54 javelin final.
The bronze came with her third throw of the night.
And making the moment even sweeter for Stellenbosch's Situ was the fact that it was a personal best of 17.90m. Kudos to coach Karin le Roux (pictured with Situ above) who had said in the run-in to these Games that Situ was showing close to her best form while tuning up at a few European meetings.
It was an African 1-2-3 in her event as Nigeria's Flora Ugwuna took gold in a world record 20.25m, while Tunisia's Hania Aidi also had a personal best with an 18.88m effort.
'Wow, I didn't really expect this,' said a slightly shell-shocked Situ, who originally came from KwaZulu-Natal.
'In this event you never know exactly where you stand with the different classes etc. Also there were quite a few new girls throwing.
'I know the regulars but every Games you get new girls and you don't know what they are capable of. When the Nigerian girl threw over 20m, I thought that was me out of contention but I just did my best to get a good throw early on otherwise if you leave it too late then the pressure gets to you and you make mistakes!'
– See more at: http://www.sascoc.co.za/2016/09/14/situ-flies-the-flag-for-team-sa-again-as-she-brings-home-javelin-bronze/
Other Paralympic News: 4 Paralympians Ran the 1500m Race Faster than Rio Olympics Final!
Four visually disabled athletes in the 1500m event at Maracanã Stadium in Rio de Janeiro finished the race in a faster time on Sunday than the winner of the same race at the same stadium during the Olympics in August!
The four Paralympic runners – including two brothers from Algeria – ran the distance in less than the 3 minutes and 50 seconds which earned US athlete Matthew Centrowitz Jr the Olympic gold medal.