President Jacob Zuma – along with other South African politicians, celebrities and music fans – has extended his condolences today on the sad passing of Kwaito music legend Mduduzi Tshabalala, popularly known as Mandoza.
Mandoza passed away today, at the age of 38, after a long battle with cancer which had reportedly spread to his brain and caused him to completely lose his sight.
The brain tumour was apparently diagnosed two weeks ago, but Mandoza refused to let down his fans and went ahead with a performance for the SABC Thank You Concert last Saturday night (10 September 2016) at Orlando Stadium in Soweto, where he thanked them for their prayers. It was to be his final appearance on stage. (Watch video below.)
Mandoza – who grew up in Soweto and began his career in the group Chiskop – passed away at midday today, after falling ill last night, according to his family.
Shocked and devastated fans took to Twitter this afternoon to say "thank you for the music" to the musician who wrote and performed one of the country's most beloved songs – 'Nkalakatha'.
Today President Zuma said: "South Africa has lost one of its pioneers whose music appealed to a cross section of our people, young and old and was known to have achieved the unique crossover culturally to be enjoyed by both black and white South Africans.
"It is a great loss to the nation and we wish to extend our deepest condolences to his wife Mpho, his family and hordes of fans. Mandoza will be sorely missed. May his soul rest in peace."
The Department of Arts and Culture issued a statement saying "a baobab tree has fallen" and commending Mandoza for his "nation building" songs like 'Respect Life'. (See full statement below.)
Arts & Culture Statement on Passing of Mduduzi 'Mandoza' Tshabalala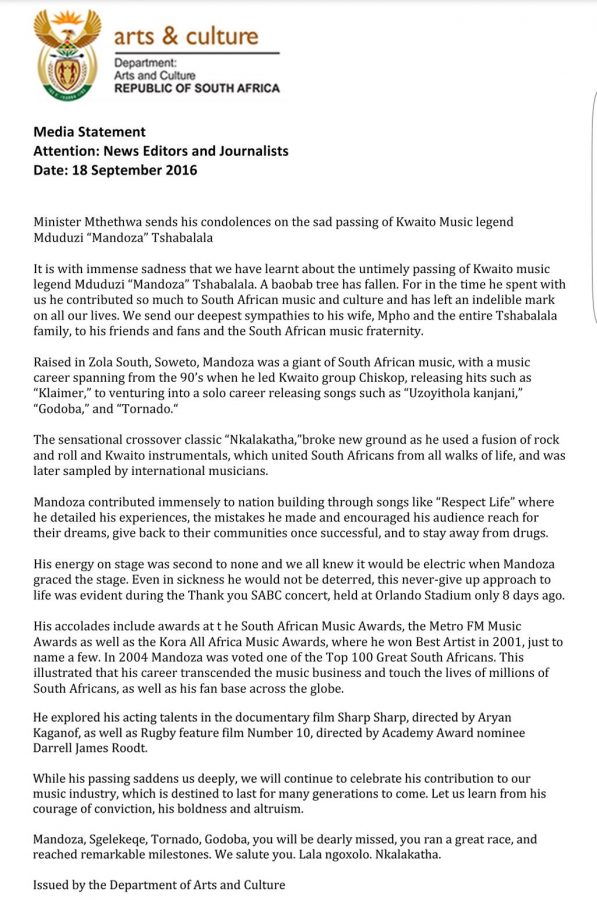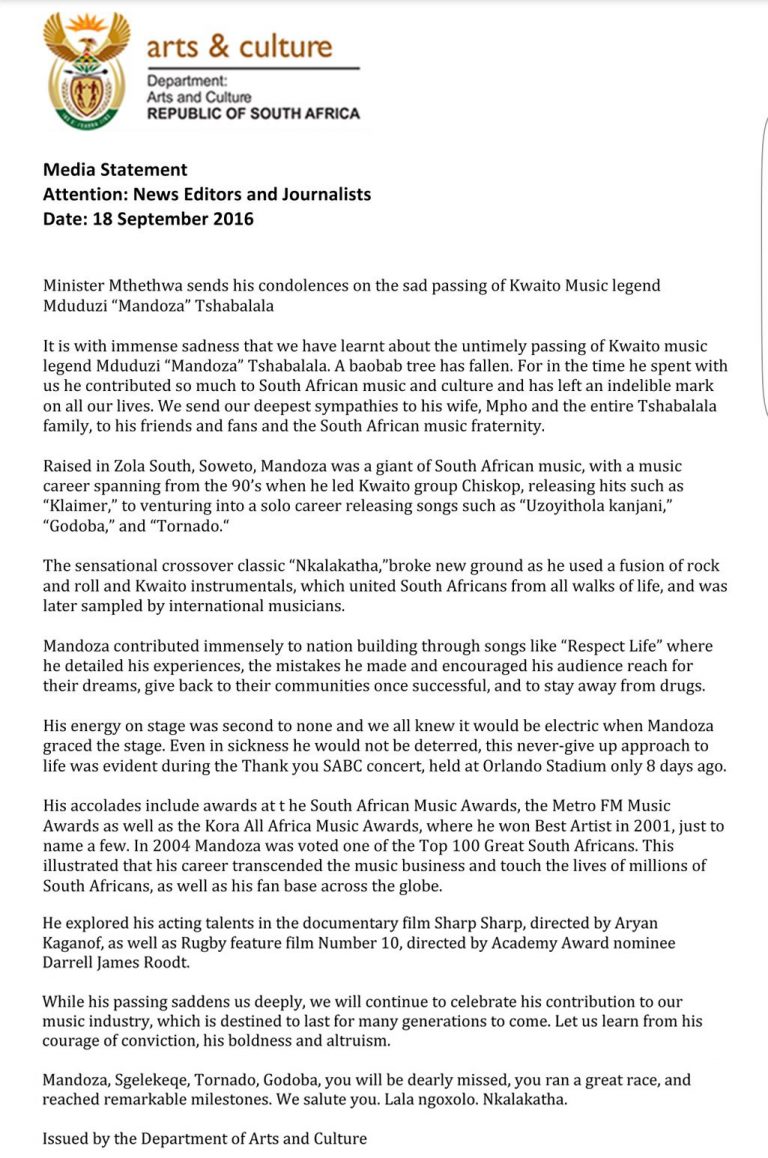 On Twitter:
@Allan_Tshuma: "some say "when a King dies, it rains' It rained today and #Nkalakatha left us. RIP #Mandoza Godoba"
ANCJoburgRegion: "You will be missed Nkalakatha #RIPMandoza"
Amith Gosai: "#RIPMandoza the man who made all races break it down to kwaito."
Too many memories going through my mind tonight #RIPMandoza ? pic.twitter.com/0SDOU6O16H

— Danny K (@dannykmusic) September 18, 2016
Winning the SAMA for #SameDifference! What a night #RIPMandoza ? pic.twitter.com/YpyjwZVV4w

— Danny K (@dannykmusic) September 18, 2016
My heart is sore. #RIPMandoza #LegendsDontDie pic.twitter.com/xcCGMlpx0P

— ThatDauntlessKay (@Kele_Smoochez) September 18, 2016
Watch Video: Mandoza thanks SA for prayers at SABC Thank You Concert last weekend
Watch Video: Mandoza's greatest hits at the SABC Thank You Concert last weekend
Watch Video: Mandoza: Nkalakatha (Live)
Top S'gelekeqe Mandoza in action, performing his hit song from one of the best produced Kwaito albums of all time…