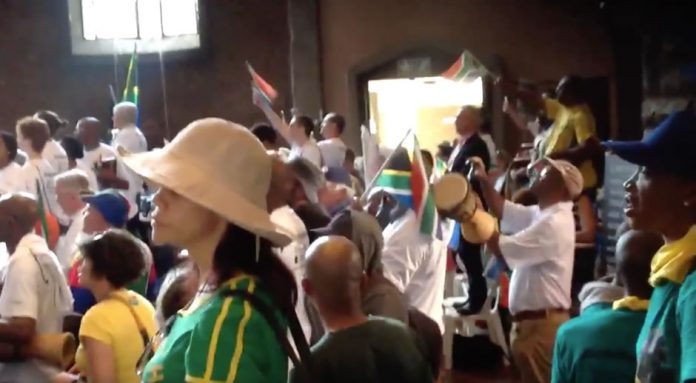 PRETORIA – Tshwane has closed down for the potentially historical marches today to save South Africa, with music in the air and a heavy police presence on the ground.
The Save South Africa campaign kicked off with a beautiful rendition of the country's national anthem in church…
#SaveSouthAfrica officially starts with the national anthem #StateCapture pic.twitter.com/V7LeDvIa7P

— 702 (@Radio702) November 2, 2016
MH: We will overturn #StateCapture by honest means #SaveSouthAfrica. We will defend everyone who stands up against it. And we will win! pic.twitter.com/9pBqS0DpUR

— SECTION27 (@SECTION27news) November 2, 2016
It included a gathering of several business and political heavyweights such as leaders of COPE, SACP and UDM.
RT @Hlengi: Singing of the national anthem #SaveSouthAfrica . @MasekoThembaJ in white, next to him Sipho Pityana pic.twitter.com/jNnrZyImJC

— City Press Online (@City_Press) November 2, 2016
Religious leaders addressing the #PeoplesAssembly #SaveSouthAfrica pic.twitter.com/Ppt5Kd9dyg

— Yusuf Abramjee (@Abramjee) November 2, 2016
Church Square is alive with the colour of red as the Economic Freedom Fighters (EFF) sing and chant songs which include the words Zuma thupa ya tla (Zuma you're going to get a beating) and that university fees must be free.
One of the songs at #Effmarch says: we will study for free, no matter what, we will study for free #sabcnews #savesouthafrica pic.twitter.com/wSYHj6OHAx

— Mamaponya Motsai (@Emeliamotsai) November 2, 2016
WATCH #EFFmarch … supporters chanting songs in the PTA cbd #SABCNews #StateCapture pic.twitter.com/lhXRXL5jJ6

— Aldrin Sampear (@AldrinSampear) November 2, 2016
And Democratic Alliance (DA) leader Mmusi Maimane has addressed his supporters saying today will be a memorable day like 27 April 1994 when the first democratic national elections were held, a day he said when South Africans were united.
DA leader takes the podium | #SaveSouthAfrica #DAmarch pic.twitter.com/YGQ0CdcoR7

— DiTiro Selepe (@tiro_1632) November 2, 2016
RETWEET if you support our call to South Africans to take a stand & #ProtectOurConstitution! pic.twitter.com/4JZR9rRBVE

— Democratic Alliance (@Our_DA) November 2, 2016
It is a pity, as many have pointed out, that today is not as united as it should be – with the DA, EFF and Save SA campaigns all marching to (and in) Pretoria separately…
Why are they not marching together? #EFFMarch #DAMarch #SaveSouthAfrica pic.twitter.com/qzINhHVkTD

— Guy From The North (@SirKevxn) November 2, 2016
If #EFFmarch, #SaveSouthAfrica & #DAmarch all march together it would be very POWERFUL & INFLUENTIAL. This isn't the time to be divided ??✊

— Karabo Mokgoko (@Karabo_Mokgoko) November 2, 2016
But they are marching peacefully and on the same day, all united with one purpose to reclaim the nation, and that is a start!
"'He who builds a firepool, knows that his house will soon catch fire." – African Proverb#SaveSouthAfrica#ProtectOurConstitution

— Leandri J van Vuuren (@Lean3JvV) November 2, 2016
What a day to be alive! Democracy at its height ! #ProtectOurConstitution #StateCapture #SaveSouthAfrica

— Aavi (@aabamah) November 2, 2016
Standing up. Standing up. Standing up. Let's #SaveSouthAfrica ???? pic.twitter.com/wFjWBze6AY

— #NoToWomenAbuse (@Topsdiva) November 2, 2016