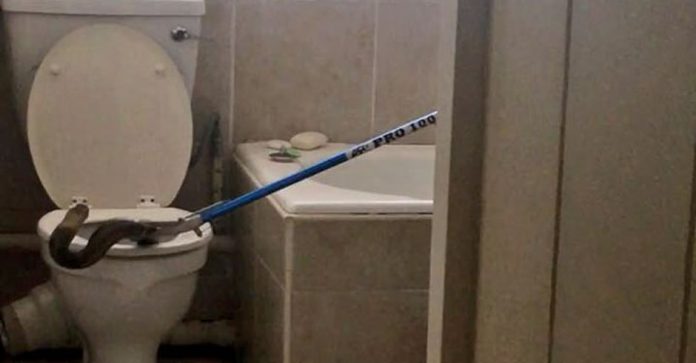 A highly venomous Snouted Cobra has been on the loose in an apartment block in Lynnwood Glen in Pretoria since Thursday. Residents were advised to keep their toilet lids and bathroom doors closed to prevent it from entering into other areas of the flats.
Snake handler Barry Greenshields, who identified the snake on Thursday, said he has never seen such a large specimen.
A video of Barry's attempt to remove the snake, from a resident's toilet, went viral in South Africa (watch below). Unfortunately the 2-metre snake's tail was wrapped around something and it was impossible to extract, allowing it to return into the sewer system.
Barry, who works at the African Snakebite Institute, told SAPeople on Saturday evening that the snake has not yet been captured. He said there have "no sightings since the video [on Thursday]… still waiting to hear something again."
Residents have been advised to enter and use their bathrooms "cautiously"!
Barry adds though that "there is a possibility it has left" the building. Phew!
People are advised to call a professional snake handler rather than trying to remove snakes themselves.
2-metre Cobra Snake on the Loose in Loos at Lynnwood Glen, Pretoria
#ToiletSnake warning received on the Whatsapp group… pic.twitter.com/tQeVmR3cqO

— Alt-Anton (@antonnies) November 24, 2016
We need the #Doom prophet, they found a snake in one of the toilets in my block of flats… #ToiletSnake pic.twitter.com/J9nxxmyIuC

— Alt-Anton (@antonnies) November 24, 2016