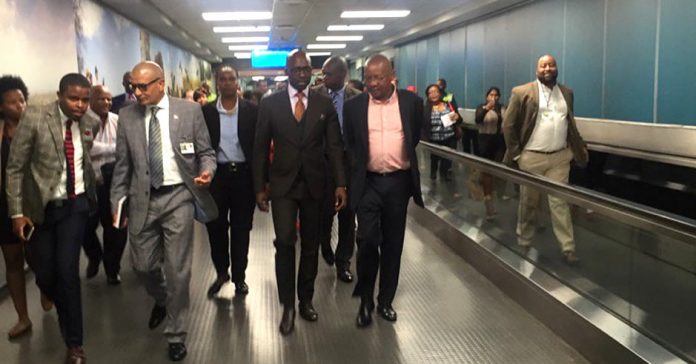 PRETORIA – As of today, 100% of the workstations at OR Tambo International Airport will be used during peak hours over the festive season, as Home Affairs announces it's deployed an additional 92 staff members for the airport over this busy period, to keep the flow of travellers moving as smoothly as possible.
The additional staff members will be at Africa's busiest airport from Friday 9 December 2016 to 14 January 2017, said Home Affairs Minister Malusi Gigaba.
Other South African ports of entry will also benefit with additional staff, with a total of 255 employed around the country.
Current staff at OR Tambo will continue their normal 12-hour shifts from 7am to 7pm, while the extra staff will work in shorter shifts during peak times – early morning (6am to 11am) and late afternoon/evening (4pm to 8pm).
"The two shifts of additional staff will allow for 100% capacity at the workstations, with all cubicles utilised for traveller processing during the specified peak hours," said Gigaba.
Gigaba said this is only a temporary solution and the DHA is in talks with the Treasury to provide a more sustainable solution to handle all the travellers into and out of South Africa beyond the festive season.
Minister Gigaba also reminded parents, who will be travelling with children, to be mindful of the new regulations. 
The minister stressed the importance of carrying a birth certificate for a child, to prove the relationship between the minor and adult travelling.
He said if you've not received your child's birth certificate within eight (8) weeks for travel purposes, please visit an office to obtain a letter granting permission.
Gigaba also said the DHA is in talks with Airports Company SA on how best to rearrange the counters to separate South African citizens from foreign nationals.
According to Gigaba, 85% of travellers coming to South Africa are from the African continent, which is "a good story to tell".
– SAnews.gov.za
For more on the regulations, visit: Travelling with children/minors in and out of South Africa – parental consent affidavit, unabridged birth certificate & more xxx
Minister Gigaba at @ortambo_int to brief the media on #festiveseason operations pic.twitter.com/qh8v0j4r72

— HomeAffairsSA (@HomeAffairsSA) December 8, 2016
Extended hours for the #FestiveSeason at the ports of entry pic.twitter.com/1uzUezdQxo

— HomeAffairsSA (@HomeAffairsSA) December 8, 2016
In total, 255 additional staff will be deployed at all ports of entry during the festive season, says Home Affairs Minister #HomeAffairs pic.twitter.com/EjQCkULr7d

— SA Gov News (@SAgovnews) December 8, 2016