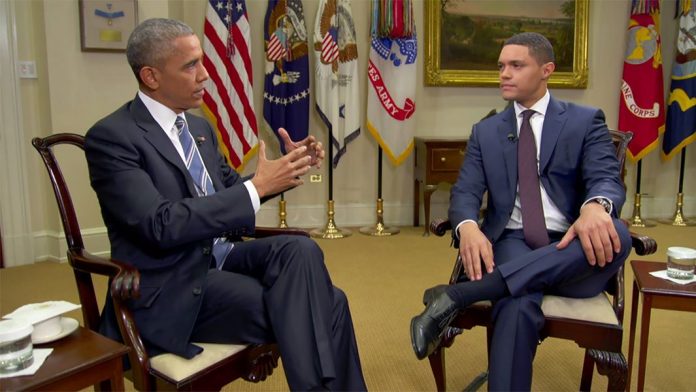 South African comedian Trevor Noah visited the White House, Washington, to interview the outgoing President of the USA, President Barack Obama.
Trevor said: "I look up to you because we share a lot in common – we both have parents who are black and white; both half African; [you're from] south side of Chicago, [I'm from] south side of Africa… "
Nodding, the President – a master of one-liners himself – quipped: "Similar."
They both also share an overwhelming appreciation for their mothers, as evidenced in Trevor's recent autobiography 'Born a Crime', a collection of stories about growing up in South Africa of which he admits he began writing about himself but realised halfway through was an ode to his mother.
During the interview, Obama said he is always honest but uses "diplomacy" in dealing with some people, and edits his language because there are children watching. "I try to comport myself in a way my mother would approve of," he said.
The two discuss race, Russian hacking and Obamacare.
Comedy Central tweeted before the airing of Trevor's 'The Daily Show' last night: "Trevor sits down with President Barack Obama in very nice chairs."
Watch South Africa's Trevor Noah interviews the USA's outgoing President Barack Obama
If you are unable to view the above, try watch the excerpts below:
Trevor sits down with President Barack Obama to discuss race, Russian hacking, and Obamacare. https://t.co/LCml8yHhbH pic.twitter.com/KEq94orHh0

— The Daily Show (@TheDailyShow) December 13, 2016
Tonight at 11/10c, Trevor sits down with President Barack Obama. pic.twitter.com/TmvEGAv0lv

— The Daily Show (@TheDailyShow) December 13, 2016