Conflict on campuses, hint of justice for miners, a heated election, our most successful Olympics, and other stories on GroundUp this year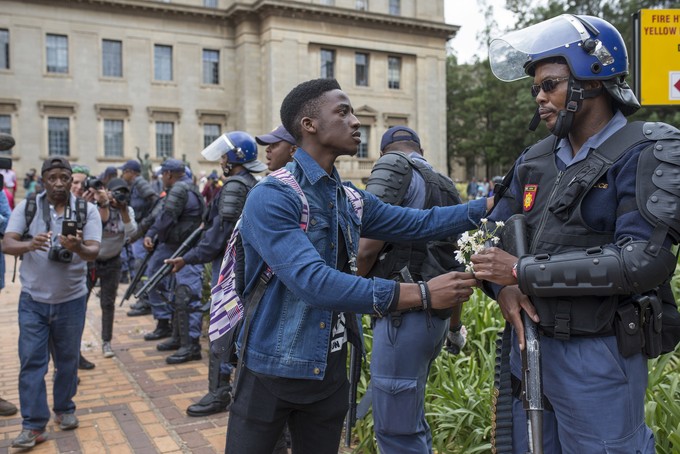 Accusations against police are commonplace in South Africa. Police work under stressful conditions for mediocre pay. Accusations of brutality are often too glibly made. However a description of officers assaulting a homeless man and a prisoner, as well as arresting a man for trying to film these abuses were well founded and led to the below protest of Rastafarians outside Woodstock Police Station. The subsequent investigation was botched.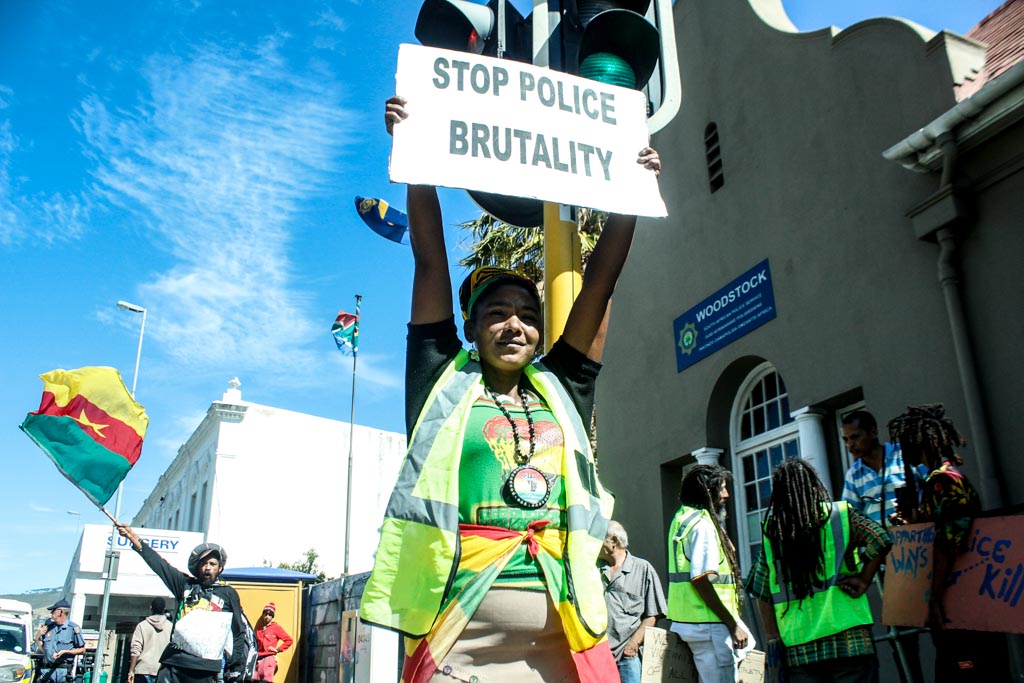 South Africa had a memorable Olympic Games. In the photo below Caster Semenya is congratulated by swimmers Cameron van der Burgh and Chad le Clos. On the far left is 24-year-old Henri Schoeman from Durban who claimed bronze in the men's triathlon.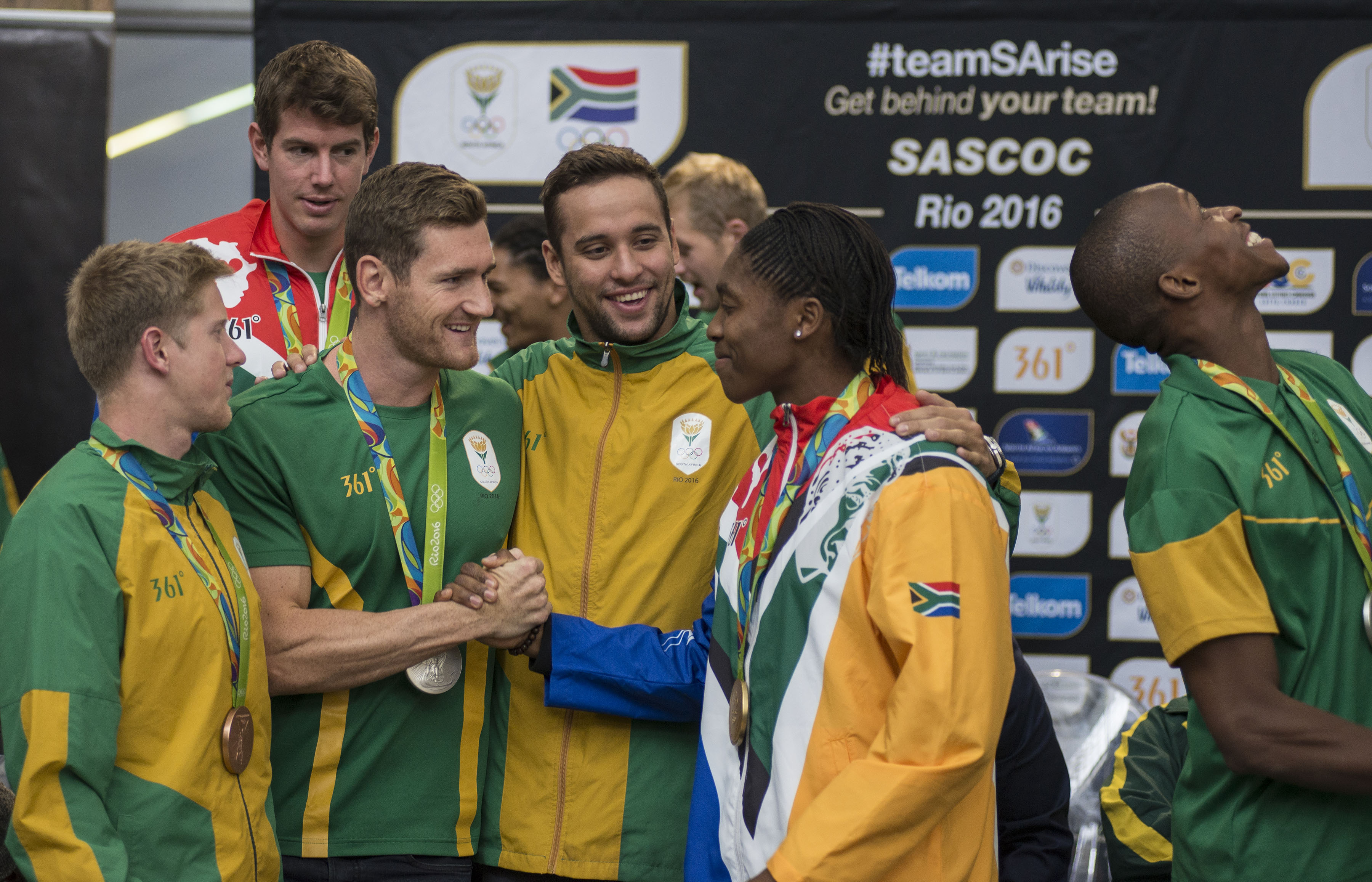 A man in a rural village in the Eastern Cape carries his dagga crop. GroundUp told the story of the battle between police and small dagga growers.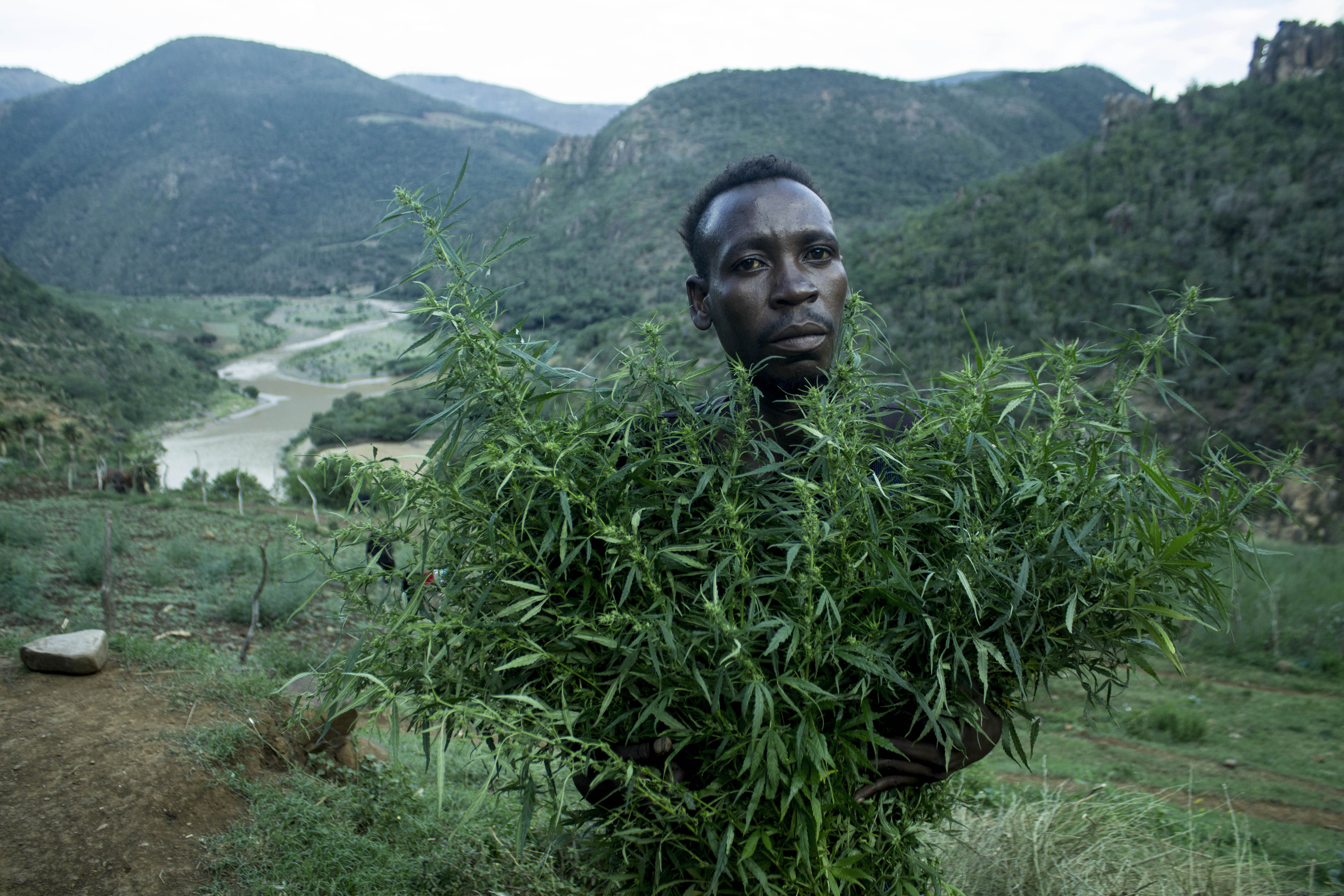 Former miners Matela Hlabathe and Vuyani Elliot Dwadube listening to the landmark silicosis judgment in the South Gauteng High Court. Judge Phineas Mojapelo certified two classes of miners, those sick with TB and those sick with silicosis. It was a major victory for miners, though the mining companies have appealed. See also Thom Pierce's The Price of Gold. Pierce's photographs have highlighted the miners and their families struggle for justice.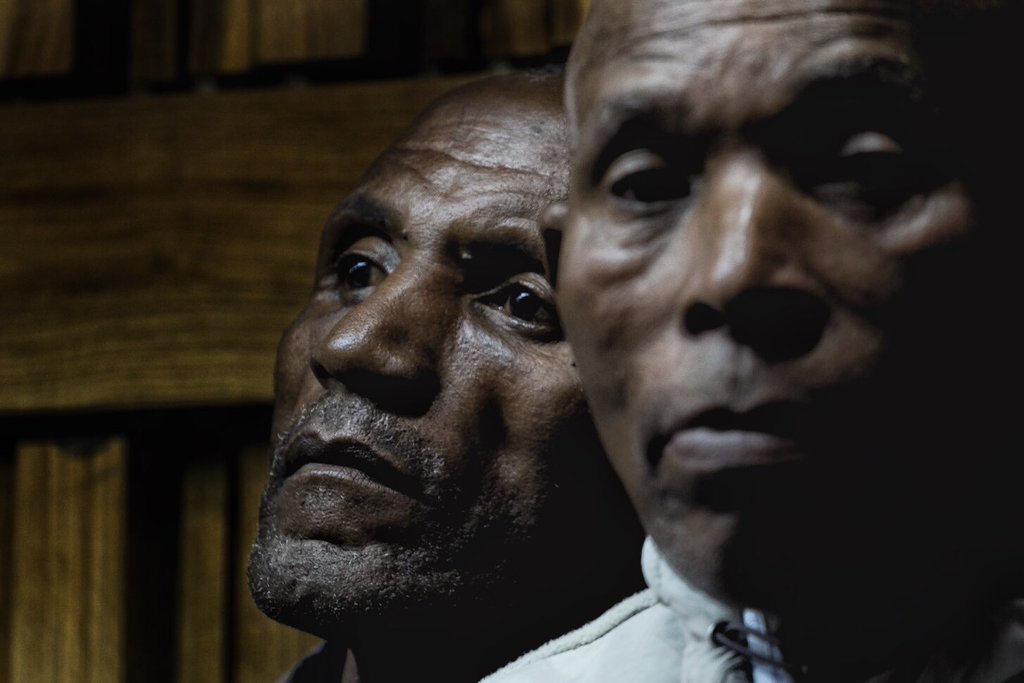 GroundUp also described how informal miners face dangers as perilous as their formal counterparts.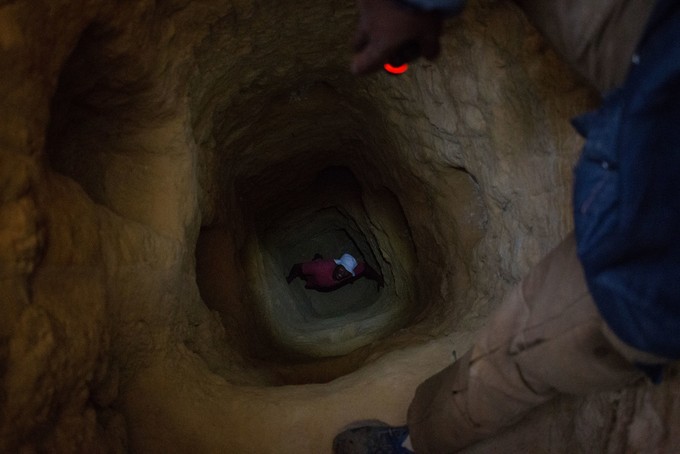 Lack of housing and unequal land ownership are a source of great hardship and anger for millions of South Africans. In Siyanyanzela informal settlement in Grabouw the shacks of residents were demolished.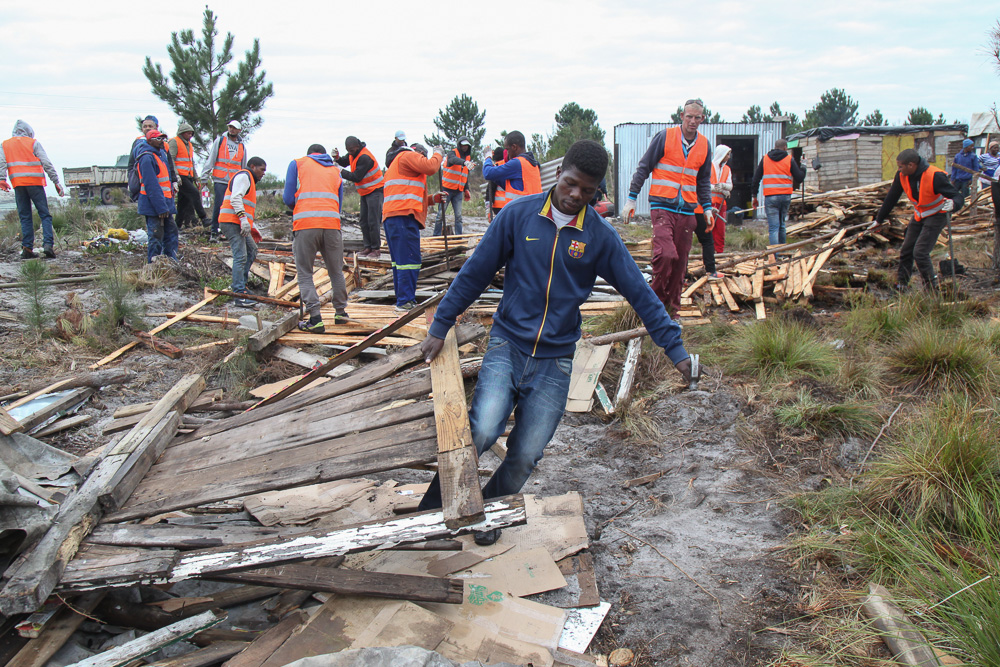 Residents of Bromwell Street, Woodstock caused a stir when they occupied a Cape Town hub of the well-to-do, The Old Biscuit Mill. They protested against their impending evictions.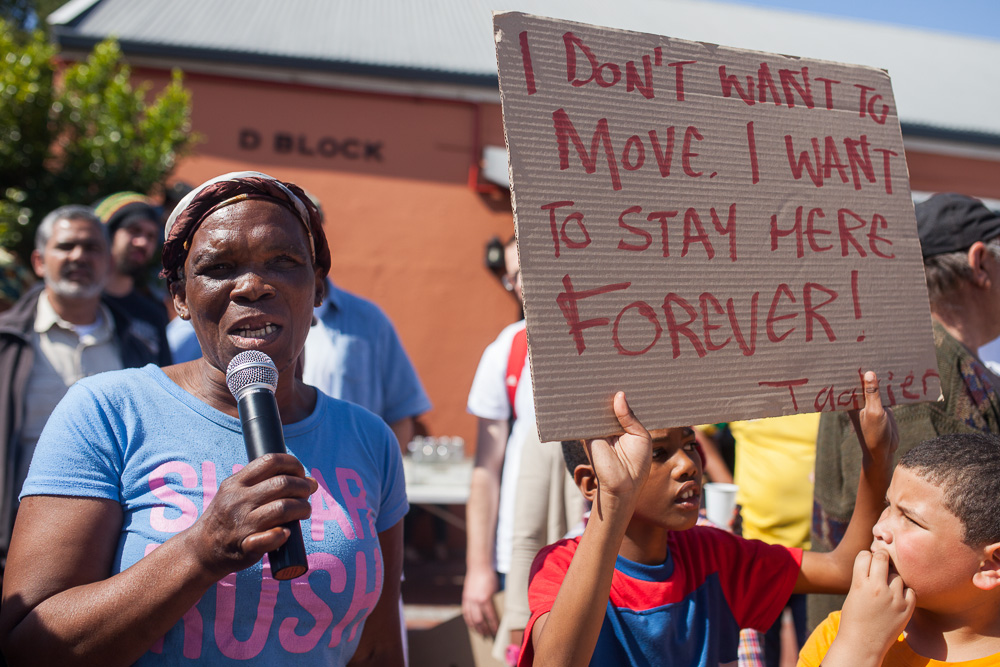 A mother and her daughter warm themselves by a fire as night approaches (below) after hundreds of homes were destroyed by a fire in Plastic View informal settlement, east of Pretoria.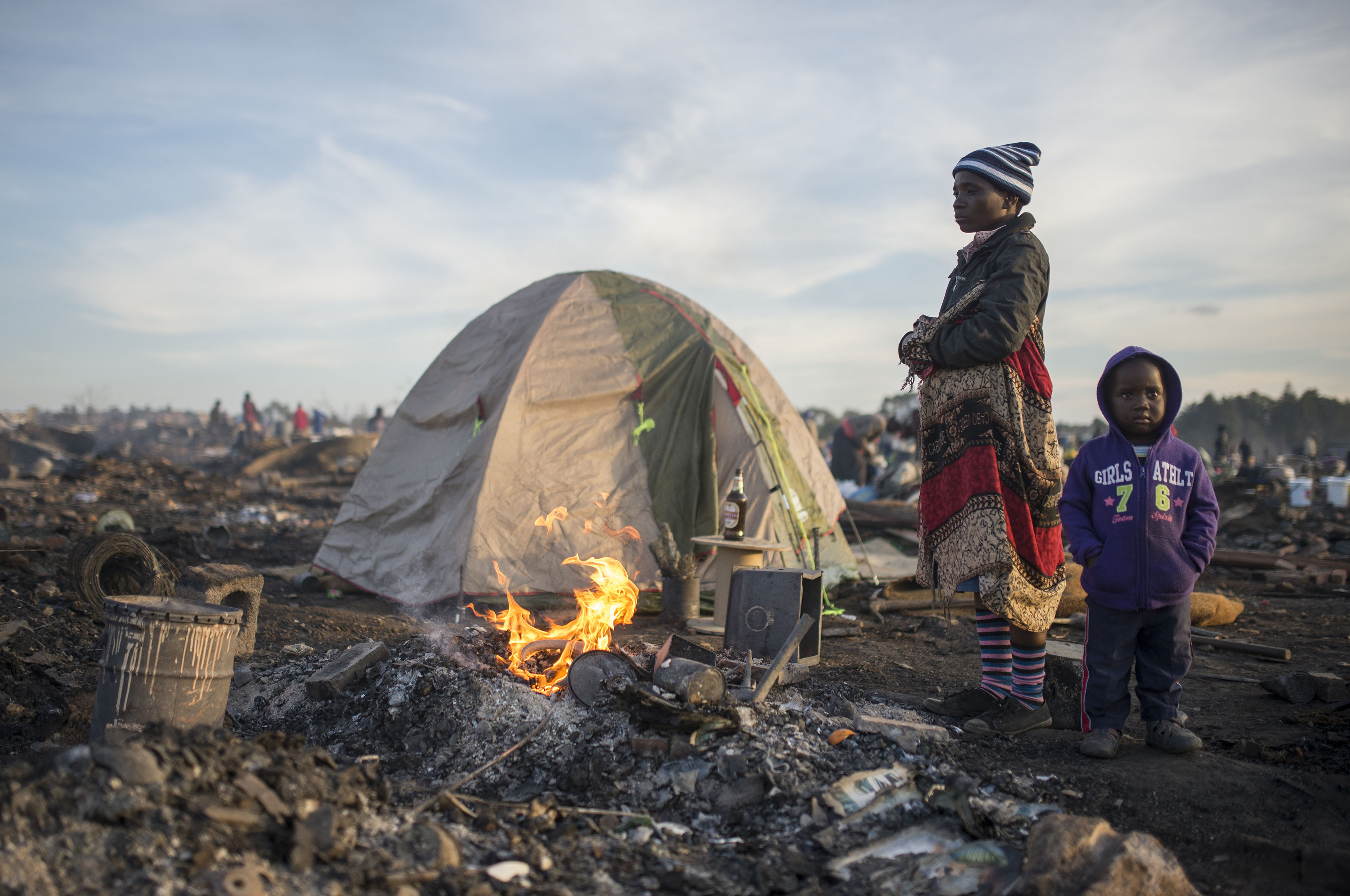 A man looks upon his destroyed vehicle after a flood of the Jukskei River destroyed the homes of hundreds of people.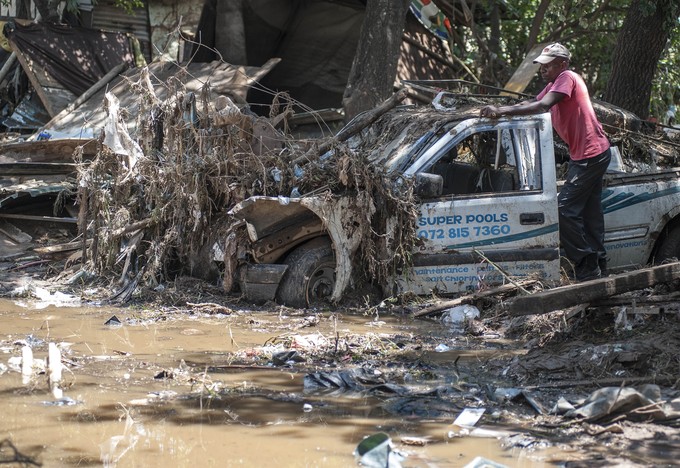 South Africans take their art seriously. In February, protesters burnt art on UCT.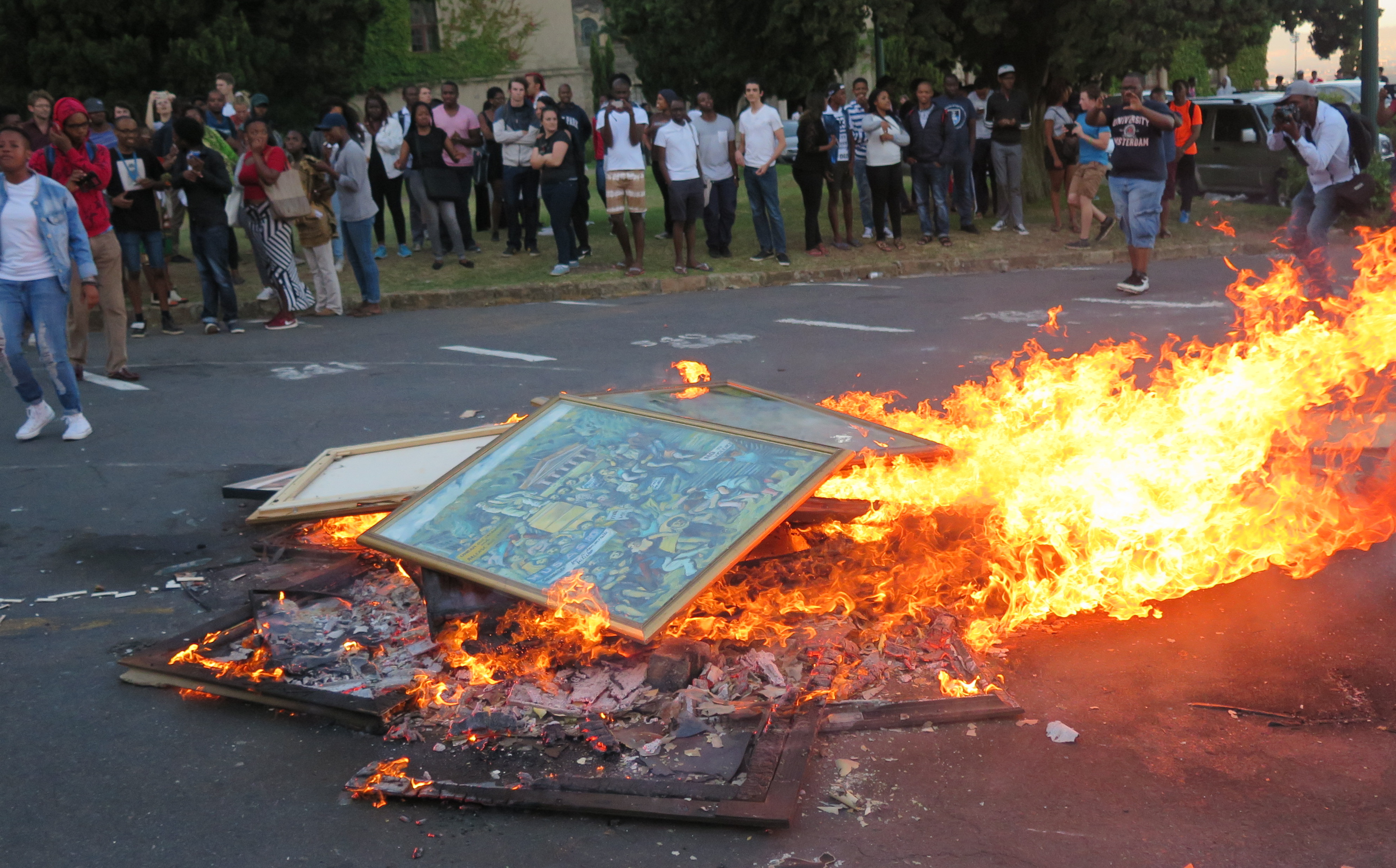 And in March, naked protesters of the Trans Collective entered a Rhodes Must Fall exhibition and vandalised several of the artworks.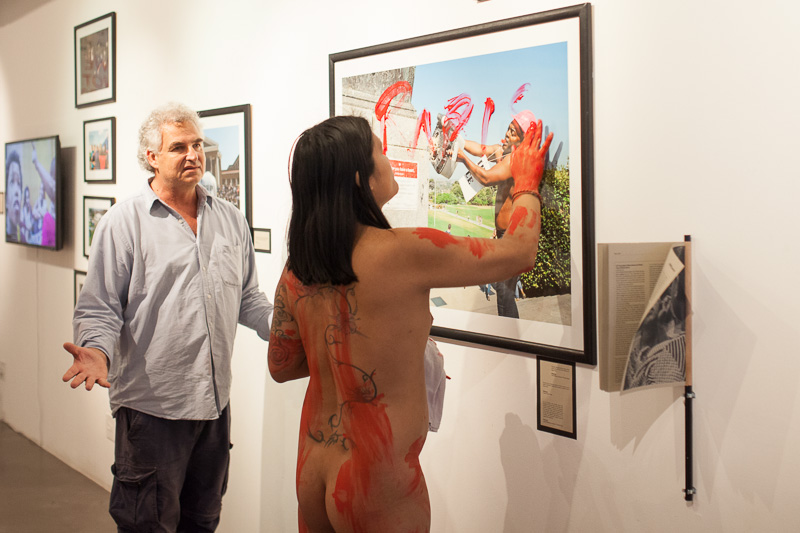 A protester stands in front of a burning bus in Braamfontein during student protests at Wits University. Student protests dominated the news in October and November.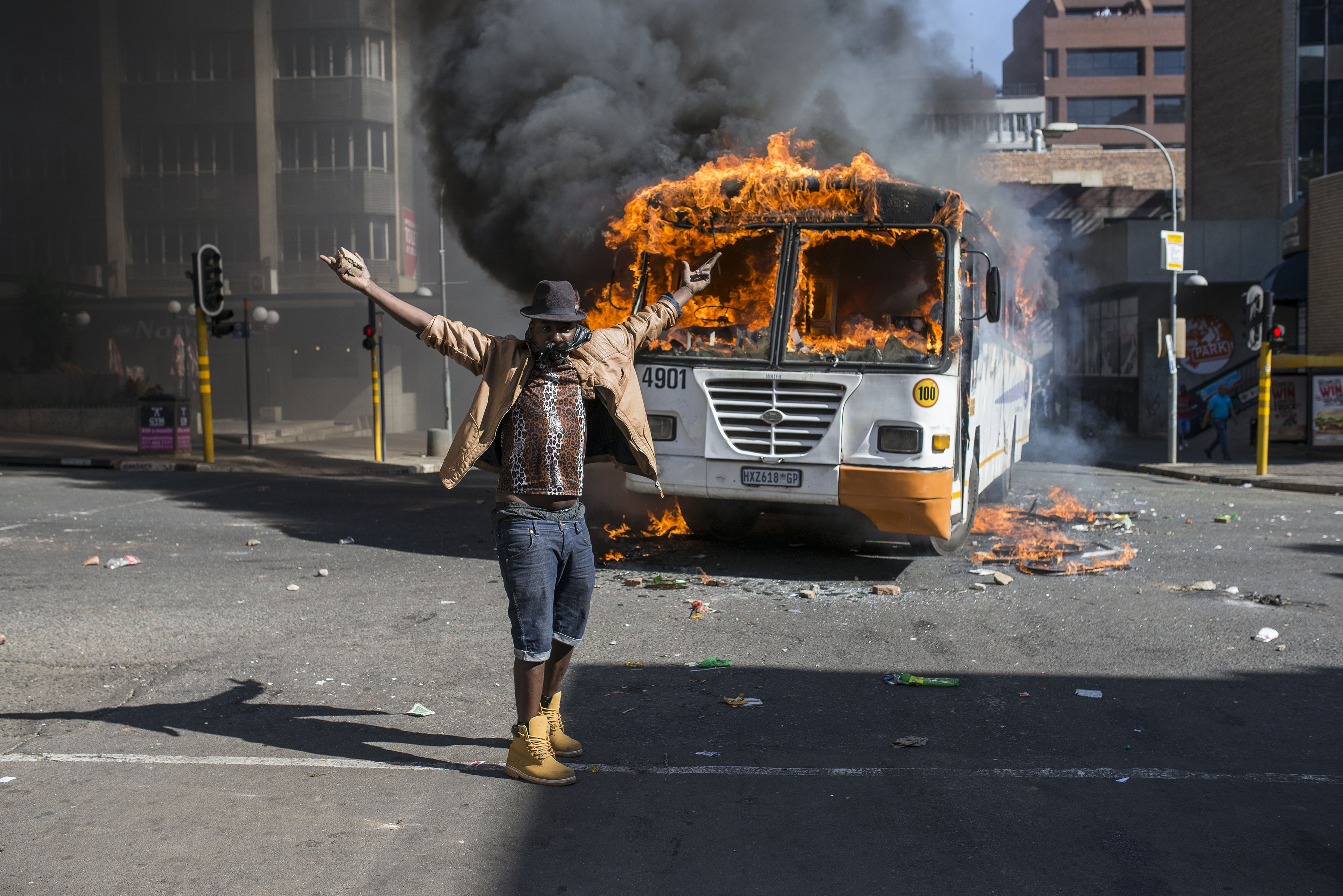 Two students comfort each other after their Fundamental Rights Exam was disrupted by protesters at North West University's Vaal Triangle Campus.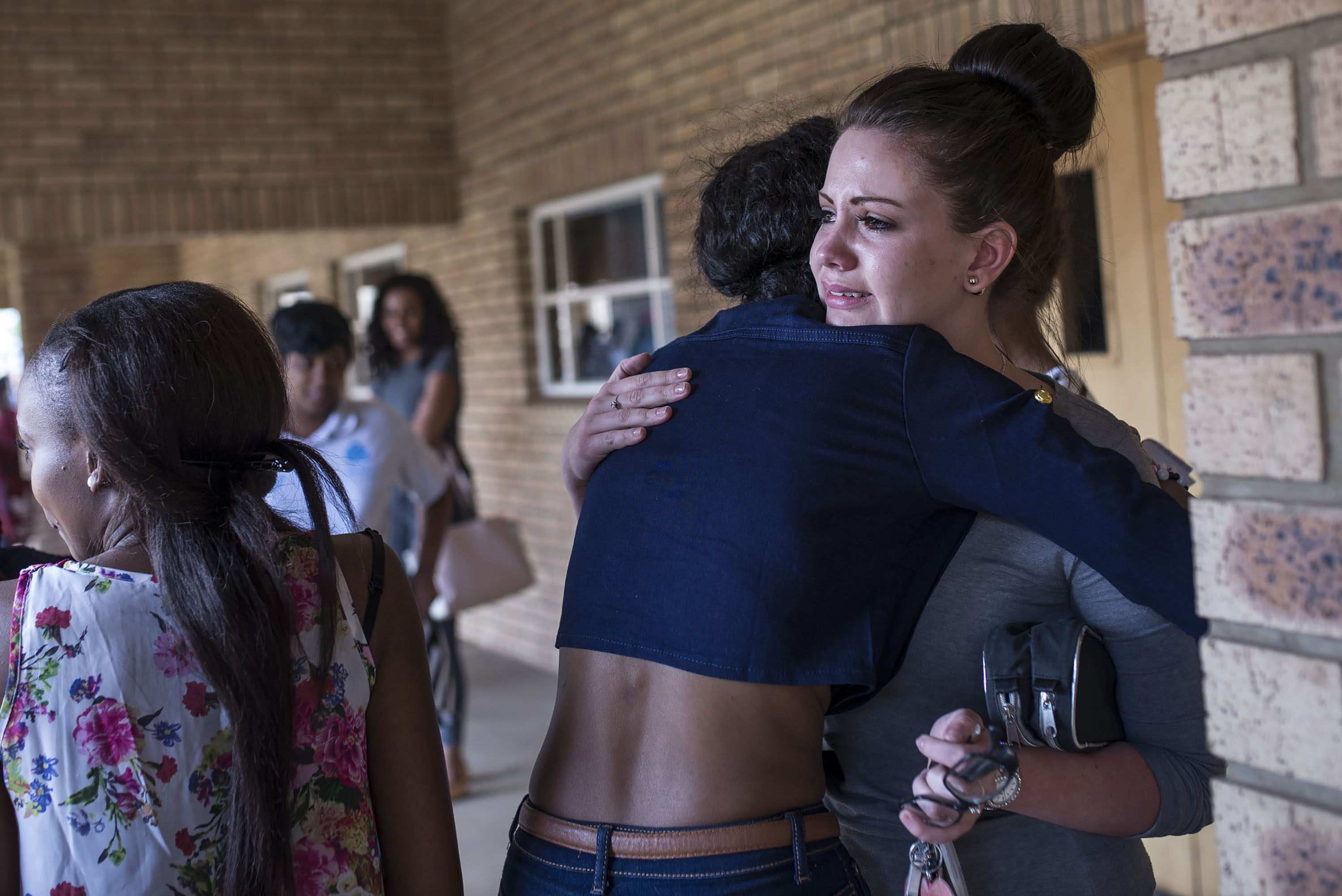 A protest at UCT's library turned violent. GroundUp photographed and filmed it. We also investigated what happened. The man pictured below sat calmly between protesters and police while protesters hurled stones over his head.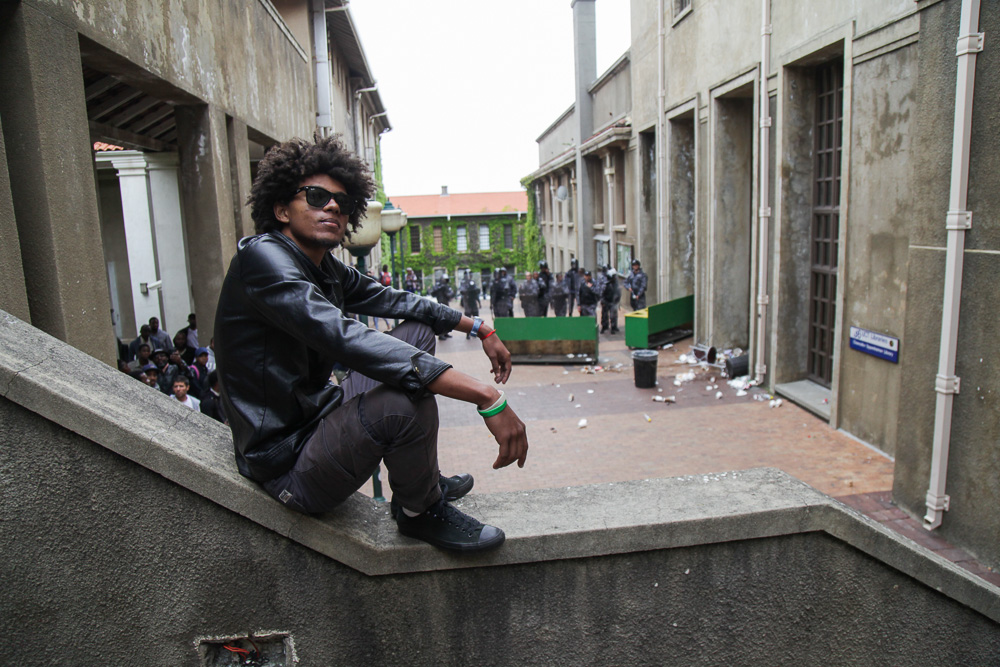 Horse racing is possibly the faster growing sport in the country. Except that growth is not happening at Greyville and Kenilworth race tracks, but in the rural Eastern Cape.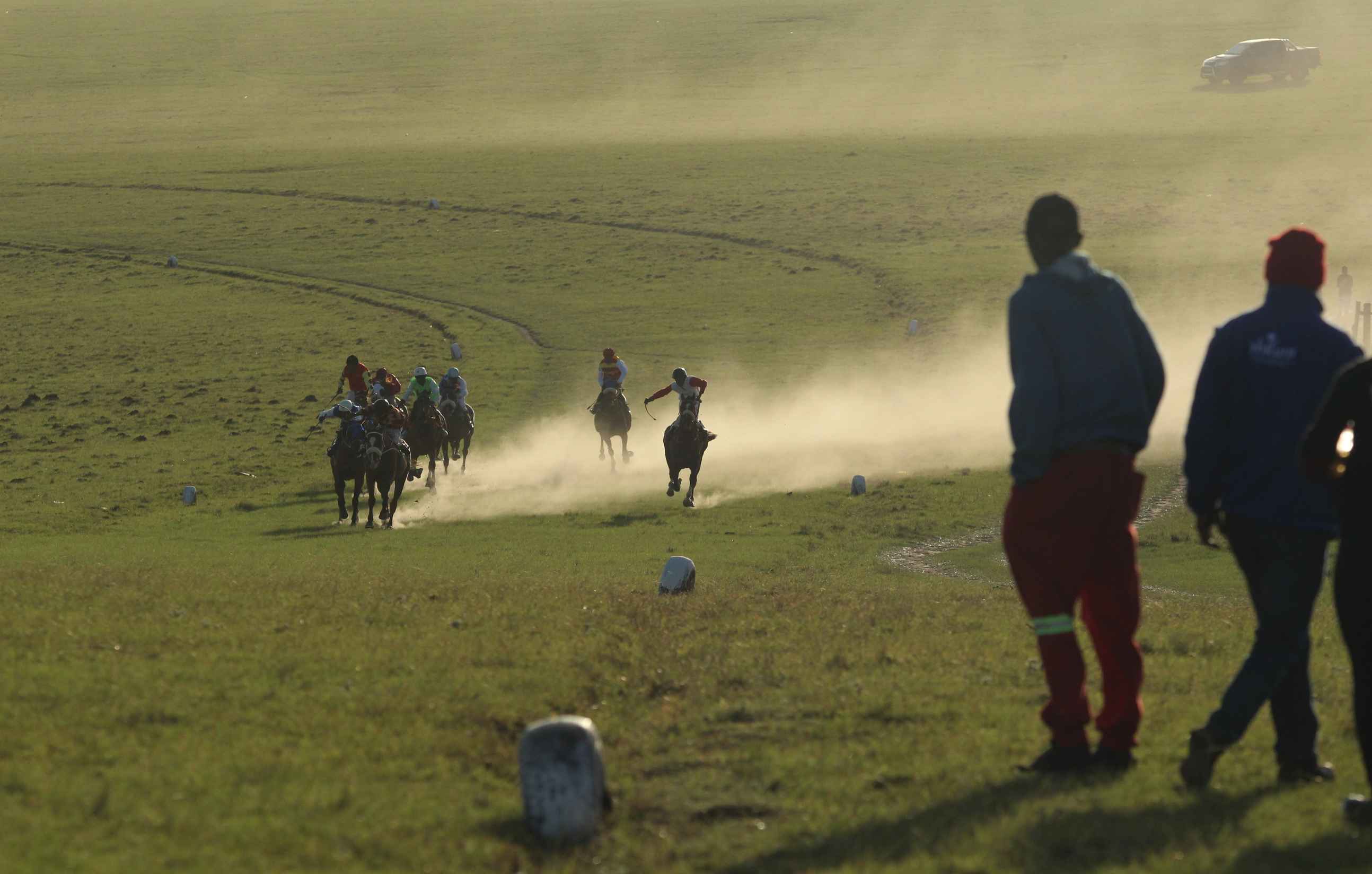 Getting to work is hard for many because the trains are nearly always in disarray. Several news outlets covered the troubles of PRASA, the parastatal that owns Metrorail. GroundUp regularly covered the daily frustrations of commuters.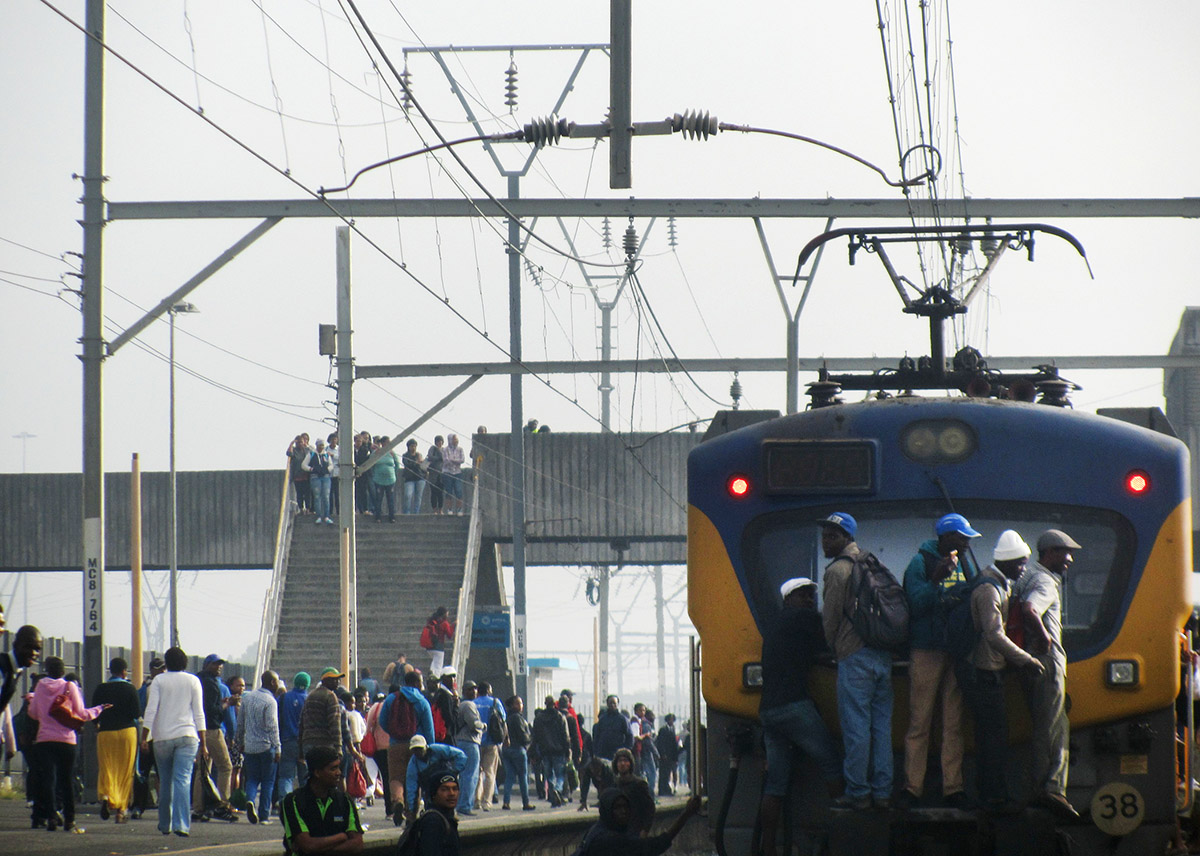 The ANC won a reduced majority in the 2016 local elections, but it lost control of Pretoria, Johannesburg and Port Elizabeth municipalities. As we enter 2017, an unpopular president clings onto power.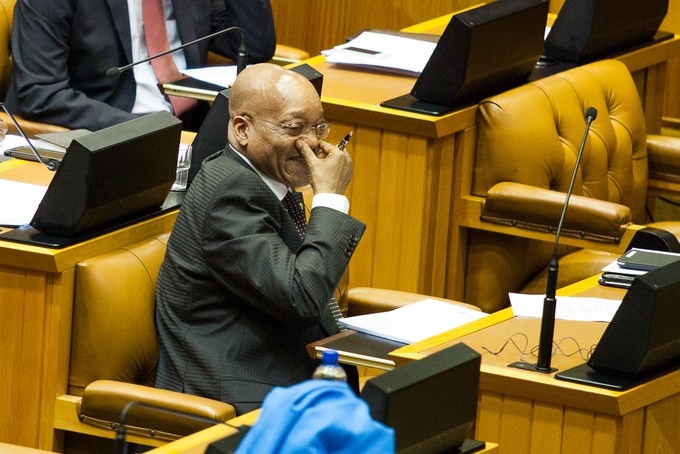 By: GroundUp Staff    
Republished here with kind permission of GroundUp. Please view the original article here: www.GroundUp.org.za