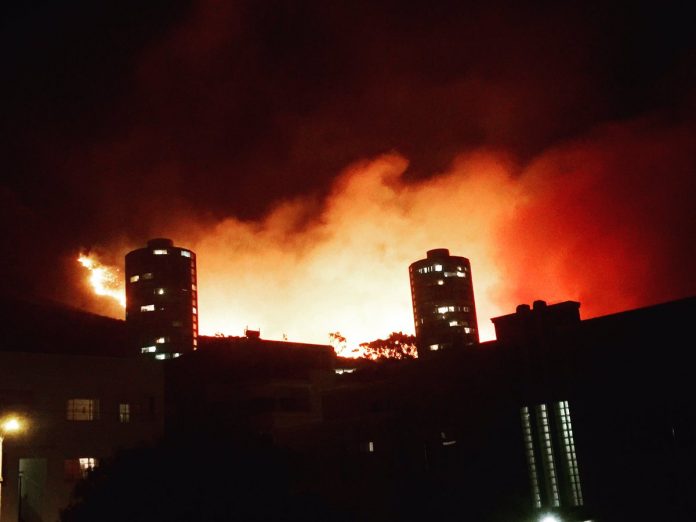 Firefighters are battling a large fire on Table Mountain tonight and a voluntary evacuation of residents in Vredehoek has begun. According to witnesses, the fire is being fanned by gale force winds. This is the latest in a spate of wildfires that have ravaged the Western Cape in the last couple of weeks.
Update

: Earlier ER24 Emergency Medical Services (EMS) had reported "numerous homes" in Vredehoek had been ravaged by the veld fire, but in an update after midnight they said a closer inspection showed no homes burned and the evacuations were voluntary.

According to Community Medics, they are on the scene at the Deer Park Fire in Vredehoek to assist with the evacuation of residents, along with other emergency services.

Locals in the area are asked to please make way for emergency vehicles which are currently being blocked by "rubberneckers".

Volunteer Wildfire Services (VWS), which is assisting Table Mountain National Park with the #DeerParkFire, said: "#GoodLuck to all volunteers responding."

Swimming champion Cameron van der Burgh posted photos of the raging fire and tweeted: "Prayers going out to our fire fighters tonight… thank you for keeping us safe #CapeTown."

VWS said it would be "another tough night ahead for already tired crews".

In a message in the last half hour, VWS have said: "If you don't need to be near Vredehoek or Deer Park, DO NOT go to see the #DeerPark Fire. Give emergency crews access – they need it!!"

According to City of Cape Town Fire and Rescue spokesperson Theo Layne, his crew responded to a the Deer Park call at 21h30 Monday evening. At least 8 fire engines and 4 water tankers were on the scene earlier. An extensive area of vegetation was burning at that time and firefighters were focused on trying to protect the Oranjezicht residential area. During the night there were fears homes were burning, but closer inspection showed a tree had burnt in a property but no homes were damaged. Layne also stressed that some residents "voluntarily evacuated their houses".
#DeerParkFire some video from tonight @MRJAZ11 @Derek_Geddes @Peter_O_Herring @KoketsoSachane @LanceTheWitten pic.twitter.com/kk9PbWxUFm

— Martin Myers (@MartinMyers) January 16, 2017
Prayers going out to our fire fighters tonight ❤️ thank you for keeping us safe #CapeTown pic.twitter.com/YDAMGOL5Bd

— Cameron van der Burgh OIS (@Cameronvdburgh) January 16, 2017
Evacuating Frank Ave #deerparkfire pic.twitter.com/kZA0lDPvvg

— Rabbi Greg (@RabbiGregA) January 16, 2017
#DeerParkFire #vredehoek #fire pic.twitter.com/I6EocgnL1d

— Nina (@ninasimone_x) January 16, 2017
watching the fire fighters brave this horrific fire on the mountain. what legends. #deerparkfire pic.twitter.com/1658fnWDFY

— texx (@texxonfire) January 16, 2017
The #deerparkfire is way to close for comfort. @KFMza @CapeTalk pic.twitter.com/Kj45FOtQFo

— Louis du Preez (@TheLuPerez) January 16, 2017
.#deerparkfire in #Vredehoek rages on fueled by the wind. (photo @sdanofsky) pic.twitter.com/6XyN5It1EN

— Community Medics (@ComMedics) January 16, 2017
For more updates please follow SAPeople on Twitter