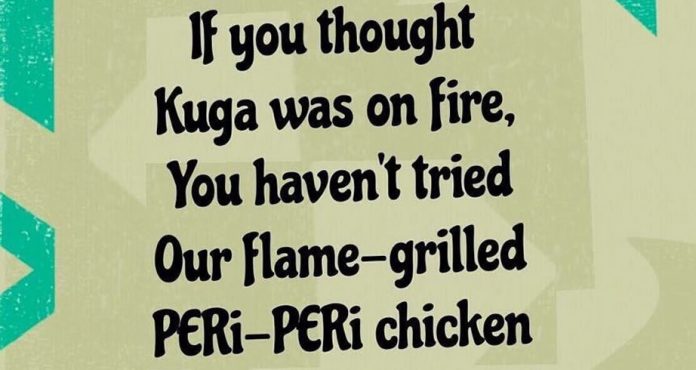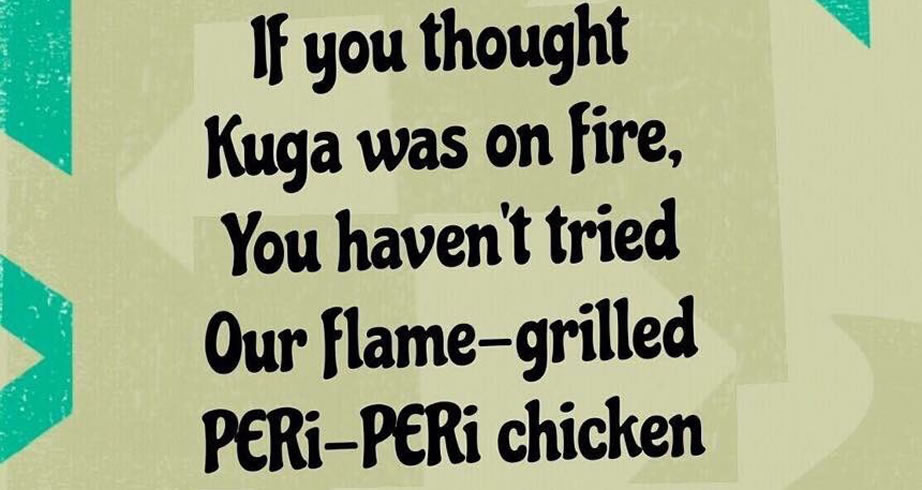 Floyd Nkuna has done it again. While South Africans were waiting for a Nando's ad to poke fun at Ford Kuga, Nkuna created a Nando's parody ad, as he's done before. And as before, many are mistaking it for the real thing, tweeting that "Nando's has done it again!" and "Nando's never disappoints".
UPDATE FROM NANDO'S – Today Nando's said: "The current poster doing the rounds poking fun at Ford Kugas is definitely not an official Nando's advert.
"At Nando's, we don't poke fun at anyone who has experienced misfortune. In addition, this poster does not accurately reflect our visual identity and certainly does not reflect our brand values."
Nkuna's spoof ad says: "If you thought Kuga was on fire, You haven't tried our flame-grilled Peri-Peri chicken."
The fake ad came after the National Consumer Commission (NCC) hosted a media briefing on Monday regarding the controversial Ford Kuga utility vehicle. President and CEO of Ford Motor Company Southern Africa Jeff Nemeth also participated.
According to eNCA reporter Nickolaus Bauer, out of the 6,300 models sold in South Africa, "over 40 spontaneously combusted on our roads"!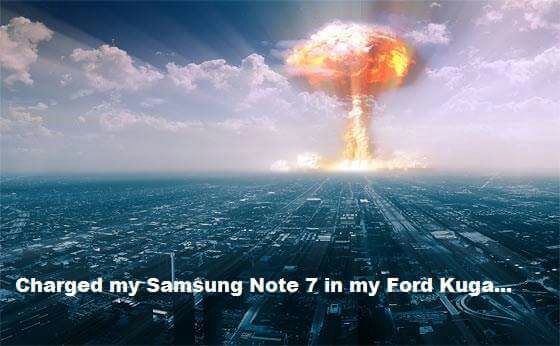 On 20 December 2016, the NCC had said it had not received any complaints from consumers about the Ford Kuga, despite media reports of engine overheating in the vehicles.
However on Monday Ford announced a voluntary safety recall and confirmed that "39 incidences have been reported to Ford".
Ford said they will evaluate each case on its merit, and said "we understand the level of concern and disappointment surrounding this issue".
NCC said "recalling the vehicle is in the best interest of consumers", and added "it is regrettable that a life has been lost".
Reshall Jimmy, who was 33 at the time, was fatally burnt in a Ford Kuga last December, whilst on holiday in Wilderness. Forensic reports showed the fire had been caused by an electrical fault behind the dashboard.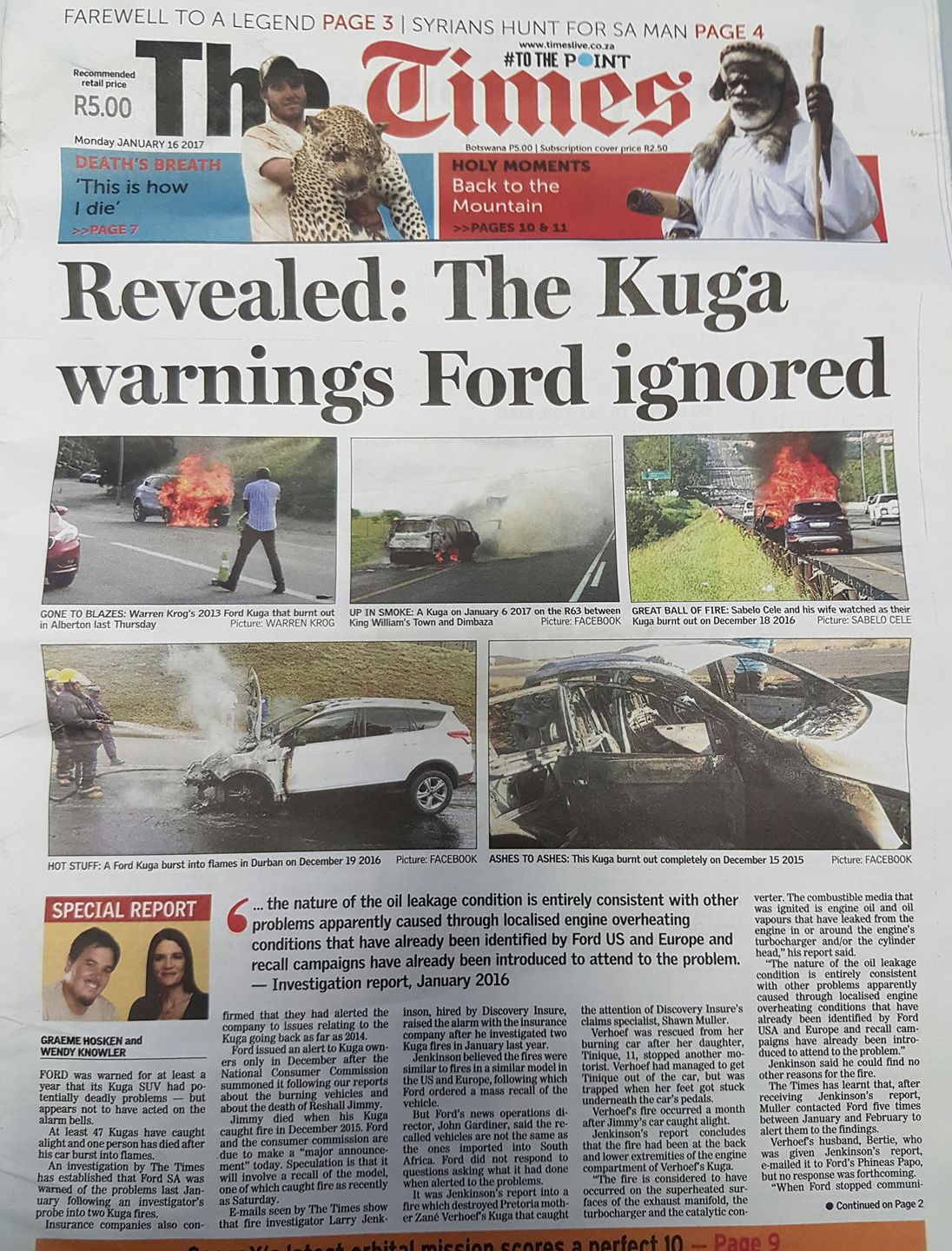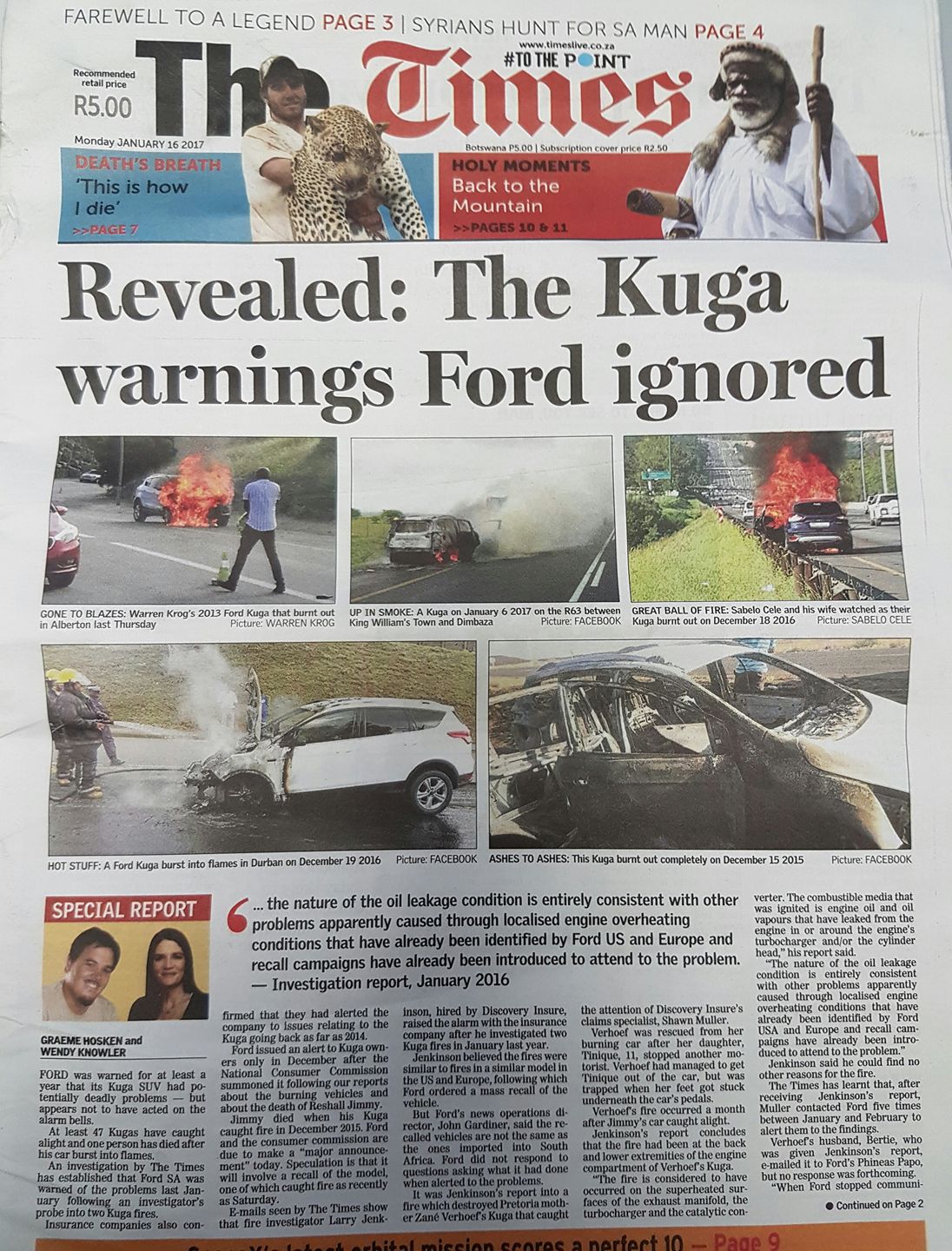 NCC's Ebrahim Mohamed said a product that causes risk for consumers doesn't have a place in the market and that "there is no monetary value that can compensate for the loss of life".
The safety recall is apparently limited to those vehicles sold between December 2012 and February 2014.
Publicity guru Georg Knoke, of Gauteng, said today that this has been a "PR and REPUTATION DISASTER by #Ford! How many more explosions of your #Kuga have to happen before you do something? Why not be proactive? This will go down as another case study of how NOT to deal with a crisis! Like the #BP oil spill! Your press conference today is too late!"
On Twitter:
#FordKuga pic.twitter.com/9xfjkD4wrB

— Floyd Nkuna (@floyd_nkuna) January 16, 2017
Zapiro's cartoon @SundayTimesZA on accidents waiting to happen – https://t.co/dAeXto43Dm pic.twitter.com/gQ1Jmng0AN

— Zapiro (@zapiro) January 16, 2017
#FordKuga The look when Ford Kuga park next to you pic.twitter.com/tytSUDDZgx

— Sipho Ntuli (@siphon82) January 16, 2017
Waiting for Nandos to have an ad about an aFORDable, flame ? grilled something ….#FordKuga

— Buyi (@Buyitiful) January 16, 2017
on fire….#FordKuga pic.twitter.com/SyjJi7mI9l

— YALO (@sifisoyalo) January 16, 2017
Its very disturbing to see @fordsouthafrica selling people that ticking time bomb #fordkuga. Still no recall. Very disappointing?. pic.twitter.com/UgKDGUj7jf

— Kay (@K_Dibatana) January 13, 2017