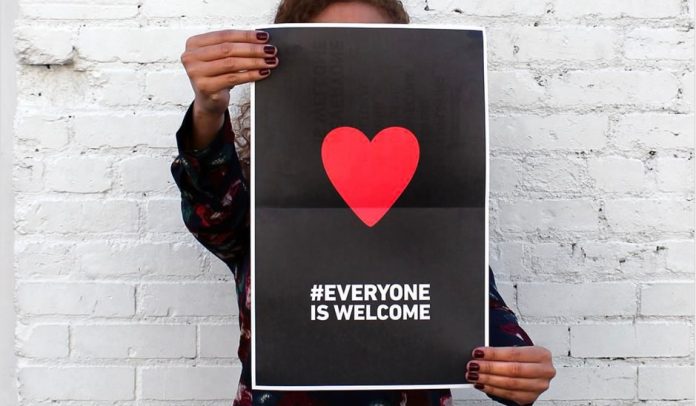 South Africans have long LOVED Nando's for its brilliantly conceived advertising campaigns… let alone its tasty peri-peri chicken. And now Americans are catching on quickly too with the fast food restaurant chain's latest political statement even making it yesterday to the pages of esteemed national newspaper, The Washington Post.
Nando's grabbed attention – and customers – in Washington during the inauguration of Donald Trump as President of the USA, by placing black signs in their six Washington branches' windows, and taking out an ad insert in a free commuter newspaper published by the Washington Post.
One side of the black sign featured a red heart and the hashtag #EVERYONE IS WELCOME.
On the other side, Nando's explained: "Nando's Peri-Peri is an Immigrant EMPLOYING, Gay LOVING, Muslim RESPECTING, Racism OPPOSING, Equal PAYING, Multi CULTURAL chicken restaurant where #everyoneiswelcome."
The message on the 60,000 ad inserts in the Express invited readers to place the sign in a "publicly visible place to let everyone visiting our city know #everyoneiswelcome."
Nando's said: "On Inauguration Day and beyond, even if you've never sat at one of our tables, you're welcome to stand with us."
In an article yesterday entitled "Why a South African fast-food chain is making a political statement in Washington", journalist Ryan Lenora Brown introduced Americans to some of the ads and "acerbic wit" which have made Nando's such an iconic part of the fabric of South African culture… and so popular around the world. 
The fast food restaurant chain now has 1,200 locations globally… and growing.
Its first branch in the USA was opened in 2008, and in 2015 it marked the legalisation of marijuana by serving free chicken because "weed jokes are easy".
Nando's says its latest campaign was a chance to target an even bigger audience and "introduce ourselves to all these new visitors and in a way that reflects our values as a company".
Watch two Americans trying Nando's in the USA
American YouTubers LotsOfBunnies and Skillz react to eating Nando's (they love it!) – it's her first time and he's an old fan (although while he knows the Portuguese-flavoured chicken isn't from "the motherland", he says "I believe it comes from an island" that belongs to the Portuguese (most probably referring to Mozambique…).