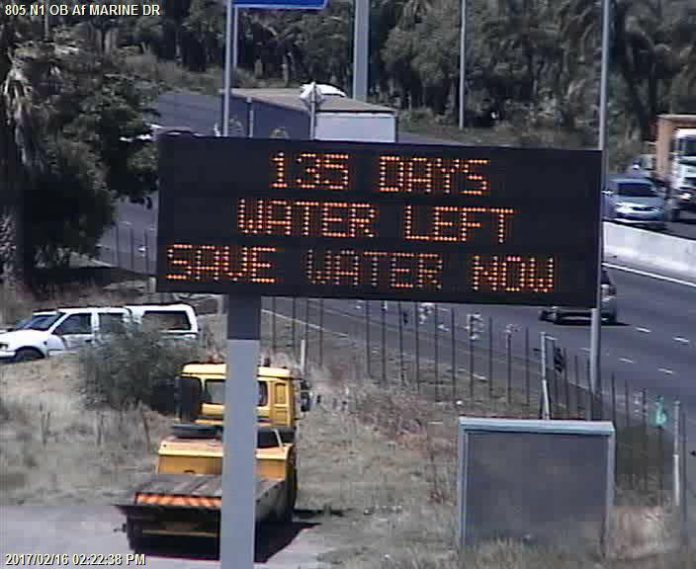 The City of Cape Town is getting serious, very serious, about its water restrictions as the six dams serving the city have dropped below 36%…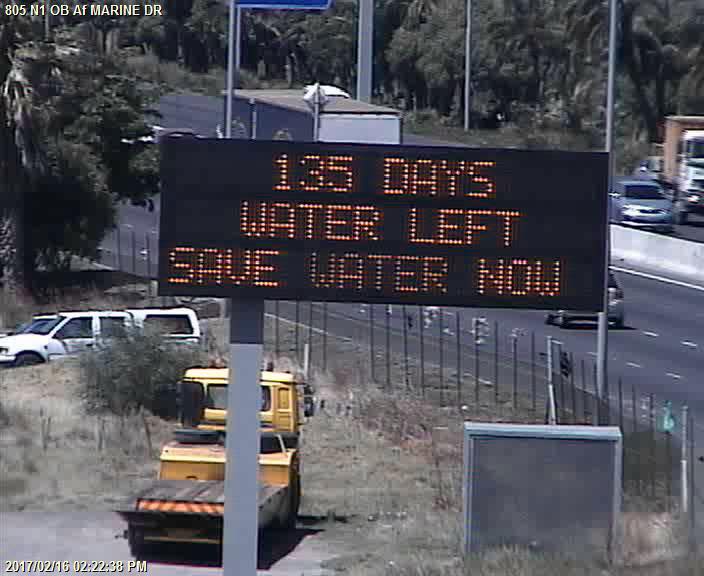 At the start of  this month Level 3B Water Restrictions were introduced.
This week Mayor Patricia de Lille announced a 'naming and shaming' policy, to be introduced next week, for those who contravene the restrictions.
And now the signs on this page were apparently photographed in Cape Town, according to News, Accidents, Robberies & Incidents facebook page.
The page said the signboards are usually used on the highways to report important traffic conditions… so the fact that they are now being used to show water alerts demonstrates just how important the crisis is.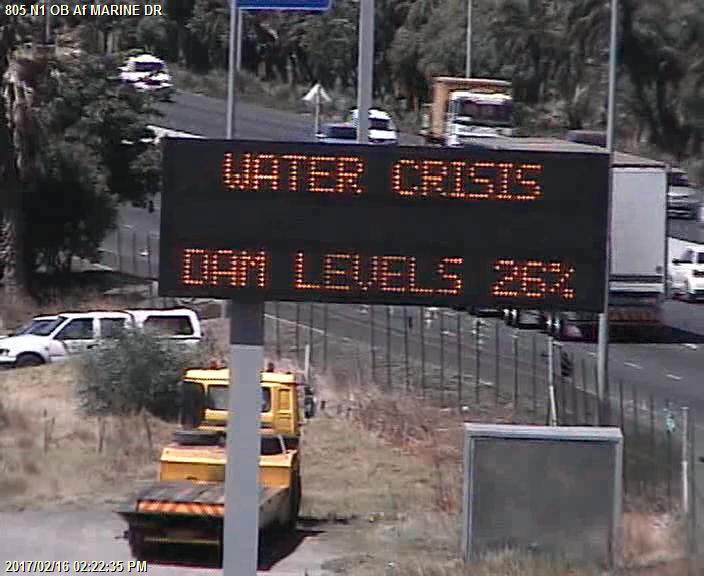 According to the South African government's latest update – released Thursday – dam water levels for Cape Town dropped further in the past week from 36.9% to 35.7%. That means there is only 26% of usable water left (as quoted on the sign). The last 10% is not able to be used.
From Monday, De Lille says the identification of those paying fines – or appearing in court for contravening Level 3B water restrictions – will be made public.
The City will also publish the lists of fines issued in various areas where contraventions take place, including street names but without street numbers. So too will the street names of the top 100 highest consumers in domestic, commercial and government usage categories be published.
De Lille said she had started delivering warning notices to some households in Pinelands today, who have high water consumption. (She noted that all suburbs include customers with high water usage.)
De Lille said: "The City's overall usage target of 800 million litres of collective use per day has not been met for the past few weeks and as a result we need to intensify our efforts to save more."
She said, on 14 February 2017: "If we are to reduce the consumption to 700 million litres of collective use per day, and at the current draw-down rate on dams, we could be looking at approximately 135 days of useable water left."