The Vaal Dam is fast approaching 100%! According to Johannesburg Water the latest water level figures show the dam is 97.28% full as of Sunday morning, 26 January 2017.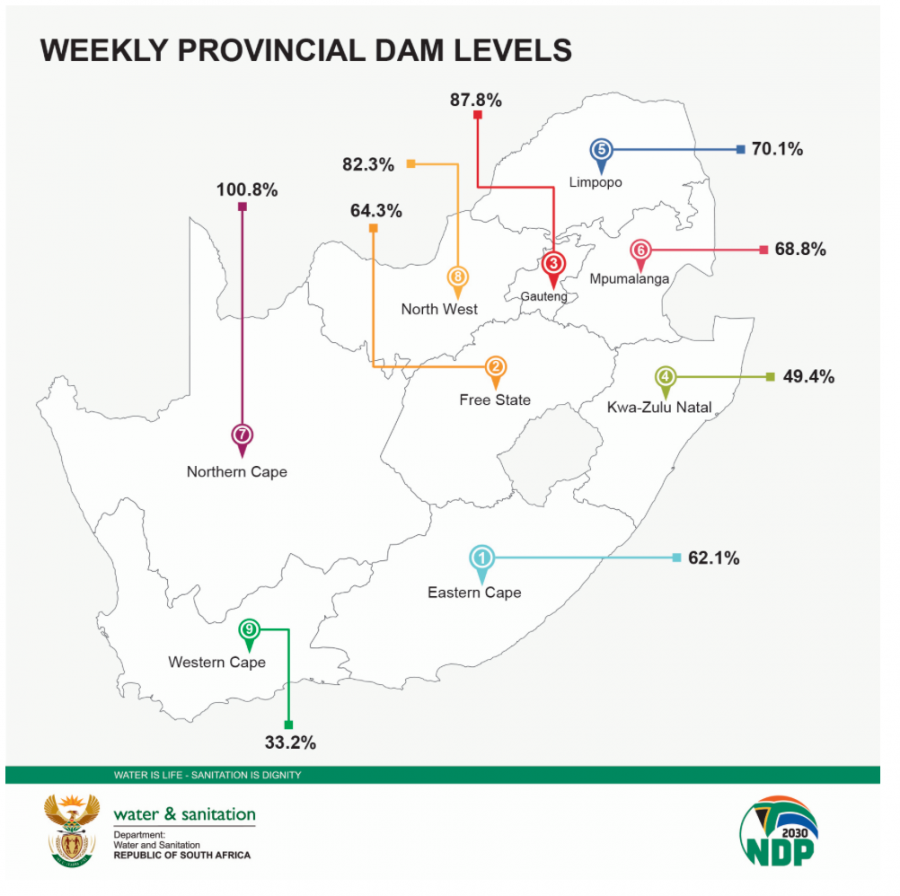 The Dam is expected to reach 100% later today or tomorrow.  Grootdraai Dam has already surpassed 100% in Cyclone Dineo's 'Domino Effect'.
Soon after the downgraded Cyclone Dineo passed through South Africa, bringing heavy rains, the Vaal Dam – which was close to empty three months ago – began to fill rapidly… and in the last 10 days became 30% fuller, at one point receiving enough water to almost fill an Olympic sized swimming pool every second.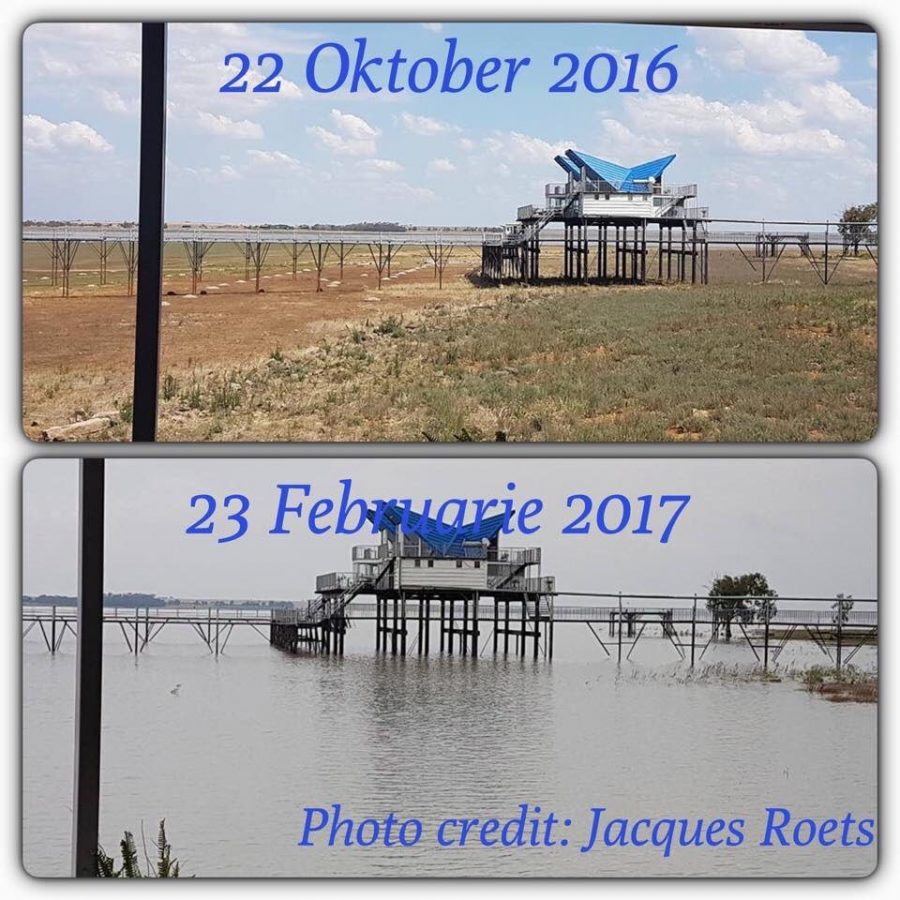 At lunch time Sunday, the Minister of Water and Sanitation, Nomvula Mokonyane, will hold a media briefing at the Vaal Dam, Deneysville, Free State, to give an update on the status of the drought and dam levels country-wide.
Yesterday's dam water levels included: Koster Dam 103.9%, Klipvoor 100%, Vaalkop 114.5%; Lindleyspoort dam 101.4%, Roodeplaat 101.1%; Buffelspoort dam at 100.3% while Bospoort dam 102,7%; Hartbeespoort Dam 99. 6%, 3 radial gates at 300mm.
On Friday the Department was still urging communities to use water sparingly, and harvest as much water as possible "as the country is under the clutch of the devastating drought".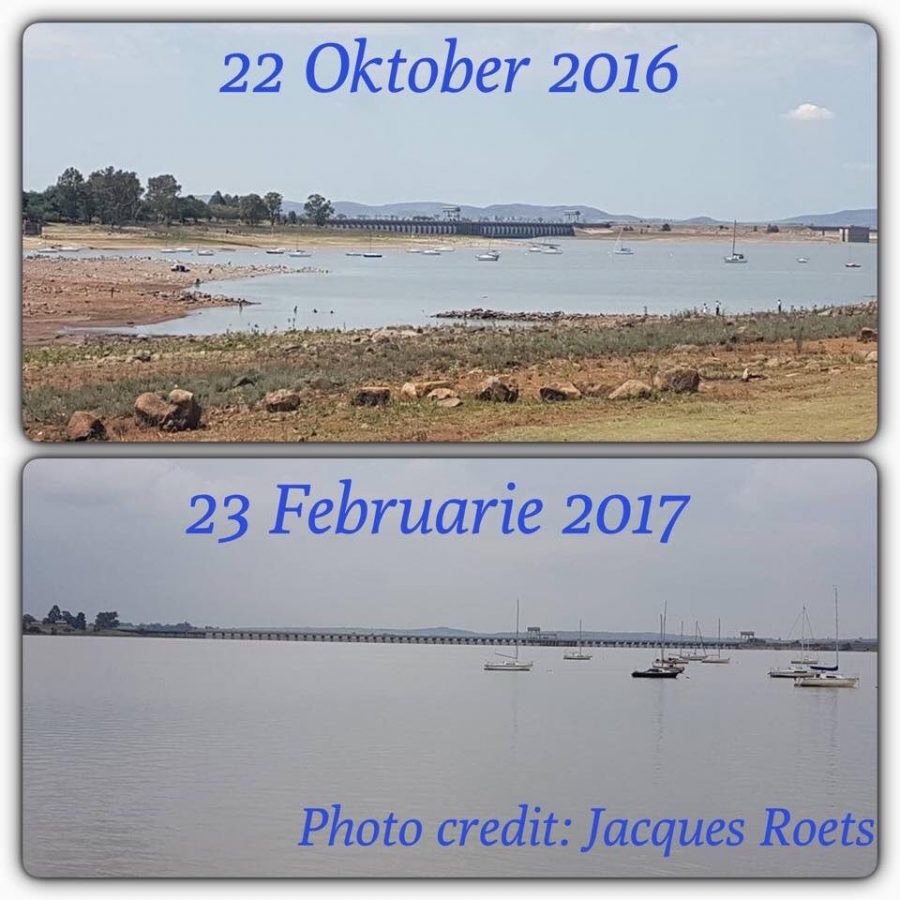 Vaal dam is 97.28% full this morning.Oh heavens can we get small small today just to get to 100%.Thank you in Advance ^H pic.twitter.com/bSnUikPCJh

— Johannesburg Water (@JHBWater) February 26, 2017
— ReenvalSA (@ReenvalSA) February 26, 2017
Net n voorsmakie van wat binnekort wag. Vaaldam 100% 8Januarie 2011. Kyk hoeveel mense was daar. Courtesy Wessel-en Patrys Wessels pic.twitter.com/Icce3yGrVL

— ReenvalSA (@ReenvalSA) February 25, 2017
Huge increase in #VaalDam water level overnight https://t.co/W5x9lYUtpU pic.twitter.com/O6SKCOX5ik

— Kempton Express (@KemptonExpress) February 23, 2017
So good to see this incredible difference in 3 months. From 27% to 97% today #extremes #drought #vaaldam #mistybay pic.twitter.com/nUVmZ8IfGY

— Gillian (@Sourz22) February 25, 2017
THEN AND NOW: #vaaldam heading for 100% today pic.twitter.com/TxkZApPijL

— Neal Collins (@nealcol) February 26, 2017
200 millimetres of rain has fallen at the @JoburgOpen_ this week.

??? pic.twitter.com/Svs4BzleiX

— The European Tour (@EuropeanTour) February 25, 2017
Cyclone Dineo's has also brought much-needed water to neighbouring countries:
Fish River, Koelkrans, Namibia