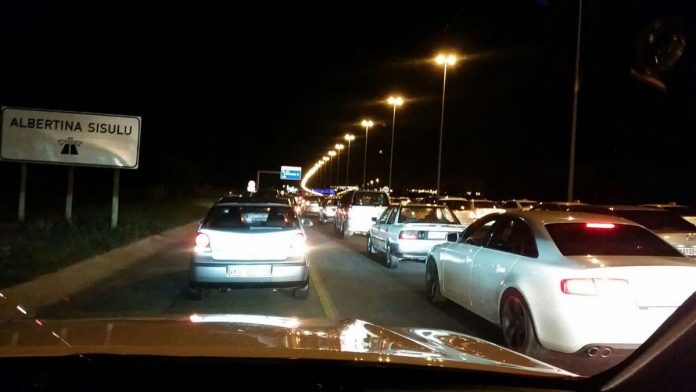 Metered taxi drivers in South Africa blocked the R24 highway to the airport Friday morning in a protest to demand that Uber be regulated.
The strategically positioned go-slow protest began at around 04h30 between Edenvale and OR Tambo International Airport, creating traffic chaos and severely affecting passengers wanting to make their way to the airport to catch flights.
Gauteng resident Laurie Jean Ross reported from OR Tambo Airport that at least 18 passengers have not made it to her flight to George. She said she fortunately spotted the mass protest action in time and took an off-ramp and then a back route. She said the "airport is so quiet". 
While their request for regulation of Uber may be founded, the taxi drivers' protest appears to be losing them fans rather than gaining support.
Taxi and Uber users took to Twitter to say "why punish your customers? Do you know how much a plane ticket costs?". Users complained that they don't have time or money to waste on the registered taxis' "poor, unreliable and expensive services", that Uber taxis don't require directions like registered taxis do and that on average a R70 Uber trip costs R150 with a registered taxi.
One said:"Uber did not steal their customers. In fact Uber is used by 90% of people who never used metred taxis… this is embarrassing" and another quoted Bill Gates' statement that "if your business is not on the Internet, then your business will be out of business."
Tweets pointed out that change is part of life and Uber didn't steal customers but brought change.
One said: "One might think it's a "go-slow", but it's possible that these metered taxis have all broken down. Those cars are damn old!"
Travellers headed to the airport were advised to rather take the Gautrain.
Everything you need to know about the traffic situation on R24/ R21 right now, and how to avoid it #TaxiStrike https://t.co/U0kuwj7t0X

— 702 (@Radio702) March 10, 2017
#TaxiStrike Meter drivers are furious new technology is undercutting them. Shame. Centuries ago surely the wheel was protested against too.

— Nickolaus Bauer (@NickolausBauer) March 10, 2017
Thank goodness I have a tent and sleeping bag in my boot #taxistrike #uber @947 @EWNTraffic pic.twitter.com/jjkSu1ktsl

— Sheldon Holliday (@Sheldzable) March 10, 2017
Taxi industry people must get it in their thick heads that there will always be competition.They've been taking us for a ride. #taxistrike

— Sundowns_Fanatic ⭐ (@Solomon_Madube) March 10, 2017
https://twitter.com/TrafficSA/status/840049943561793536
#UberProtest Security outside the Uber head office. CE pic.twitter.com/Ppo3YIC7mX

— EWN Reporter (@ewnreporter) March 10, 2017
Metered Taxi drivers gathered at the cargo section of the airport, saying they are waiting for the minister of transport #taxistrike pic.twitter.com/THSFR088ty

— Boikhutso (@ThatDudeBeeKay) March 10, 2017