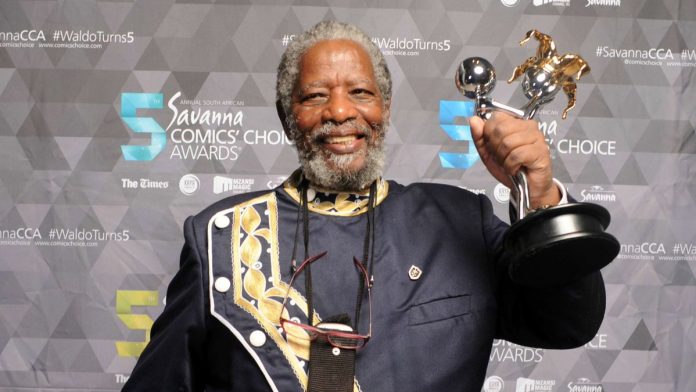 South African President Jacob Zuma has expressed his sadness and extended heartfelt condolences on the sad passing of "Legendary Actor and Filmmaker Joe "Sdumo" Mafela" who died in a car accident late Saturday night.
"We have learned with sadness of the passing of one of the pioneers of the television comedy loved by all South Africans young and old. Mr Mafela also affectionately known as Sdumo was also a television producer and songwriter.
"The arts and culture industry has been robbed of a bigger than life figure. We wish to extend our heartfelt condolences to Mafela Family and May his soul rest in peace," said President Zuma.
The Economic Freedom Fighters (EFF) said: "We send our heartfelt condolences and solidarity to the Mafela family in this difficult time. May they find comfort in the knowledge that his was a life well-lived."
Mafela won numerous accolades, including the Golden Horn Lifetime Achievement Award at the South African Film & Television Awards in 2010. He was born in 1942.
Nobody else was injured in the accident, and according to Johannesburg Metropolitan Police Department spokesperson, Wayne Minnaar, the cause of the accident will be investigated and a charge of culpable homicide investigated. Both cars have been towed to the JMPD pound for investigation. No arrests have been made.
Mafela was apparently one of the few South Africans who spoke almost all 11 Official Languages. But mostly he will be remembered for entertaining South Africans and making their lives lighter and better.
ubab' Joe Mafela was also multilingual, he was fluent in almost all of South Africa's 11 official languages. #RIPJoeMafela pic.twitter.com/VbuelHaJNk

— Min. Nathi Mthethwa (@NathiMthethwaSA) March 19, 2017
Funny person this Joe Mafela, great childhood memory. May his soul rest in peace.#ripsdumo #ripJoemafela #ripjoeSdumoMafela pic.twitter.com/8p9gXGeLjm

— Men Are Trash (@Ayanda_Ak) March 19, 2017
The legendary Joe Mafela is no more #RIPJoeMafela #MediaShow @safmradio #SABCNews pic.twitter.com/nKSYQD823V

— Ashraf Garda (@AshrafGarda) March 19, 2017
We would like to extend our deepest condolences on the death of legendary actor Joe Mafela. Ulale ngoxolo tata.. #RIPJoe pic.twitter.com/Imv56G4ZKP

— South African Gov (@GovernmentZA) March 19, 2017
Sad to see you Going Up so soon. Thank you for making it all better with laughter. One of the greatest to have ever done it. #RIPJoeMafela? pic.twitter.com/zoljKdH21F

— Maps Maponyane (@MapsMaponyane) March 19, 2017
It's a sad day in Mzansi. Week in and week out you brought our families together and made us laugh in the most incredible way #RIPJoeMafela pic.twitter.com/30vXgLrVhp

— #TSAon3 (@TrendingSAon3) March 19, 2017
ubab' Joe Mafela's career grew in leaps and bounds when he starred as "Sdumo" in popular TV sitcom "Sgudi Snaysi" (it's good, it's nice). pic.twitter.com/NH2XIKV9wf

— Min. Nathi Mthethwa (@NathiMthethwaSA) March 19, 2017
https://youtu.be/FzbQvaUwdkQ