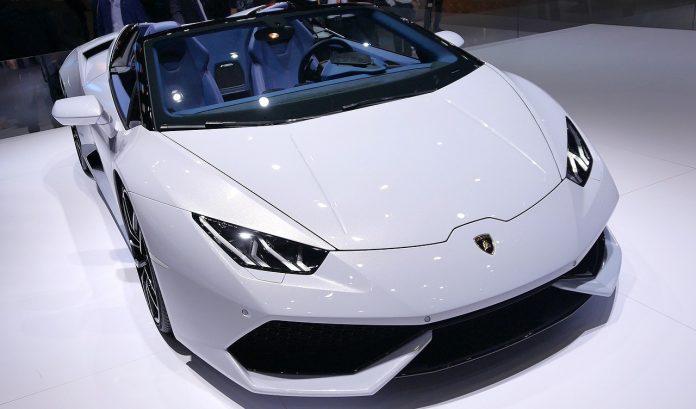 After the arrest last week of four people in connection with the OR Tambo International Airport heist in South Africa, it is reported that another five have been arrested… with one making social media headlines as he posted selfies of himself with his brand new Lamborghini!
The arrests have not yet been confirmed as – according to Eye Witness News (EWN) – Acting National Police Commissioner Khomotso Phahlane has asked the media to give the South African Police Services (SAPS) some space to conduct their investigation.
Millions in foreign currency, being transported in a container to an aeroplane destined for London, were stolen during the airport robbery earlier this month. Two of the vehicles used, were later abandoned and have been retrieved by police. The one was a bogus police vehicle.
According to reports, the man who bought the Lamborghini did so with cash, and then posted photos on Facebook. Photos are all over Twitter actually showing the men's faces (not printed here), standing proudly next to the vehicle in a private garage. A small child is seen walking away.
Phahlane said: "I've seen even some pictures even on social media. Can people just allow us to conduct an investigation and at a point where we've got something credible to come back to mention and report we'll do so."
So when you ROB @ortambo_int Don't go and buy fancy cars and houses #idiots #ORTamboRobbery #ORTamboHeist pic.twitter.com/U4XUalNufW

— kakspotter ♦?? (@kakspotter) March 19, 2017
#ORTamboHeist #ORTamboRobbery
Security guard who was in on it bought a Lamborghini & put it on Facebook. Now arrested pic.twitter.com/HA7MrNdr28

— Tumi Sole (@tumisole) March 19, 2017
The #ORTamboRobbery #ORTamboHeist is the reason why I hate group assignments. There's ALWAYS that ONE person. pic.twitter.com/kBKWHSLIVC

— IG: _Iamthato_ (@_IamThato_) March 19, 2017
Recent @ortambo_int heist: Among those arrested were security guards. Also, a man from an upmarket estate arrested. Lamborghini seized. pic.twitter.com/lblVqQdnvf

— Yusuf Abramjee (@Abramjee) March 19, 2017