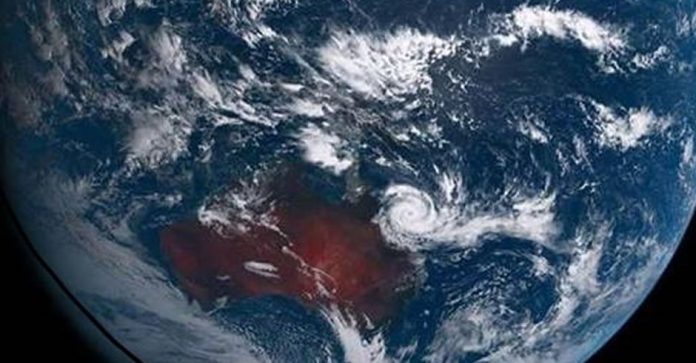 Thousands have been evacuated as Category 4 Cyclone Debbie nears the Queensland coastline, and in the past half hour the state's Police Service has urged people to please share a message ordering those in red or green zones of the Mackay Regional Council – a popular South African expat destination – to leave their homes immediately and seek safe shelter. See full message below. (Update: it is now too late to evacuate and people have been asked to bunker down.)
The window of opportunity to evacuate is small and therefore it is urgent, as safety experts are concerned there will be a tidal surge. Rescue services will be unable to reach these people during the worst of the storm.
Cyclone Debbie is expected to hit the north Queensland coast before 10am local time on Tuesday. Winds of over 260 km/hour are predicted, and the cyclone is expected to be the strongest since 2011.
The State Premier Annastacia Palaszczuk has warned that those residents in low-lying areas of Mackay, where many South African expats live, need to act now to protect themselves. Bowen is expected to be hit very badly.
While residents – up to 30,000 – have taken the evacuation order seriously, they have also reacted with typical Queensland humour… as seen in some of the tweets below. Several photos of a stunning sunset in Queensland on Monday, on the eve of the storm, have also been shared on social media… as well as that of a kite surfer taking advantage of the winds at sea.
Watch Videos about Cycle Debbie:
Can we trouble you to share this message again please folks? Important evacuation centre information for Mackay residents. #CycloneDebbie pic.twitter.com/h7LKT4f379

— QPS Media Unit (@QPSmedia) March 27, 2017
Queenslanders know how to prepare – big shout out to you all to stay safe ? #CycloneDebbie pic.twitter.com/76KmSHobib

— Jackie (@aussiejackie) March 27, 2017
Beauty in the face of disaster. This image was taken by Siobhan Mountney from #Townsville. #cyclonedebbie @ABCemergency @ABCNewsBrisbane. pic.twitter.com/LbYs9XKRF6

— Harriet Tatham (@HarrietTatham) March 27, 2017
Radar loop from the #Mackay radar shows the eyewall and eye of #CycloneDebbie as it tracks towards the coast. https://t.co/OeIpeUA38D pic.twitter.com/kgUU3PMQCl

— BOM Queensland (@BOM_Qld) March 27, 2017
Tree down just outside the ABC Mackay building! Lucky we all moved our cars! @ABCTropical @ABCNewsBrisbane #CycloneDebbie pic.twitter.com/38jn11WMhy

— Rachel Riga (@RachelRiga) March 27, 2017
Ayr #cyclonedebbie not far away pic.twitter.com/DZU1IcWL25

— Stephen Cavenagh (@stevecav1) March 27, 2017
Standing in my local supermarket looking at this #CycloneDebbie #Townsville pic.twitter.com/KRAPgOsBpF

— Paula Tapiolas (@PTappy) March 27, 2017
Hope these boxing #kanagaroos at #CapeHillsborough bunker down. #CycloneDebbie is set to cross between there and Ayr as a Cat 4 2moro AM. pic.twitter.com/7LGo1XYBDX

— Lisa Herbert (@MsLisaHerbert) March 27, 2017
Hang in there little guy #CycloneDebbie @Ch7Queensland pic.twitter.com/1S4AwQnOoT

— Alexis Kolsky (@AlexisKolsky) March 27, 2017
95yo Ethel Johnson has been through about 19 #cyclones and says she's not concerned about #cyclonedebbie pic.twitter.com/6ls1AA910r

— Melissa Maddison (@meljmaddison) March 27, 2017
This shot from space shows the sheer size of #CycloneDebbie @ABCemergency pic.twitter.com/vtOToumlh8

— Melissa Maddison (@meljmaddison) March 27, 2017
They're ready for #cycloneDebbie in Ayr. @9NewsBrisbane #9NewsAt6 pic.twitter.com/5ALt23vudL

— Andrew Lofthouse (@Loftea) March 26, 2017
@BOM_Qld: #CycloneDebbie is "Probably the most significant tropical cyclone since Yasi". PLEASE SHARE! Cyclone guide https://t.co/uSQEyAf3wJ pic.twitter.com/xI06muP2zE

— ABC Emergency (@ABCemergency) March 26, 2017