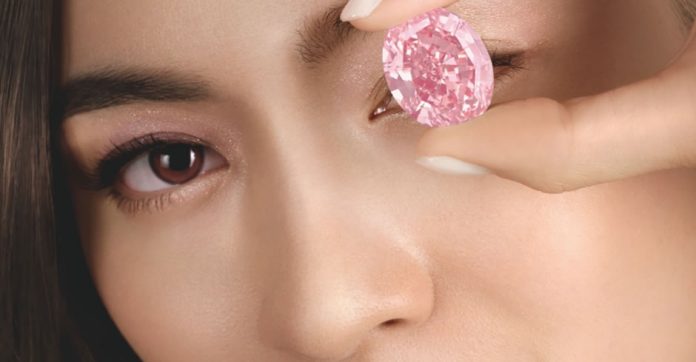 A diamond – which was mined by De Beers in South Africa in 1999 – has fetched a record breaking price of US$71.2 million in Hong Kong on 4 April 2017.
Sotheby's set the new record for any diamond or jewel when the 59.60-carat oval diamond – which is fancy vivid pink and internally flawless – sold Tuesday in Hong Kong for HK$553 million to renowned jeweller Chow Tai Fook.
The jeweller has immediately renamed the stone the CTF Pink.
According to Sothebys, not only was the price more than double the previous record for a fancy vivid pink diamond, but it was also a new record for any work ever sold at auction in Asia.
The Pink Star (or CTF Pink) is known as one of the world's Great Natural Treasures.
It was cut by Steinmetz Diamonds over a period of nearly two years and transformed into this spectacular gem – the largest internally flawless or flawless, fancy vivid pink diamond that the Gemological Institute of America (GIA) has ever graded. It was unveiled in 2003 at the Monaco Grand Prix where it was modelled by supermodel Helena Christensen.
Of all fancy coloured pink diamonds, those graded 'Fancy Vivid' are the most precious and desirable, says Sothebys.
The current world auction record for a pink diamond is the Graff Pink, a 24.78 carat diamond which sold at Sotheby's Geneva in November 2010 for US$46.16 million. The Pink Star is twice the size.
It has been exhibited at several museums around the world, including the Natural History Museum in London where it attracted about 70,000 visitors a day!