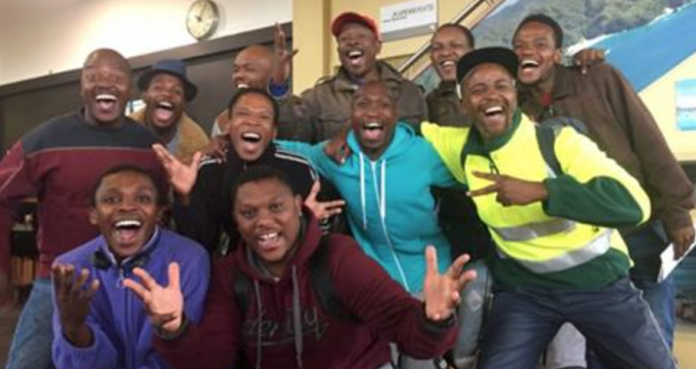 South African performers from Stimela 'The Gumboot' Musical delighted New Zealanders when they unexpectedly burst into song at Nelson Airport.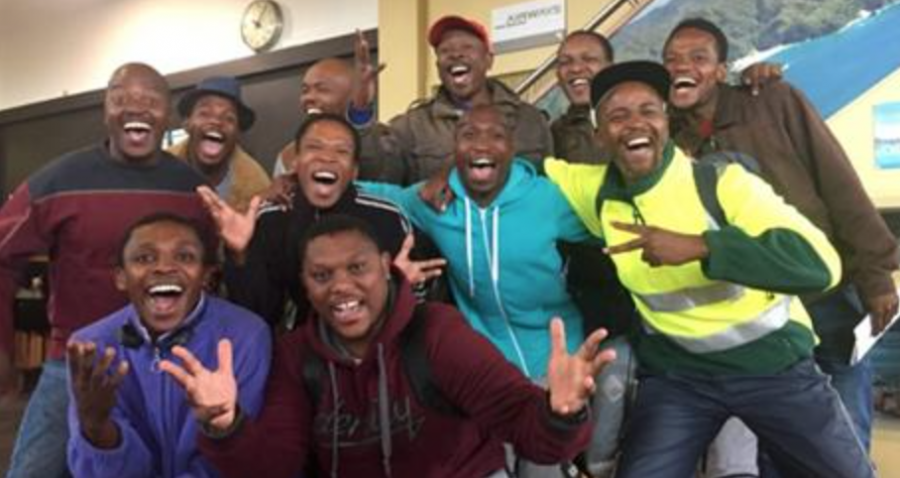 Travellers stopped to enjoy the infectious flash mob performance, and were clapping and cheering at the end.
The 13 gumboot dancers from Soweto had won their way into the hearts of Kiwis during their stay in New Zealand. It was their first trip out of South Africa, and it had almost been a total disaster.
Their event organiser had made unrealistic bookings at venues they wouldn't have time to get to during their busy schedule, hadn't arranged accommodation, and had – most importantly – forgotten to apply for work visas on time.
But – thanks to the intervention of a South African expat Rory Langbridge, and the kindness of New Zealand locals who were blown away by Stimela's talent – the band ended up having a fantastic time in New Zealand and forming a special bond with locals.
Stimela is the story about rural workers in Africa who travelled by train to Joburg, seeking better pastures. Working in gold mines, in the dark, they were forbidden to speak… and so they developed their own language by slapping their gumboots and rattling their ankle chains. The high-energy dance celebrates the body as a musical instrument whilst highlighting South Africa's rich and complex culture.
It had always been the dream of Thapelo Motloung, director and choreographer of the show, to take Stimela to the international stage, when he first began working on it in 2015… and realised theatre and politics had become so difficult in SA.
He even sold his own house and car to fund the tour to New Zealand and Australia… but when they flew into New Zealand last week they forced to cancel several shows because their work visas weren't ready in time, and they had to book into a backpackers hostel.
It's left them out of pocket and literally singing for their supper.
Rory told New Zealand's 'Stuff' he was in awe of the group's leap of faith in taking the show across the world… and that they had received rave reviews.
"As soon as people saw them, they were just bowled over by their infectious enthusiasm and pure joy," he said.
Rory's partner – Annie Leather – stepped in to rearrange Stimela's flights and book Australian venues.
The group has ended up having an incredible time in New Zealand where they were invited to perform at several spots and take part in a student workshop and community choir.
Thapelo said: "This is one place where we have come and people have embraced us, they have made it feel like home."
He is already planning for the group to return to New Zealand in 2018.
Rory's sister-in-law Jean, who also lives in Nelson, says: "If these guys head your way… don't miss them!! They have filled our South African hearts (as well as everyone else's) to the very brim while they were in Nelson, New Zealand, for five days."
The band is now in Brisbane, Australia.
Watch Stimela's Flash Mob Performance at Nelson Airport in New Zealand
MORE
A GiveALittle page has been set up to help the group continue their tour.