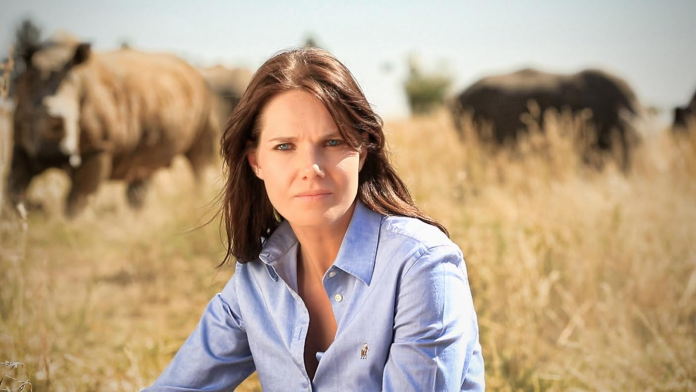 Meet the woman who is uncovering the truth behind the illegal rhino horn trade, like you've never seen it before…
Bonné de Bod, an award-winning television presenter and filmmaker shares what she has learned on her three-year long investigation unveiling the dark truths behind the rhino horn trade. Bonné shares her incredible story detailing the ups and downs involved in pushing boundaries and bringing the truth into people's living rooms.
What's your story?
We all wish to leave the space we occupy in a better place and although it's trite perhaps to say we can make a difference… I guess for me it was the ability to take my passion and love for the natural world and share this with people on-screen.
Television and film has a huge impact on the world and we can use that to make people all over the world understand and appreciate the beauty of nature. Without looking into the eyes of a rhino or an elephant through the stories we tell and the pictures we show, a lot of people will not know what we are talking about and just would not care.
And I don't know why there has been a split recently between conservation and nature… it's simple, without conservation, nature fails.
So yes, from a young age, I had a passion to bring nature's wonders into living rooms, and hopefully change people's perspective of the natural world. Nature is not separate from us, it is us.
The dignity of a rhino is everywhere, in all things. All that society needs is a little reminder. As far as a pivotal event regarding rhinos, I mean we are all aware of the rhino poaching crisis and especially me as a wildlife television presenter on SABC for the past decade on 50/50. It was actually during one of these stories I did on the rhino poaching crisis, four years ago, when I realized that I needed to do something more.
We were filming a story in the Kruger National Park and we were taken to a double carcass. When we got the crime scene, the producer of the story told me to sit in between these two carcasses and deliver my lines to camera, a link, something that will link the viewers at home to the scene around me.
At that moment I was confronted with so many emotions and questions… How can humanity be so unbelievably cruel? And how can we allow this?
It was right there and then when I knew that I had to do something to slow the slaughter and the eradication of this beautiful, iconic animal.
And that's where the idea for a documentary feature film on the rhino poaching crisis was born. An independent film with no censorship or broadcast sensitivities, a publicly owned film where we can show all the aspects surrounding this very complex situation.
STROOP was initially a six month project, but I think when myself and director of the film, Susan Scott, started filming we had no idea just how many layers the rhino situation really has.
So, three years later, quitting our jobs with broadcasters, selling our homes, cashing in our investments and moving in with our mothers… well, it has certainly become a passion project!
STROOP is an in-depth look at the world of rhino poaching and everything in between. From the battlegrounds in the Kruger National Park and Hluluwe iMfolozi in Kwa-Zulu Natal, the two hardest hit areas in South Africa, where we have been given unprecedented access to the rangers, forensic teams and crime scenes, to the dingy court rooms where we follow the work of three state prosecutors working against well-paid defence teams and a justice system that is slow at the best of times.
We follow the police on busts and spend time with private rhino owners. We follow the journey of little orphans who have lost their mothers to poaching and the rehabilitators who try everything to get them back into the wild.
We look at the controversial topic of legal trade in rhino horn and then we take the viewer straight to the dark underground backrooms of Vietnamese and Chinese smugglers and of course directly to the rhino horn users.
STROOP looks at the heart of the crisis and gives answers to the questions we all have. We are making this film so that no one can say they didn't know.
We are now busy with the editing of the film as well as some last shooting we have to do but we have to finish it later this year, for an early 2018 release.
The hardest thing
I've had many ups and downs over this three year period investigating this 'world of greed'. The most difficult part is witnessing what we, as humans, are capable of.
Last week, again, a mother survived a brutal attack and to say a front horn was removed doesn't do justice to the violation that was committed. Rather gouged and pulled from her face.
But I'm optimistic at heart. If I wasn't I couldn't continue. But having said that, it does get to one, I cannot hide that. I've attended the scenes of many murdered rhino, I've seen rhinos still alive with half hacked off faces…what unbelievable pain.
It shocks you to your core to see that, to witness that. The cruelty is totally beyond anything I can think up. Pure evil and human greed. And I do sometimes wonder when, if ever, we will defeat it. But then I remember why I'm doing this, why I'm making this film.
This is a creature of God. Such a beautiful creature… the second largest animal on land. We, as humans, have a moral responsibility to protect them, to protect all living species, it is simply the right thing to do.
You step away from yourself, from the ego and selfishness that's within us all…it's not about us, it's about them.
And as soon as you do this, it becomes easier to deal with all the heartbreaking scenes we capture on camera.
Seeing a little orphan calf crying while standing next to his mother's dead carcass, is probably the worst scene I've had to witness in this poaching war.
My faith plays a big role in my life…it's my rock, it's what keeps me moving forward. And so many people won't or don't talk about their faith and I respect that but for me, I believe we are fighting spirits of darkness here.
The poachers are using dark evil magic to go about their business. They have muti they put on their body so they think they go unnoticed by the anti-poaching units and rangers… they believe the rhinos can see them cutting off the horns so they cut their eyes out, they cut off tails and pieces of legs to take back to the sangomas they are working with for more muti.
These poachers are calling on spirits of darkness to do their work, they kill, maim, break all sorts of laws, bribe, and let's not forget they are quite prepared to kill humans as well as rhinos. The international criminal syndicates who the poachers report to are usually also involved in other massive criminal activities like human trafficking.
So these people are truly breaking our society for greed. We must pray for protection for our rangers, vets, investigators, private rhino owners, prosecutors… all those battling evil forces.
Your most memorable experience working with rhinos
Without a doubt the dangerous undercover filming work we did in Asia. We knew that we couldn't make a film about the rhino poaching crisis without capturing the demand for the very thing they are being slaughtered for… the horn, on camera.
And I have to say that the massive demand for rhino horn really took me by surprise. Sure, we've all heard the Vietnamese and Chinese consume and acquire rhino horn but to actually see how it is used… and the mythical, powerful properties they give it… wow, quite something to see and film.
The desire for rhino horn is huge and I met people who quite honestly told me that if they had the wealth to get it, they would. So all levels of wealth in South East Asia want rhino horn.
Now of course filming in a communist country like Vietnam brings with it it's own challenges as the communist party controls all forms of media.
Vietnam is ranked 175th out of 180 countries with regards to freedom of information and is one of the biggest prisons for journalists and citizen bloggers in the world.
So in order for us to capture the "illegal" side of things, well, we basically had to become illegal ourselves. Without giving too much away as I want you to watch STROOP when it's released!…
I think the fact that we came into the country as female backpackers meant that we really did slip in undetected with all our filming gear. We saw and filmed rhino horn in all shapes and sizes. From off-cuts used in traditional medicine to jewellery worn as status symbols to sitting in the home of a rhino horn user showing me how it's done.
I realized that in order to stop the demand in Asia, we have to stop the flow from the source site. It's that simple. The demand will stop when there is no more source material and I just don't want that to be when rhinos in the wild are extinct.
And of course, how will South Africa's court decision to lift the moratorium in local trade of rhino horn change all of that? Interpol has told me that this will make their life very difficult.
I am currently writing an article on the next step or phase of domestic trade so any questions that your readers have I would value getting as I am liaising directly with the Department of Environment in finding those answers.
The biggest reward
I have met amazing people on my journey and I've spent days on end with the people at the front-lines. There are people who deeply care and have given up their life of safety and comfort to save our rhinos.
I've been working closely with three female state prosecutors who spend their days putting criminals behind bars. I would look over my shoulder every single day if I was them, but they don't… they are fearless and I am in such awe of that determination.
Rangers and their dogs tracking poachers days on end, not knowing if they will survive the day and see their family again.
Vets who are suffering from severe stress because of the trauma they see on a daily basis and from being in armed conflict zones, but when the alarm goes off first thing in the morning to help these animals, they don't hesitate to get there.
These are the true heroes in this crisis, and showing their work to the world in a film is my biggest reward.
The changes we must see if poaching is to decrease
Well, change is a big word especially when what we are doing doesn't seem to be working. The Kruger rangers must be thrilled that their efforts are working to bring down poaching numbers in the park. But those in Kwa-Zulu Natal say that because the grip has tightened in Mpumalanga so the syndicates and career criminals have moved there… so you change one aspect with some success and it brings chaos somewhere else. Clearly this is a global disease.
And I always say that some call the rhino poaching a crisis, some call it a war, and others even… a campaign. I call it a genocide. The word is defined as the 'intent to destroy, in whole or in part'. and this applies to the mass slaughter of our rhinos. And if we do call it a genocide, we the people, will take it more seriously.
Over the past three years I have seen just how complex the rhino issue is. It is a multi-layered problem starting with an ancient mind-set of millions of people hundreds of kilometres across the ocean, who believe that rhino horn can cure disease and uplift status.
On the ground in South Africa it begins with poverty as many poachers come from poor communities surrounding our national parks.
As Kruger National Park is home to the most rhinos in the world, obviously it has the most number of poachers targeting rhinos, with an estimated 15 gangs of poachers in the park every day.
As it borders Mozambique we do get Mozambican citizens crossing our border and into our parks, which brings unique but difficult diplomatic issues between countries. Our rangers are arresting and shooting back at poachers who enter into our park, and for Mozambicans this is not even over human beings but animals.
So it's a contentious issue and I think we aren't even aware of the cross-border talks going on in the background. Scam artists 'fundraising' for rhino protection who are putting the money into their own pockets.
Private rhino owners have also told me that bureaucratic sluggishness has crept to an all-time high which affects them when they want to dehorn their rhinos for safety measures…. as well as the practice of selling their dehorning permit information to poachers looking for an easy target. Corruption has infiltrated throughout the system.
Rhino poaching like other wildlife crime is deeply-rooted yet an ever-changing crime that takes advantage of the set, secretive structures put in place.
Wildlife crime as a whole has transformed into one of the world's largest transnational organised criminal activities, alongside trafficking in drugs, arms, and human beings. Criminal groups are using the same routes and techniques for wildlife trafficking as for smuggling other illicit commodities, exploiting gaps in national law enforcement and criminal justice systems.
These are serious crimes, driven by demand, facilitated by corruption, and linked to organised crime and militias in many countries, as well as terrorist networks. In Asia I met with representatives from the US government who are fully aware of illegal wildlife trafficking and the terror groups it funds.
You may have heard the saying, "there is no silver bullet" and it's true. There is no one solution that will save the species from extinction. A multi-pronged, multi-disciplined and a multi-agency approach is needed from government's side, including transnational collaboration and cooperation.
And then as for the individual…when people are serious about something and they come together, movements happen.
The greatest victories in history didn't happen because of governments but because of the people. The people made it happen.
Think of the Arab Spring… the people were unhappy about something and they went out there and they changed it. So unless we get off our armchairs and make it known that we care about what is happening to rhinos, that we want to see change, their year ahead will be a bleak one.
We had our local elections here in South Africa last year and not one political party mentioned anything about the rhino poaching crisis. So we need to keep the 'rhinos' story front and centre.
We are all on social media, it's free and really does get noticed by the decision makers. In fact, we've had magistrates and judges refuse filming in their courtrooms, but when we mail them our request, we include our crowdfunding and social media comments from people all over the world who want to see this film, and we get permission to film.
The public's support of rhinos carries weight where you'd least expect it. On Facebook share, like and comment on posts that are important to you and of interest to you. Twitter is also a great place to directly target policy makers.
And if you're not on social media, use old fashioned mail, seriously! Someone, anonymously of course, told me that the Chinese embassy in Pretoria were embarrassed by all the mails they received with finger and toe nail clippings, so they sponsored the rhino security at the nearest zoo.
So write those letters, attend marches, any marches in your area with posters on our rhinos, talk about the issue so it gets noticed!
If you feel strongly about saving our rhinos, let your voice be heard. Ultimately this will I think, make the difference.
What can you do?
STROOP is in edit and some filming of vital scenes for the film are still taking place. It will release worldwide in 2018.
For more information and to engage with Bonné and the team please go to www.facebook.com/stroopdiefilm
STROOP is completely independent and crowdfunded and they rely heavily on public support. Keeping it independent will ensure that the true story of what is happening on the ground is seen.
You can help by forward purchasing a digital download of the film or even gifting a drive for the edit from this website: http://www.sdbfilms.com/stroop-film. Together we can really make a difference for rhinos.
Follow STROOP on Instagram: @stroop_film
Follow STROOP on Twitter: @STROOP_film
***
This article first appeared on The Medium here, and is republished on SAPeople wih kind permission of Sarah Dennis from The Australian Rhino Project, an ambitious project to establish a breeding herd of rhino in Australia as an insurance population for the world.