The notorious Ndlovo poaching gang are out again… this time on a paltry R5,000 ($384) bail.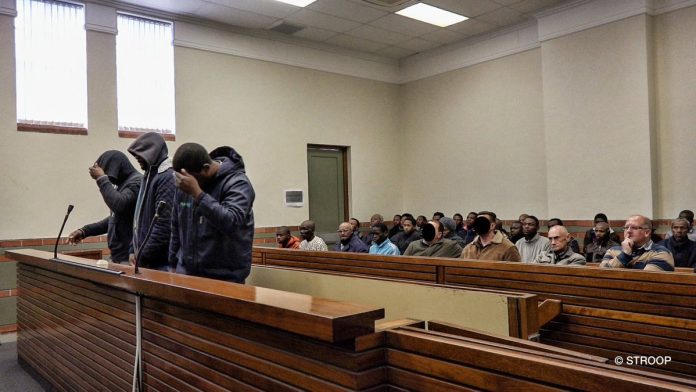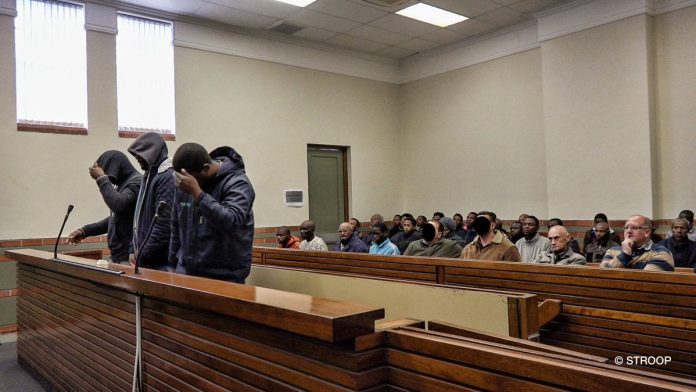 The previous release of the three men – who are prime suspects in 99 rhino poaching cases, dating back to 2009 – caused outrage last month when they were allow to walk, on just R15,000 bail.
At the time, filmmaker Bonné de Bod said: "While filming numerous rhino cases for STROOP [the rhino poaching documentary], this was a "no-brainer". She said the men had been "caught red-handed [in the Eastern Cape] with freshly-harvested horn, a dart gun with drugs as well as various saws and knives…"
Yesterday, Bonné said: "Their release on bail in Grahamstown last month caused massive public outrage, and shortly afterwards they were re-arrested for alleged rhino poachings in Mpumalanga and Limpopo.
"They were released in Hoedspruit yesterday…"
Since the men's first arrest in June 2016, NPA spokesman Tsepo Ndwalaza said there have been no further rhino poaching incidents involving darting.
The dart gun has also reportedly been forensically linked to over 90 previous such rhino poaching deaths. Simon Bloch wrote on News24 that in an affidavit, an Endangered Species Unit detective said the three were the prime suspects in 40 rhino deaths in the Eastern Cape, 50 in KwaZulu-Natal, four in the Southern Cape and five in Limpopo.
The men are Jabulani Ndlovu (38), and Sikhumbuzo Ndlovu (37) who live in Port Elizabeth (but are originally from Zimbabwe), and Forget Ndlovu (40) from George. All three had made trips to Zimbabwe over the last few years and were allegedly part of a sophisticated poaching syndicate with access to darting chemicals and guns.
The South African court system has long been criticised for alleged corruption, and in a report published in May 2017, Wild Aid recommended that South Africa should appoint a special court to deal with all rhino horn cases.
— BREAKING —
The Ndlovo poaching gang are out again, this time on R5,000 ($384) bail. Arrested in the Eastern… https://t.co/DkOldRJBeW

— Bonné de Bod (@Bonne_de_Bod) June 22, 2017