On Saturday morning South African high jumper Breyton Poole (17) had the crowd on its feet as he added six centimetres to his personal best… to scoop gold and secure the boys high jump title at the IAAF World U-18 Championships in Nairobi, Kenya.
He had always been told he couldn't do it… so he just tried harder.
Standing at 1.72m, the diminutive – and determined – young athlete soared clear at 2.24 metres to earn a comfortable victory, just one centimetre short of Jacques Freitag's 18-year-old national youth best.
'I was patient from the beginning and this made me more confident as the event went on,' Poole said.
"Previous coaches discouraged me because of my height and I decided to work harder. Today I proved them all wrong."
'I feel great, having set two best heights in the same competition. Previous coaches discouraged me because of my height and I decided to work harder. Today I proved them all wrong.'
South Africa rocketed to the top of the Medals Table, as its young stars produced one of Mzantsi's best-ever days at a major international championship – earning three Golds and a Bronze!
In the evening session at Moi International Sports Centre, Sokwakhana Zazini and Zeney van der Walt raced to a golden double in the boys and girls 400m hurdles finals.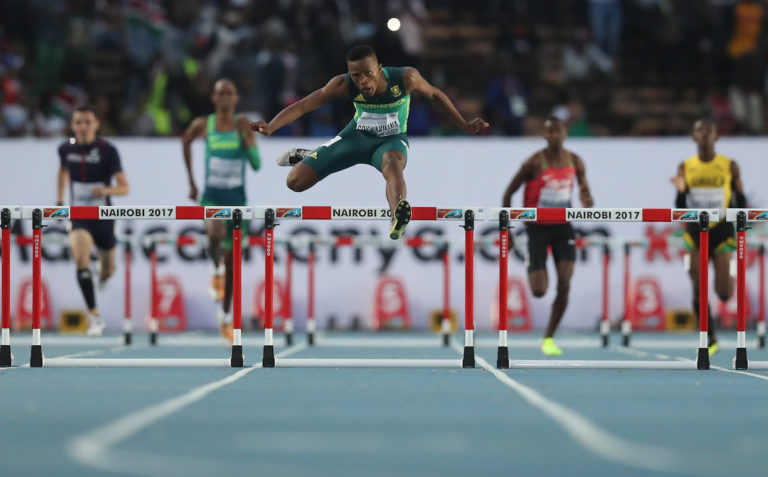 Zazini, who holds the world youth best of 48.84 seconds, blew the field apart as he scorched to a commanding victory in 49.27… almost three seconds clear of his nearest opponent.
If ever there was a case of an athlete living up to the hype as the pre-race favourite, it was Zazini.
'This is the moment I have been looking forward to. The whole world and South Africa was watching, so I had to deliver,' Zazini said. 'Getting out the blocks quickly was the whole plan and I followed the coach's instructions. I thank all who helped me reach this point.'
Van der Walt delivered a gutsy performance to snatch gold from Jamaican favourite Sanique Walker, with a stunning late attack… winning by 0.04 in 58.23sec.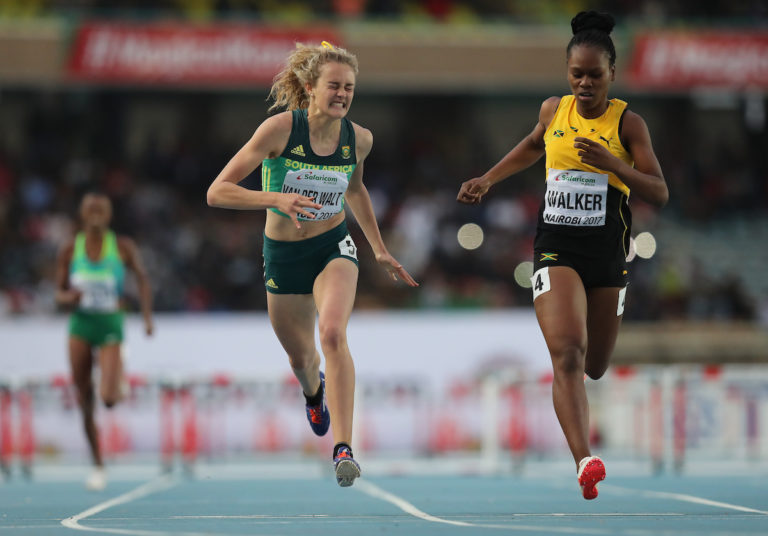 'I didn't expect to win,' Van der Walt admitted. 'I just kept on pushing till the end because I still had the energy. I'm very happy.'
Closing out a fine day of podium performances for the team, Morne Brandon added a crucial bronze medal in the boys discus final to add to the nation's growing medal count.
Super Saturday saw the pride of the nation rocket back to top place on the medal table with eight medals (four gold, two silver and two bronze, ahead of Germany and China.
All pictures courtesy of Roger Sedres/ImageSA
Source: SASCOC.co.za. 
Watch Breyton Poole's Interview immediately after winning Gold and becoming World Champ
This is Breyton Poole, the diminutive High Jump champion of the world who has jumped a stunning 2.24m to take a second gold medal for South Africa at the IAAF World U18 Championships at the Moi International Sports Centre in Nairobi, Kenya.This is his interview immediately after.Congratulations!

Posted by Athletics South Africa on Saturday, July 15, 2017
According to Athletics South Africa, Breyton has promised himself a "lekker SA break" when he gets back to Cape Town.
Watch Breyton's family react…
A new world High Jump champion is born, Breyton Poole of South Africa has jumped to match the championship record of 2.24m.He's promised himself a lekker SA break when he gets back to Cape Town.

Posted by Athletics South Africa on Saturday, July 15, 2017