Although South African athlete Wayde van Niekerk had so much to be proud of this week in London, he broke down during a BBC interview after his incredible Silver win in the 200m – a culmination of exhaustion perhaps, after days of giving it his all… as well as apparently having his spirits dampened by an alleged accusation from, amongst others, Botswana competitor Isaac Makwala that there was an "IAAF conspiracy" to unfairly quarantine Isaac to prevent him from competing against Wayde in the 400m final.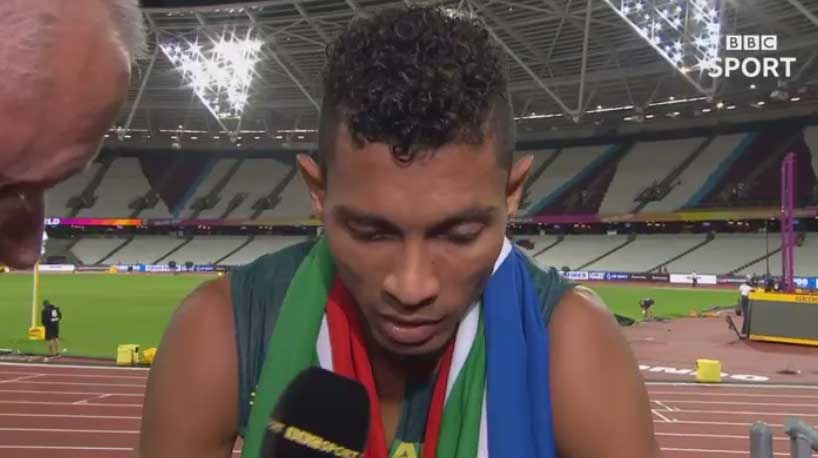 Wayde told the BBC Sports reporter (watch an excerpt below): "I really feel I worked hard for tonight and I gave it my all, and I think I've proven over and over again I deserve what I've achieved and it was a tough week for myself after the 400m.
"There were quite a few people who felt I didn't deserve it, I'm glad that I could come out today and put out a good fight. I really believe this is the beginning of so much more of what I can achieve."
He said: "I worked as hard as every other competitor I compete against, I show everyone else the respect and I think I didn't get the respect that I deserved after the 400m and I'm glad that I came through today…"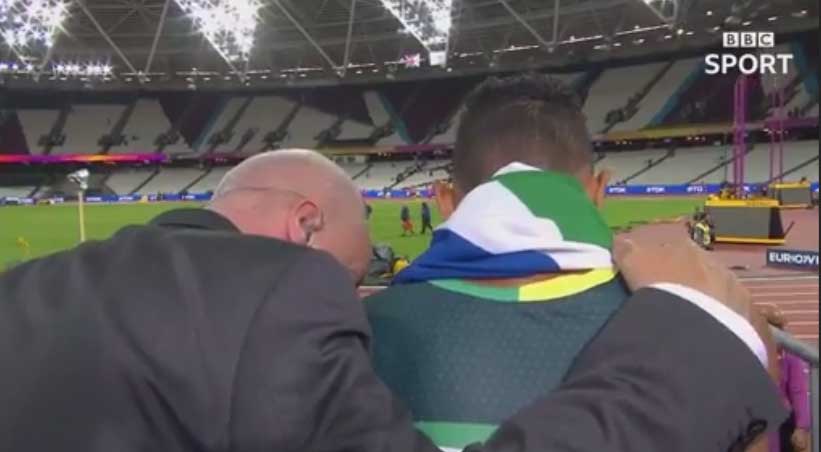 He said he's determined to put in "so much more hard work… and show my dominance."
The BBC reporter said it was strange that anyone could question his worthiness as a winner and asked where he was "getting that sense from".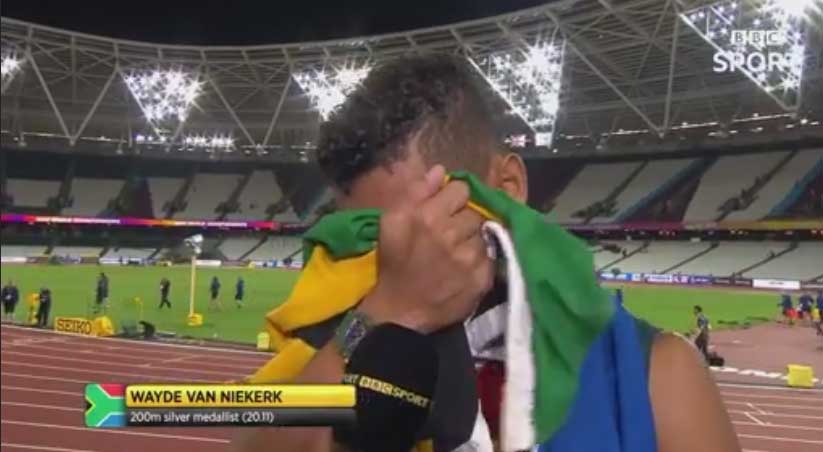 Wayde replied: "It was no secret that my finals a lot of people felt that the results could have been other way but I've proven everyone wrong today. Like I said I'm gonna
prove it over and over again that I deserve where I am and I deserve what I have achieved and I thank God so much again for such a great competition."
When asked about the IAAF conspiracy, Wayde said he felt it "very unfair" especially as he has not been an overnight success, and has worked hard to come through the rankings a lot in the last few years.
"I really feel I have worked for where I am today but it's fine I guess, everyone is going to be angry and people are going to be upset the way things work out, but this is a competition. We all challengers – we all came out here for one thing and that is medals."
Isaac had been stopped from entering the stadium for the 400m final, as the IAAF claimed it was attempting to control a "very virulent" norovirus outbreak.
The Guardian reported that Wayde said: "It really did upset me a bit because I have always shown him massive respect and for him to mention my name in something fishy, as an IAAF favourite is unfair… I want to compete and I'm not here to make friends, so I learned a great lesson, to focus on myself and not letting negative things affect me."
Earlier this week, when Wayde won the Gold he had said of Isaac's absence: "I would love him to have his fair opportunity. I believe he would have done very very well. I've got so much sympathy. I really wish I could give him my medal."
Wayde van Niekerk gave an emotional interview as he reflected on his brilliant week at #London2017. pic.twitter.com/HiMIP9W7t7

— BBC Sport (@BBCSport) August 10, 2017
Earlier this week:
And so Isaac Makwala is refused entry into the stadium tonight being stopped by 3 security guards, treated like a criminal. Go IAAF. Idiots. https://t.co/kB1FLzKY1Y

— Score Coaching (@scorecoaching) August 8, 2017
Botswana's #IsaacMakwala runs the 200m heat alone and qualifies for the semis in 20.20. One of the most unusual sights u'll ever see pic.twitter.com/5wEESnhfFk

— Mninawa Ntloko (@ntlokom) August 9, 2017