World renowned Wildlife artist and conservationist David Shepherd has sadly passed away after a 10-week fight in hospital with Parkinson's Disease.

The David Shepherd Wildlife Foundation (DSWF), which he founded, said in a statement that he passed away peacefully overnight.
DSWF paid tribute, saying: "For over 50 years David has dedicated his life to protecting some of the world's most iconic and endangered animals. Using his talent as an artist to generate funds for their protection he inspired hundreds of others to follow and, in 1984, established his own wildlife foundation to give something back to the animals that had given him so much success as an artist."
With a deep fondness for Africa's elephants (watch the video below) many of David's most iconic paintings are of elephants including 'The Ivory is Theirs' and 'Wise Old Elephant'.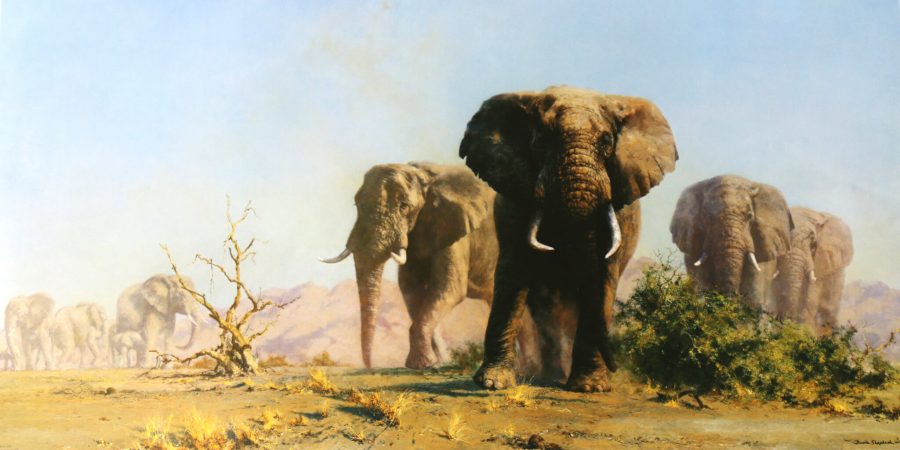 'Tiger Fire' was one of his first major fund-raising successes, raising £127,000 for Indira Gandhi's Operation Tiger in 1973. In 2014 he painted an elephant onto one of his palettes for his Foundation's 30th Anniversary black tie dinner raising £50,000 for conservation projects in Africa and Asia.
Speaking at the time David said: "What more could an artist wish for but to repay my debt to the animals I painted."
His other paintings included a portrait of Queen Elizabeth and the Queen Mother.
Several TV programmes and documentaries were devoted to covering his artistic and conservation work, and he received multiple awards from around the world.
"David's passion for wildlife and the role of man in its demise infuriated and inspired him. He was dedicated, tenacious and outspoken, a champion of animals and the people who worked to protect them. He will be greatly missed," said DSWF CEO, Karen Botha.
He leaves his wife, four daughters, nine grandchildren and one great grandchild and an enduring legacy for wildlife conservation.
Watch David Shepherd (with Elephants): A Life Remembered
MORE
For those wishing to make a donation to commemorate David's life and to help DSWF continue to protect the wildlife that David loved, please visit:
davidshepherd.org/help-us/appeal/in-memorium-david-shepherd