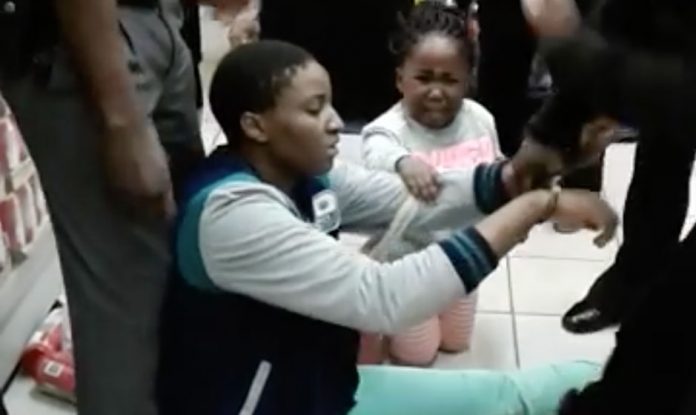 A distressing video that was posted on Saturday, and is going viral, appears to show security staff at a Shoprite outlet behaving badly and pulling a tearful little girl as her mom is handcuffed… however the security personnel in the video are NOT from Shoprite. (Watch video below.)
The video has created a backlash against the shop, with some calling for a boycott of the large South African supermarket chain.
But a spokesperson for Shoprite South Africa told SAPeople that the incident involves the Shopping Centre security staff, and "not Usave or its staff".
Shoprite said the "incident leading up to this arrest happened in the Cosmo City Centre and involves the centre's security not USave."
The video, which was filmed and uploaded by passerby Thabiso Phinda, shows security staff manhandling the woman, and pulling the weeping child. Thabiso can be heard saying that the woman hasn't committed a crime and shouldn't be assaulted.
Thabiso said: "This woman was assaulted for a mere reason of her 3 year old girl child messing herself outside the usave shoprite at cosmo city ext 8.
"Cosmopolitains kindly share this video as much as you can until it reaches the attention it deserves. I took her to the police station to open a case so long."
Sibonelo Radebe from ProBonoMatters said: "We will follow up this case and do everything in our power to secure justice."
SAPeople has contacted Cosmo City, but they have not yet responded.
This woman was assaulted for a mere reason of her 3 year old girl child messing herself outside the usaveshoprite at cosmo city ext 8Cosmopolitains kindly share this vedio as much as you can until it reaches the attention it deservesI took her to the police station to open a case so long

Posted by Thabiso Phinda on Saturday, October 7, 2017