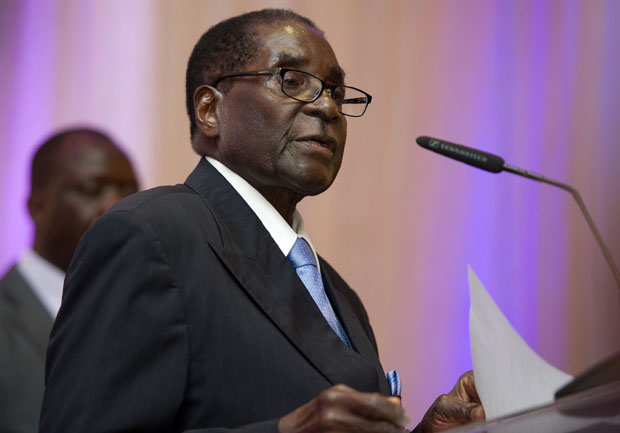 President Robert Mugabe was expected to resign as leader of Zimbabwe tonight… but instead – during a national broadcast which was streamed across the world – the 93-year-old appeared even more adamant to continue his 37-year rule.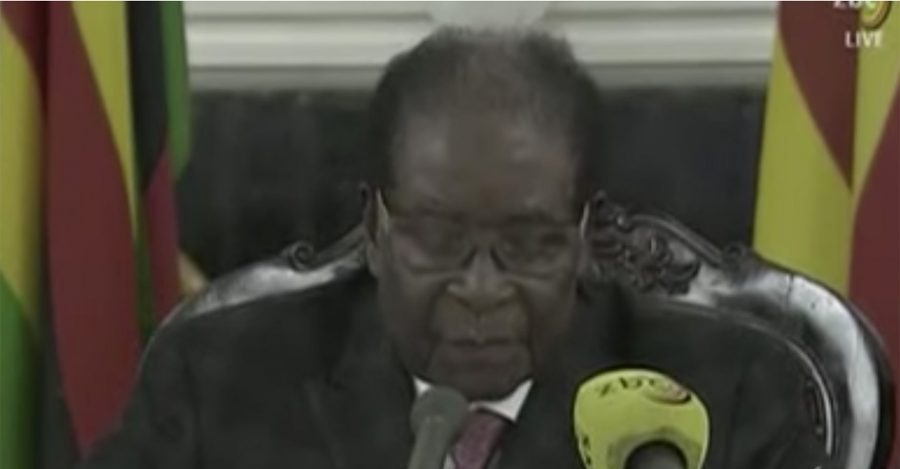 In a long speech filled with mentions of dignity and respect, as if his major concern is the people of Zimbabwe – he hung on to his position of power. It was as if he hadn't seen the thousands who marched through Harare yesterday to celebrate the military's non-coup coup and call on him to step down.
It was as if he didn't hear the singing and shouts of joy this morning amongst almost 200 members of his own party – Zanu-PF – when it was announced that he would be recalled.
On Sunday morning Zanu-PF announced that Mugabe had until noon on Monday to resign with dignity, or be impeached on Tuesday.
Tonight, with the world watching, Mugabe said he was addressing the nation after holding a meeting with the security forces command element.
Speaking of the week gone by, he said the Zimbabwe Defence Force's operation – which had "pros and cons" – had been triggered by concerns arising from the state of affairs in Zimbabwe and in the ruling party.
"I – as the President of Zimbabwe and as their Commander in Chief – do acknowledge the issues they're raised" he said, before patronisingly saying their issues had been raised in the "spirit of honesty and out of deep and patriotic concern for our nation… and the welfare of our people"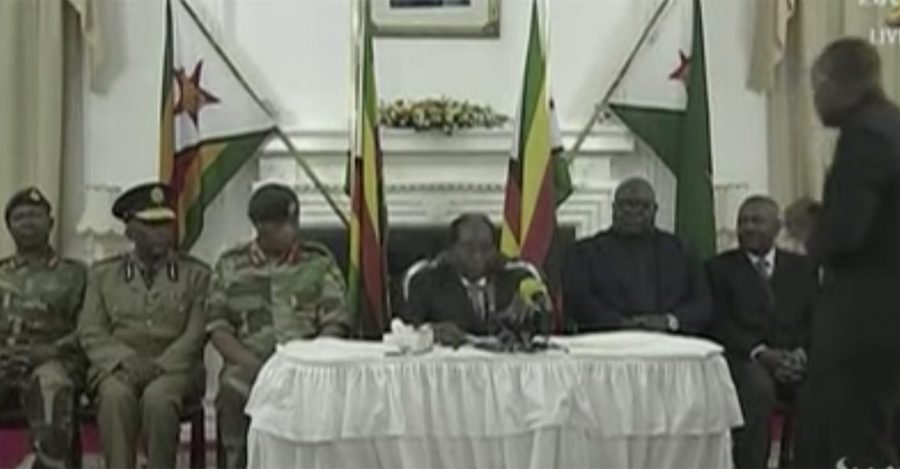 He said the concerns deserve attention, and observed the incredible peaceful way in which Zimbabweans had handled the past week, showing "we express our grievances and resolve our differences by ourselves with a level of dignity, discipline and respect… so rare to many other nations."
He denied the 'operation' (the non-coup coup and his house arrest) was against him, saying it was neither a threat to the constitution "nor was it a challenge to my authority as Head of State of Government, not even as Commander in Chief of the ZDF".
He did conceded that "true, a few incidents may have occurred here and there… but these are being corrected".
Mugabe acknowledged the country is economically going through a difficult time and said the government will soon unveil an exciting new business programme.
He blamed fears of the lack of unity in the party on "perceptions of inattentiveness"; and reminded his "fellow Zimbabweans, we are a nation borne out of a protracted struggle for independence…"
He said criticism of the party failing in its own rules or procedures do need to be corrected… but that "the way forward cannot therefore be based by swapping" and riding "rough-shod over party rules". Instead the guiding principles of the party need to be applied fairly and equitably, with a sense of comradery.
He said all these matters – and generation gap problems – will be discussed at the forthcoming congress which is in a few weeks time.
"I will preside over its processes which must not be pre-possessed by any acts calculated to undermine it, or compromise the outcomes in the eyes of the public," he said.
At this stage one was still expecting him to resign… he had got some pages mixed up by mistake… but then he said "as I conclude this address…" and it became absolutely clear there's no way he's going anywhere voluntarily.
Mugabe said the party cannot be guided by bitterness or vengefulness, and urged "let us all move forward… reminding ourselves of our wartime mantra."
He then fumbled a little and said "sorry" and that it had been a long speech…
The rest of Zimbabwe, and the world, were left a little speechless…
Pages were skipped. Chiwenga passed right speech to his team. Mugabe is history. He does not realize this. His party has fired him. #Zimbabwe

— Trevor Ncube (@TrevorNcube) November 19, 2017
Please forgive Robert Mugabe. He has no clue about what just happened. A great lesson to Africa . Never allow one man to think he is God. Mugabe thinks we can't do without him. Terrible bubble #Zimbabwe https://t.co/nFS2UhtCI8

— Trevor Ncube (@TrevorNcube) November 19, 2017
Surely the 'I hereby resign was contained in those pages'

?@BarryBonez pic.twitter.com/dFsCjMMwwt

— Tumi Sole (@tumisole) November 19, 2017
Robert Mugabe did not resign. Robert is finished. The party decided that he and Grace etc are history. He is likely to be impeached. Worst speech ever. #Zimbabwe

— Trevor Ncube (@TrevorNcube) November 19, 2017
Interviewer: Mr. President ,when are you bidding the people of Zimbabwe farewell?

Uncle Bob: Where are they going

?????#Mugabe

— Lincoln? (@LincolnsKE) November 19, 2017
This sums it up!

— Tumi Sole (@tumisole) November 19, 2017
Robert #Mugabe has been dismissed as leader of the ruling ZANU-PF party in #Zimbabwe, Reuters sources say pic.twitter.com/ydLwFYxwjn

— Sky News (@SkyNews) November 19, 2017
Hi, Zimbabweans
Just to summarise #Mugabe's speech,

Uncle Bob do you resign as president of Zimbabwe? pic.twitter.com/BcNo5pmO1I

— The Seed YaMchangane (@Ounalypse) November 19, 2017