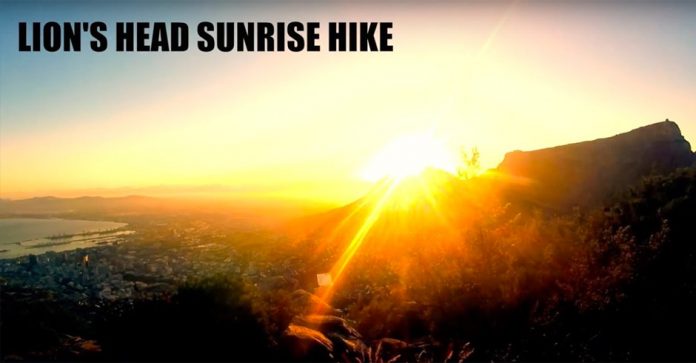 If you're not an early riser, here's a chance to enjoy the spectacular Lion's Head sunrise on an early morning hike up Table Mountain in Cape Town, South Africa. (And maybe after watching this you may be tempted to get out of bed early in the morning, at least once, to enjoy this phenomenal experience.)
Darren and Dean from TravelVids.TV joined Cape Town Tourism and a couple of other vloggers for an early 4am morning sunrise climb and ad hoc video workshop on the move.
"Needless to say the sunrise was epic, and the hike was great," says Darren. "It was a beautiful morning – not hot or cold, a nice breeze blowing but a perfect day for a hike."
Watch Lion's Head Sunrise Hike
For more beautiful videos like this, subscribe to TravelVids.TV's YouTube channel here.
Hiking Safety Tips for Travellers on Table Mountain
Here are some hiking tips to enjoy a safe and pleasant hike on Table Mountain, from CapeTown.Travel:
1. Don't hike alone: it's advised to hike with three other people and never split up. Take the pace of the slowest person in the group. If you don't know anyone to hike with, rather hike with a guide.
2. Be prepared: with enough water (at least 1.5 litres per person), sunblock, a hat and proper hiking shoes. Check the weather the evening beforehand and take a warm jacket as conditions can suddenly change.
3. Tell someone and plan ahead: let someone know what route you plan to take and when you plan to finish. "Always take the well-trodden path and look out for small painted footprints or piles of rocks (Cairns) to verify you're on the right track," says CapeTown.Travel. And download a hiking navigation app.
4. Know what to do in an emergency:
a) If someone is injured – stay in one place and find shelter. Don't leave an injured person alone. If possible send two people to find help whilst one stays with the injured party.
b) For a snakebite – immobilize the person, lie them flat on their back, don't give them food or water, keep them calm. Get help.
c) Blister Bush contact: if someone has contact with a blister bush (which looks like celery), cover their skin to protect irritation from sunlight.
5. Be responsible: be considerate of other hikes, don't feed the animals, don't litter and avoid smoking or lighting fires.
View Cape Town's travel site for emergency numbers to save on your phone before you begin your hike:
www.capetown.travel/visitors/see-do/nature-adventure/mountain/hiking-safety-tips-in-cape-town
For tips on how to create holiday & vacation videos: check out Travel Video School at: www.travelvids.tv
Subscribe to TravelVids.TV's YouTube channel here.