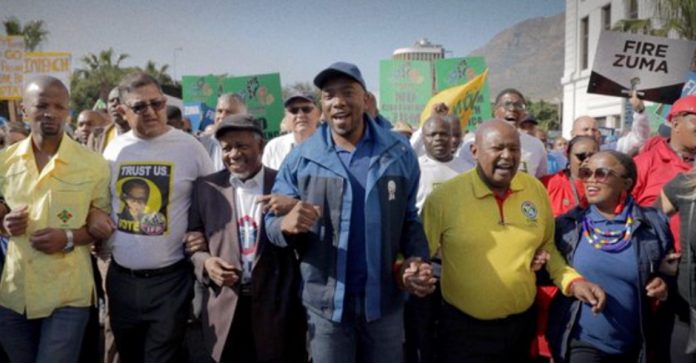 Leaders of opposition political parties in South Africa met in Johannesburg today – 6 December 2017 – to assess government's 2017 performance, where they collectively govern the cities of Tshwane, Joburg and Nelson Mandela Bay based on their broad coalition agreement, signed in August 2016.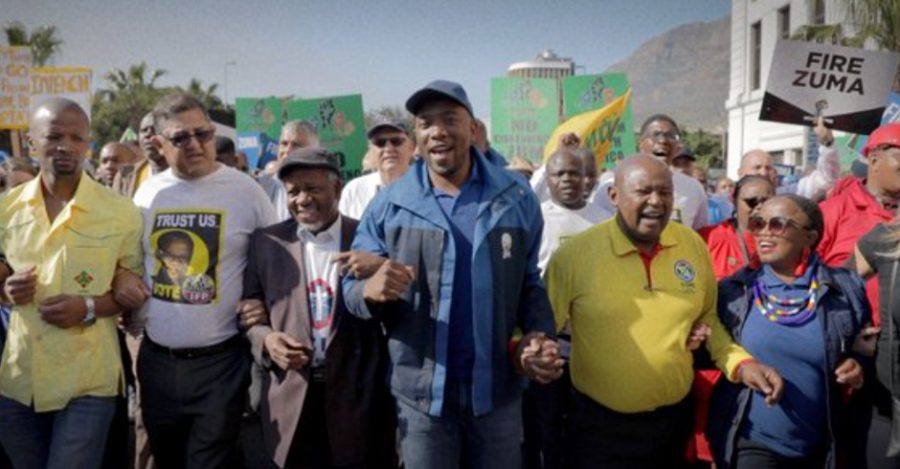 Those gathered included Mmusi Maimane, Democratic Alliance; Mosiuoa Lekota, Congress of the People; Rev. Kenneth Meshoe, African Christian Democratic Party and Dr Pieter Groenewald, Freedom Front Plus.
The leaders said that 2016 was a watershed moment for South Africa, as a new era of coalition politics was ushered in when the country "rejected the ANC in favour of change in major cities across the nation".
According to a joint press statement, the leaders agreed unanimously that the ANC cannot self-correct, and is not fit to lead South Africa… and therefore whoever the ANC votes as their next president this month is immaterial. The leaders said their collective goal is to remove the ANC.
While they admitted that they differ on many things and that "governing in coalition has its challenges", they said they share common values like non racialism and zero tolerance for corruption… and that "despite our challenges, we are committed to working together to bring change to lives of South Africans".
They highlighted the progress that has been made in areas they govern:
Tshwane: 
23 000 EPWP work opportunities have been created,
the mayoral mansion has been sold for R5.1 million rand, which will be used to build houses for poor residents.
2804 title deeds have been handed over already, and a further 6000 title deeds are scheduled to be handed over in 2018.
Plans are in place to extend the reach of the City's bus service
An Anti-Cable Theft Unit was established this year, to deal with the criminality that hampers the provision of reliable water and electricity.
Johannesburg:
established an anti-corruption unit, which has so far exposed over R 2 billion in corruption in the City.
has 2469 open investigations – resulting in approximately 500 arrests and the suspension of 100 officials – into a number of issues including corruption, fraud, theft, and hijacked buildings. "The associated monetary value of these ongoing investigations is R16.2 billion, proving the City has lost vast amounts of money to corruption under the previous administration," says the coalition.
launched the Johannesburg Metro Police Department (JMPD) K-9 unit whose focus has been on the war on drugs and other related crimes such including theft and robbery.
increased Metrobus's capacity by 50%, adding 200 new buses to its fleet, providing residents with greater access to transport.
28 new state-of-the-art fire engines, at a total cost of R189 million, and employed an additional 160 firefighters.
Nelson Mandela Bay:
90% of the administration's first budget has been allocated to previously disadvantaged individuals and communities,
Capex rate is at 93%, and boasts a 93.7% revenue collection rate – the best financial position the metro has been in for over 7 years.
Confidence in the government of Nelson Mandela Bay has risen in just one year, from the second lowest trusted metro in the country, to the second highest,
first Metro Police Service established, which consists of 114 well-trained officers, with two satellite offices in Bethelsdorp and KwaNobuhle.
Before the coalition-led government came to office, 35% of all bucket toilets in SA were in Nelson Mandela Bay. Over 4000 have so far been eradicated and the coalition is committed to eradicating all bucket toilets by the end of 2017.
handover of more than 2000 title deeds, in a project which seeks to address the housing backlog – currently standing at 80 000 – and to root out corruption in the housing list process.
The coalition said: "Come 2019, we will work towards building the alternative: a coalition government at national level that represents all South Africans and is committed to fighting corruption, delivering services and creating jobs for all."