Newlywed South African expats – Marelize and Ryan – were hoping to capture the "perfect couple photo" whilst on holiday back home… but instead ended up with broken bones and a visit to hospital when they were washed off the rocks they were posing on. The couple has kindly agreed to share their video with NSRI, to serve as a "safety warning for people not familiar with the ocean".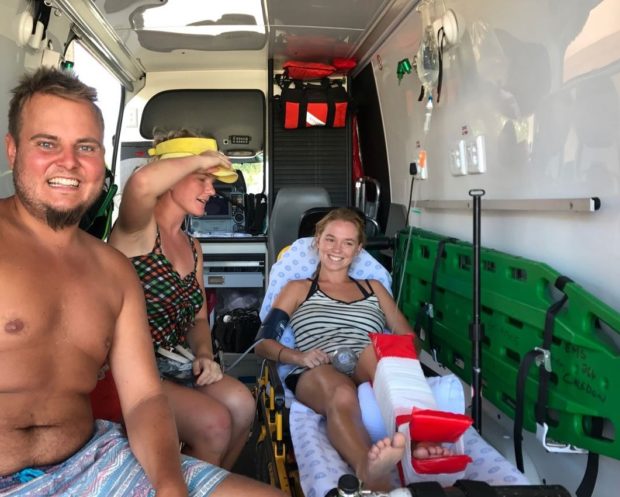 The incident occurred on 03 January 2018 when the couple, who now live in the UK, were on holiday in Hermanus with family from Rustenberg.
The expats – who are both 25 – had just posed for a fantastic shot on the rocks at Kwaaiwater, with romantic sea spray rising behind them… when they decided they wanted an even better shot – closer to the sea, with a bigger splash!
Writing on their blog – Dreyers Adventures – Ryan said: "We got caught while trying to get across the rocks to our next photo spot; it was springtide which meant even bigger waves than normal. A huge wave hit us which then swept us off the rocks and into the sea."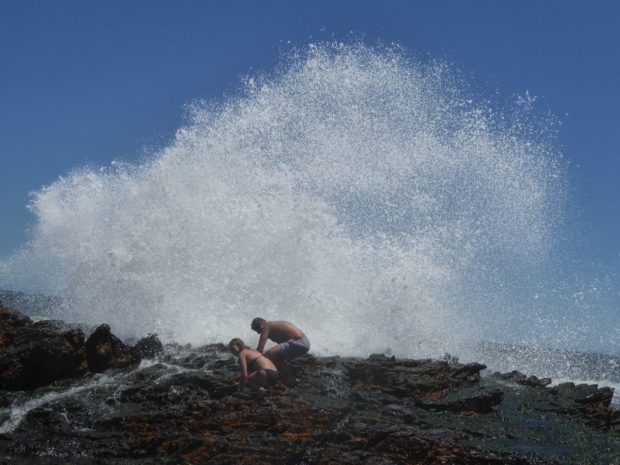 In his rush to rescue his wife, whose ankle was visibly injured, Ryan sustained cuts and bruises. Fortunately a Dutch tourist was able to piggyback Marelize to safety, where the NSRI attended to her and an EMS ambulance transported her to hospital. She will need an operation.
Ryan wrote: "What an exciting start to 2018, Marelize managed to break both bones in her left leg and dislocate her ankle at the same time! Did she cry… no, she was merely annoyed at the inconvenience it causes!"
He joked good-naturedly about having to send the following video to the sea rescue patrol "so they could use the footage for a what not to do video".
Watch South African Expats Washed Off Rocks – Safety Warning
Yesterday we reported on an incident in Hermanus and the couple have kindly agreed that we can share a video and photographs as a safety warning for people not familiar with the ocean. For the story and photos click here…goo.gl/qj9RNT

Posted by NSRI on Thursday, January 4, 2018
Read their full story here:
dreyersadventures.wordpress.com/2018/01/04/heros-of-hectic-hermanus/