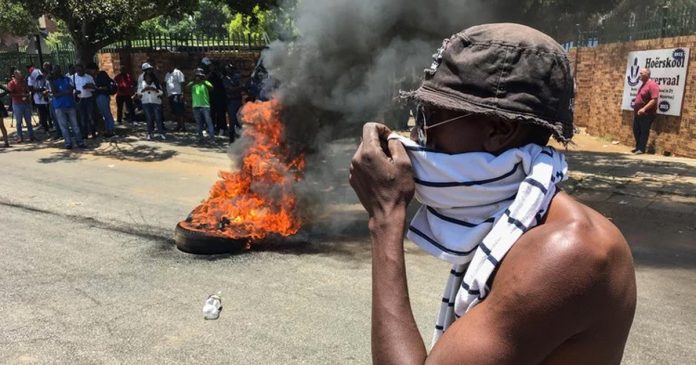 The civil rights organisation AfriForum is considering laying a complaint of hate speech against the Economic Freedom Fighters (EFF), after EFF protesters yesterday allegedly chanted the phrases "White man, you must die", "Shoot to kill the Boere" and several other racist and inciting remarks during a protest at Hoërskool Overvaal.
AfriForum said in a press statement Thursday that its legal team will today serve a lawyer's letter on the leadership of the EFF in which the party is asked to explain their stance on this incident.
"If these actions do not comply with EFF policies, we demand that the Party distances itself unconditionally and institutes disciplinary action," says Ernst Roets, Deputy CEO of AfriForum.
"If the Party is however unwilling to do this, AfriForum will lay a complaint of hate speech against the Party in terms of the Equality Act."
AfriForum did not mention the hate speech that was allegedly used by a white man to address the black protesters.
Police fire rubber bullets at protesters at the Afrikaans High School yesterday:
[WATCH] #HoerskoolOvervaal #BackToSchool Police fire rubber bullets to disperse protestors while arresting a handful of others. pic.twitter.com/3wvUVclN4b

— EWN Reporter (@ewnreporter) January 17, 2018
Continuing his apparent campaign to fuel "action against all racists, individually and collectively this year", EFF leader Julius Malema has meanwhile pinned the following 15 January post to the top of his Twitter timeline which appears to reveal a shocking racist attack. It is not certain where or when this was filmed, or by whom. Malema tagged EFF members and mockingly wrote: "guys please organize online petition or boycott. No violence please, because we are civilized blacks."
@EFFSouthAfrica @FloydShivambu @AdvDali_Mpofu @LeighMathys @hlengiwe44maxon @GardeeGodrich @MbuyiseniNdlozi guys please organize online petition or boycott. No violence please, because we are civilized blacks. pic.twitter.com/VJ7RK397Bj

— Julius Sello Malema (@Julius_S_Malema) January 15, 2018
Forgive those who try to belittle you and understand that they do so because they feel small

— Prof Thuli Madonsela (@ThuliMadonsela3) January 12, 2018