A self-taught local artist – who has created an incredible mural of former President Nelson Mandela, on the library wall of the Winnie Mabaso Foundation (WMF) in Gauteng, South Africa – says he has so much gratitude for both Madiba and the WMF.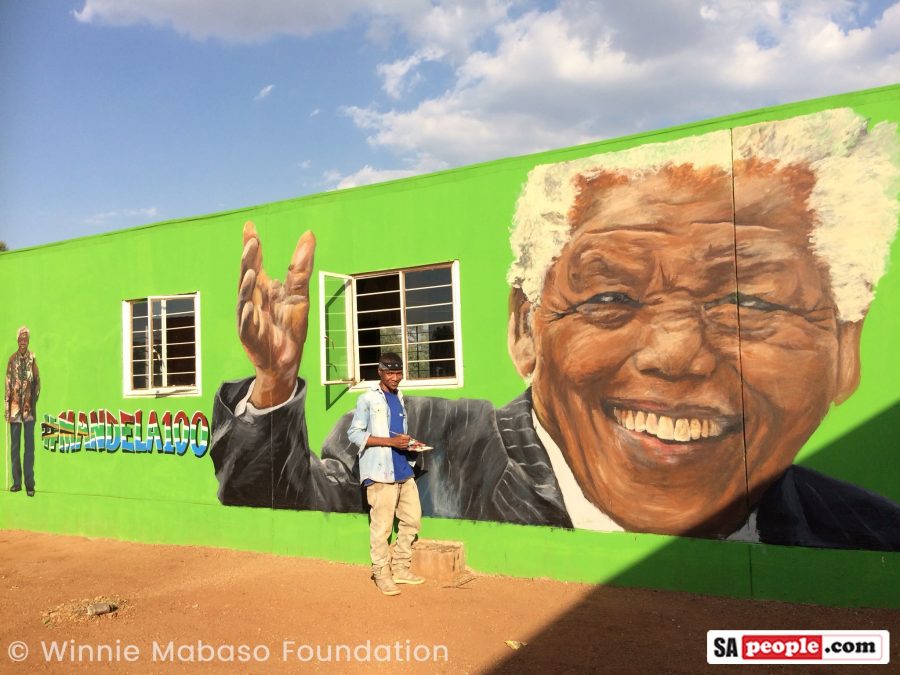 Mike Micah Chadzier told SAPeople: "To me Mr Nelson Mandela means a man who went through and fought hard [in his] life to get us the freedom we have today in South Africa. Doing the Mural Art of Mr Mandela on that wall – to me it wasn't just for the love of Art, But Painting The Hero of our Freedom.
"And it's a great honour to do a Painting of such a great man. I have done a lot of Mr Mandela paintings but this was more… I feel like I know the man himself. Having people loving that Artwork, I feel his power and his greatness, #Mandela100."
Speaking exclusively to SAPeople, British founder of the WMF, Lisa Ashton, said: "Mike was a local self taught artist who needed a break in life. He asked for my help with materials and has produced the most extraordinary works of art. To mark the beginning of our Mandela 100 celebrations I commissioned Mike to paint a mural on our library. It's the biggest piece Mike has ever painted and we are delighted with the result."
Mike ended last year with the most amazing message of gratitude and appreciation for WMF on his facebook page, thanking the team and particularly "The Most Amazing Lisa Ashton" for the love and support shown to him and his family.
He described Lisa – who didn't even let a gang of armed men breaking into the Foundation stop her charity work in South Africa – as "the woman who has been there in all the support a Person needs. You are the Awesome Gift to most lives here in Africa. You lead the Team wonderfully and Knowing you and your team has turned to be the Most awesome thing my life will never forget."
Mike also thanked those who have bought his artwork and shown love and interest, acknowledging that he now has "the best equipment needed, making it easy to do my Job, Making it easy for me to be the Best Father to my Sons."
He also thanked the British High Commission and Australian High Commission for supporting his art exhibitions, and vowed to "always always learn to improve my skills to give The World the best Artwork…"
The WMF goes from strength to strength. After starting with orphanage Ilamula House, for 22 girls, the Foundation has several other projects on the go on a local informal settlement called Meriting. These include a preschool for 30 underprivileged children, a library (where you can see the Nelson Mandela mural), a sewing school, granny club and a gardening programme teaching the community to grow their own organic produce.
"We have 100 gardens planted already!" says Lisa. "In addition, we are building shacks for those who desperately need new ones – many have rusted away and flood when it rains."
#ThankYouLisaAshton #ThankYouTeamWMF #CongratulationsMike #ThankYouSAPeopleFollowersWhoSupportWMF
To contact Mike or find out more about WMF, please visit: www.winniemabaso.org
Art Last I did it #mandela100 pic.twitter.com/Ux9JyAAGV4

— Mike The Artist (@smARTmyk_Views) January 19, 2018
Simply superb!!! The artist is very good and does wonderful portraits… @WinnieMabasoFdn pic.twitter.com/Y3Wtn8HP1g

— Julian de la Hunt (@Julesdlh) January 22, 2018
A portrait by Mike of the WMF founder Lisa Ashton…