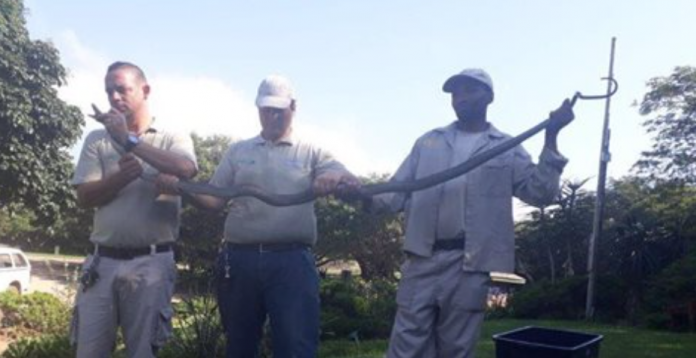 It's been blistering hot in KwaZulu-Natal, South Africa, and it appears even one of the world's most dangerous snakes needed to cool off on Thursday evening!
According to a statement by Crocworld Conservation Centre, a male teenager almost tripped over the 2.8 metre Black Mamba as he was jogging past the Cutty Sark Hotel, just north of Scottburgh's main beach, at around 18h00.
KZN couple Owen and Nadi Kuyper, who were about to enjoy an evening swim, alerted Crocworld to the rare incident… and then filmed the safe capture of the venomous reptile, by Crocworld Manager Martin Derek Rodrigues, on their cellphone. Watch below.
Rodrigues, a highly experienced herpetologist and snake catcher, said it was the first time he had seen a Black Mamba captured on a beach. They are highly venomous snakes.
He said it was possible that due to the extremely hot weather, the snake was cooling down on the shore or having a drink of salty water. Crocworld said it may have been tired or caught up in the waves.
"When I tried to catch the snake, I noticed a lot of water coming out of its mouth so it may have swallowed quite a bit of sea water," added Rodrigues.
After a thorough health check, it was safely released back into its natural environment on Friday 09 February 2018.
WATCH 2.8 m Black Mamba captured on Scottburgh beach in South Africa
Black Mamba on Scottburgh Beach

RARE ENCOUNTER & CAPTURE OF BLACK MAMBA ON SCOTTBURGH BEACHA 2.8 metre Black Mamba was sighted just North of Scottburgh's main beach, in front of the Cutty Sark Hotel, on Thursday 8 February around 18h00. A male teenager who was jogging on the shore of the popular beach nearly stumbled upon the venomous reptile. Owen and Nadi Kuyper, who were going for an evening swim, alerted Crocworld Conservation Centre's Manager Martin Derek Rodrigues. Rodrigues, a highly experienced herpetologist and snake catcher immediately responded. He managed to safely capture the snake, which was released back into its natural environment today Friday 9 February.The Kuypers managed to capture footage of the rare incident on their cellphone. According to Rodrigues, it was the first time that he has seen a Black Mamba captured on a beach.Rodrigues said that it was possible that due to the extremely hot weather, the snake was cooling down on the shore or having a drink of salty water. It may have been tired or caught up in the waves. "When I tried to catch the snake, I noticed a lot of water coming out of its mouth so it may have swallowed quite a bit of sea water," added Rodrigues.

Posted by Crocworld Conservation Centre on Friday, February 9, 2018
And after a thorough health check, the snake was released back into its natural environment the following day: