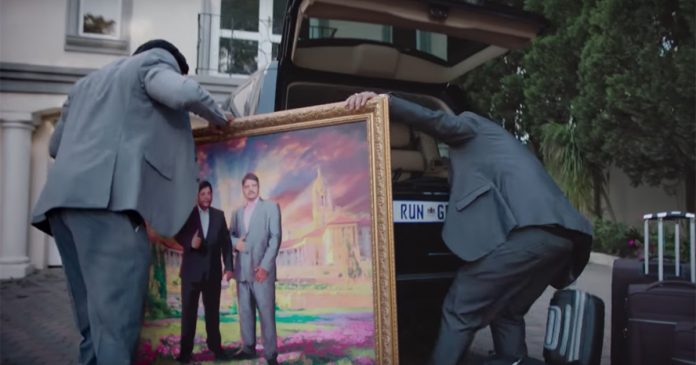 The "We Can Fix Our Sh*t" ad was aired two months ago, in mid-December 2017, and ended with this section:
The chicken have come home to roost. #SouthAfricaInTransition #Nandos pic.twitter.com/llHnoicae8

— Thebe Ikalafeng (@ThebeIkalafeng) February 14, 2018
Jono Hall tweeted: "So it turns out I wasn't just directing a Nando's ad but also playing my part in PREDICTING THE FUTURE LIKE A BEARDLESS VENGEFUL WIZARD."
Other big news in South Africa today is that the NEC has recalled President Jacob Zuma.
Looks like Nando's was right. South Africa can fix its sh*t!
UPDATE: Nando's has just released an updated version of this section of the ad:
Like our delicious flame-grilled PERi-PERi chicken… pic.twitter.com/30HJQI85x4

— NandosSA (@NandosSA) February 14, 2018
Watch Nando's full ad here: We can fix our sh*t
So it turns out I wasn't just directing a Nando's ad but also playing my part in PREDICTING THE FUTURE LIKE A BEARDLESS VENGEFUL WIZARD.#Saxonwold https://t.co/PcV9KvkxHu

— jono hall (@dannyrocketer) February 14, 2018
#Saxonwold #saxonwoldshebeen #GuptaCompound. No wonder #BrianMolefe came here to drink mos. #CountryDuty #Guptaraid pic.twitter.com/70EsxLmBvj

— Amour's Mom💕 (@MonAmourGp) February 14, 2018
Who remembers that scene in Goodfellas? Police helicopter circled four times and then headed off. Show of force? Or just a show? #Saxonwold pic.twitter.com/LwUbjwXYOf

— Mail & Guardian (@mailandguardian) February 14, 2018