As most South African expats know, there's nothing better than flying home… and for Kathrin van Rensburg, who is currently living in Kenya, the flight back to family and friends was made even sweeter by the aeroplane taking a detour around Africa's tallest mountain – Mount Kilimanjaro.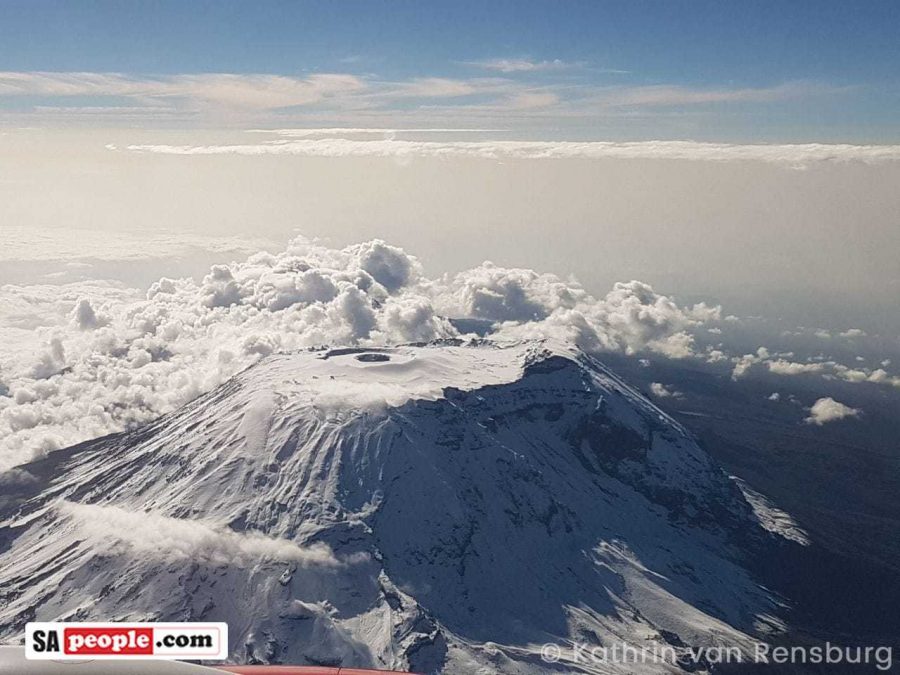 Kathrin told SAPeople she was on Kenya Airways, on the "Dreamliner" to Johannesburg, yesterday when "the pilot flew around to show us this view…. awesome!"
In recent years, just like most of the world, Mount Kilimanjaro has suffered from the effects of global warming… with experts predicting that the snow is melting at a rate that could make the mountains totally ice-free within the next 4 to 15 years… but fortunately for Kathrin, she flew over on a day when the snow-capped peaks were very much in evidence.
Kathrin recently climbed Kilimanjaro together with her husband Theuns (his third time!). "It was amazing, but I still can't believe I climbed it… especially when you look at it from the aeroplane!"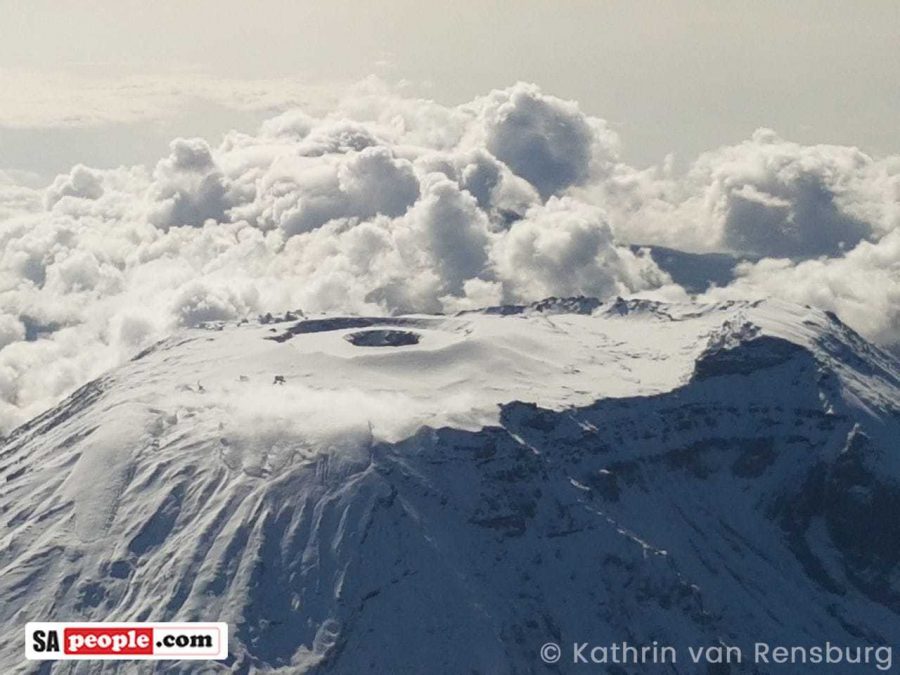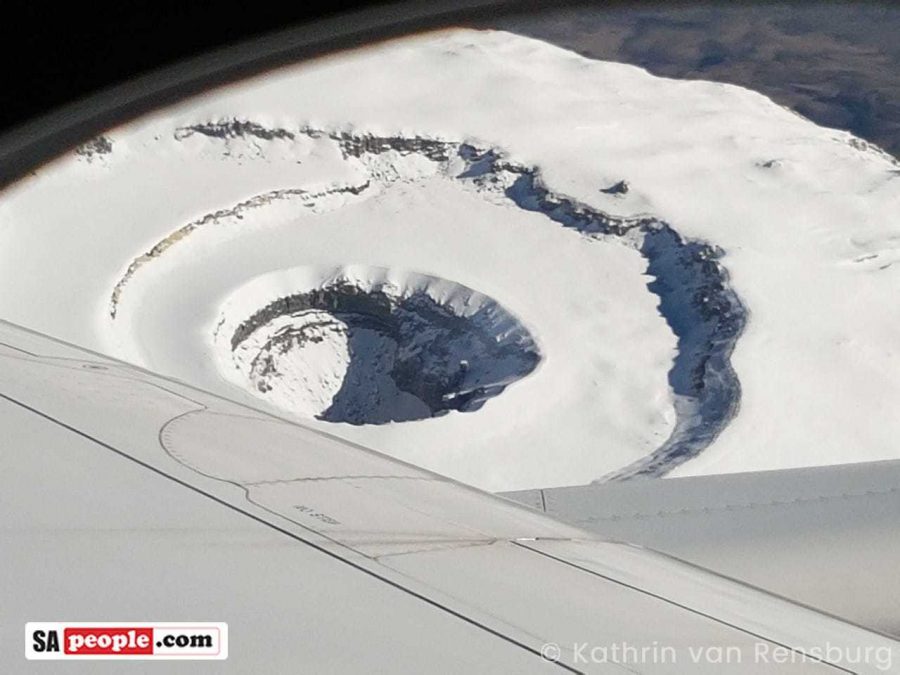 18 Facts about Mount Kilimanjaro that you may or may not have known:
The mountain's located in Tanzania, in East Africa.
It's the tallest mountain in Africa.
It's the tallest freestanding mountain in the world (meaning it's not part of a mountain range).
It rises 5,895 metres (19,341 feet) above sea level.
Mt Kilimanjaro is not 'technically' really a mountain. 'Normal' mountains are formed through tectonic plate shifting… whereas Mt Kilimanjaro developed from "layers of accumulated fallout from a volcanic eruption". Apparently it all happened about a million years ago.
Mount Kilimanjaro has three volcanic cones – Mawenzi, Shira and Kibo, which is the highest. The former two are extinct… but Kibo is dormant and could erupt again! (The last major eruption was 360,000 years ago.)
The first European to reach the summit was a German geographer – Hans Meyer – in 1889, and it was perceived as a symbol of "colonial prowess" during a time when Germany and Britain were competing to colonise East Africa.
Meyer struggled to convince the folk back home that the mountain top was covered in snow… since it was so close to the Equator.
Climbing Kilimanjaro takes you through six (!) different climate zones!
It's believed that Kilimanjaro was named for its snow-capped peaks, with the name coming from the KiChagga word for 'white'.
The ice on the summit was formed 11,000 years ago.
That ice has diminished by 82% since 2012.
Kilimanjaro has three volcanic cones – Mawenzi, Shira and Kibo. Mawenzi and Shira are extinct but Kibo, the highest peak, is dormant and could erupt again.
There's rumoured to be a wooden box at the top of Uhuru Peak (the highest summit on Kibo)… and you'll find a book in it where you can write your thoughts, if ever you make it to the top! (However both Kathrin and her husband never saw the wooden box!)
About 25,000 climbers try to summit Mt Kilimanjaro each year. About one-third fail… usually because of altitude-related problems.
The mountain is great for Tanzania's economy – bringing around $50-million per year in tourism dollars; and creating 10,000 jobs for porters, 500 for cooks and 400 for guides.
Mt Kilimanjaro is one of the '7 Summits' (Seven Summits) of the world. The others are Mt Everest in Asia -8848m, Aconcagua in South America – 6962m, Denali (Mt McKinley) in North America – 6194m, Mt Elbrus in Europe – 5642m, Vinson Massif in Antarctica – 4892m and Carstensz Pyramid in Oceania – 4884m.
South African Bernard Goosen has scaled Mt. Kilimanjaro twice in a wheelchair.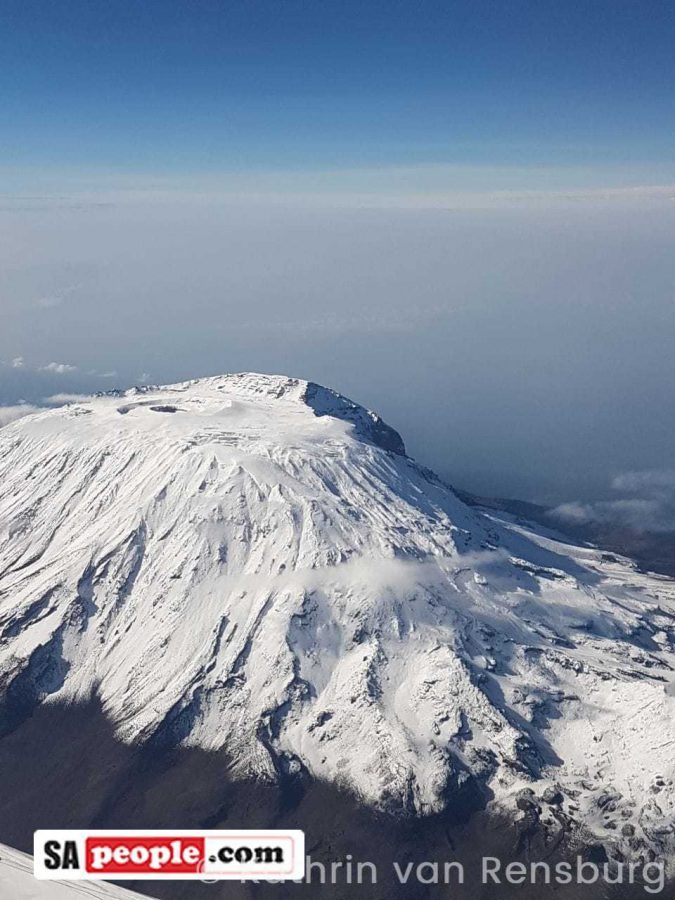 Sources include: PeakPlanet.com, WorldWildlife.org and NASA.org