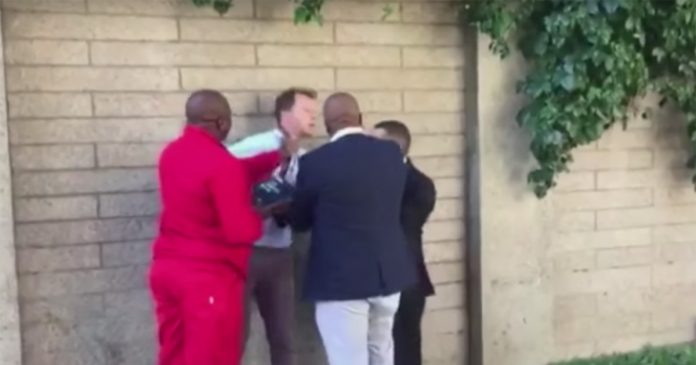 A Netwerk24 journalist, Adrian de Kock, was attacked by Economic Freedom Fighters (EFF) Deputy President Floyd Shivambu at Parliament on Tuesday morning.
The attack was caught on video (watch below) by other journalists waiting for Patricia de Lille's disciplinary hearing.
De Kock explained afterwards that he had approached Shivambu for a comment about the De Lille hearing, expecting Shivambu to welcome the opportunity to discuss problems in the DA.
Instead, he says, Shivambu asked him why he had taken photos of him, and proceeded to try to delete the photos and grabbed De Kock around the neck.
"He went for my camera and then tried to break my camera. And then obviously I said to him 'you can't, you have to stop – I'm going to lay assault charges' – and then he started going for my throat…"
Although at one point De Kock thought he had three men on him, the third man in the video appears to actually have been trying to intervene and help separate the men.
WATCH EFF's Floyd Shivambu attacks Netwerk24 journalist
The Parliamentary Press Gallery Association (PGA) has already released a statement (see below), saying it is appalled by the assault of a journalist in the Parliamentary Precinct, and will be asking Shivambu to apologise, and for disciplinary action to be taken against him and his male companion.
The PGA said De Kock has full rights to lay criminal charges. De Kock confirmed to reporters that he would be following up.
The PGA said any journalist working in the Parliamentary precinct has the "full right to photograph and ask questions of any public representative".
ANC CONDEMNS MANHANDLING OF JOURNALIST ON PARLIAMENT PRECINT
The Office of the ANC Chief Whip says it strongly condemns the violent behaviour of the EFF Chief Whip "and two other unidentified men, who manhandled a journalist on the Parliament precinct this morning".
In a statement issued on Tuesday, the ANC said: "It is very regrettable and completely unacceptable that a member of Parliament who also happens to be a Chief Whip of a party, can be found to be involved in such unbecoming behaviour. As parliamentarians, we must at all times be the custodians of our Constitution and our democracy, especially media freedom and freedom of expression. Any journalist working on the parliamentary precinct must be allowed to do their job without any fear of victimisation or hindrance to their work.
"We call on the Speaker of Parliament to thoroughly investigate this incident and impose the appropriate sanction for such unbecoming behaviour."
UPDATE: Floyd Shivambu has apologised – see tweet below:
EFF Deputy President @FloydShivambu in the scuffle with a Journalist: pic.twitter.com/JIsfutRpjH

— #RegisterToVoteEFF (@EFFSouthAfrica) March 20, 2018
Parliament PGA issues a statement condemning attack on Journalist by EFF MP Floyd Shivambu this morning in strongest term. #FloydShivambu pic.twitter.com/JtwbXX23cL

— Annika Larsen (@AnnikaLarsen1) March 20, 2018
WATCH: @Netwerk24 Multimedia journalist @adrian_DK attacked by @EFFSouthAfrica Deputy President @FloydShivambu while trying to take a picture and asking for comment at Parliament in the presence of @IOL @TheCapeArgus @eNCA @TimesLIVE @SABCNewsOnline @News24 @ewnupdates pic.twitter.com/8a1Us8RnAt

— JasonFelix (@JasonFelix) March 20, 2018