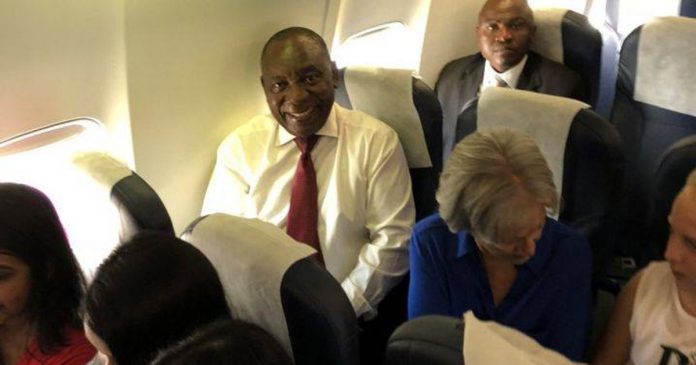 South Africa's President Cyril Ramaphosa was spotted on board a flight this morning… happily smiling in economy class.
Johannesburg resident Mlimandlela Ndamase posted the photo on Twitter on Good Friday.
Ndamase tweeted that if President Ramaphosa could fly SafAir then the next time a client demands business class, you just need to "tell them you're flying them Presidential ????".
President Ramaphosa was on his way to Durban from OR Tambo Airport in Gauteng on board SAfAir FA412.
Well known South African writer Gus Silber captioned the photo "Send Me – Economy Class" and said: "Just a short hop, but nonetheless, a simple gesture that speaks volumes in these turbulent times…"
While many – like Gus – commended the President for his symbolic act, not everybody was impressed. Some said it was a publicity stunt, with award-winning South African poet Athol Williams saying: "The President went for a few walks and many lost their minds. The President has taken an economy flight and many are losing their minds. We are so gullible. Soon we will see the President at a soccer match, eating take-aways, sleeping in a shack for a night, drinking at a shebeen before going back to his palace and gourmet meals. These are not acts to be commended but acts that mock the everyday lives of ordinary people who walk each day or fly economy or eat take-aways because they have no alternatives.
"Let's admire him, not for these acts of public manipulation, but his acts of eradicating the structural barriers that prevent most South Africans from living decent lives. #WeAreNotFooled."
SA President Ramaphosa: Send Me Economy Class!
President Ramaphosa on-board a Fly SafAir flight to Durban this morning… #NewDawnThings @MYANC @Powerfm987 @ewnreporter @SABCNewsOnline pic.twitter.com/4IIH0LaDix

— Mlimandlela Ndamase (@PrinceNdamase) March 30, 2018
Others also posted photos, including the airline itself:
What an honour to have #President @CyrilRamaphosa flying with us this morning! Thank you sir for your kindness and for graciously allowing our staff and customers to take pictures with you. Wishing you and everyone a brilliant #HolidayWeekend! pic.twitter.com/logJ5R9Cuo

— FlySafair (@FlySafair) March 30, 2018
A friend of mine is flying Safair to Durbs, and there's a guest on the plane … pic.twitter.com/25Obe9suYb

— Mike Stopforth (@mikestopforth) March 30, 2018
A couple of years ago, former Finance Minister Pravin Gordhan, set the ball rolling by proving to be a great example to fellow politicians when he flew economy class back from Parliament in February 2016: