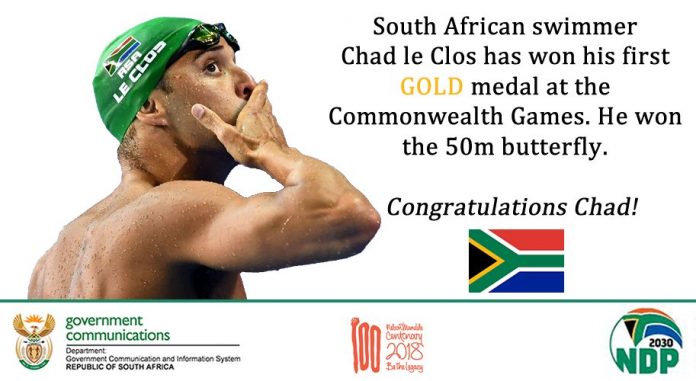 It was always going to be the stuff that wild dreams are made of. But such is the brilliance of Chad le Clos that he allowed us to dream like that, writes GARY LEMKE on the Gold Coast in Australia.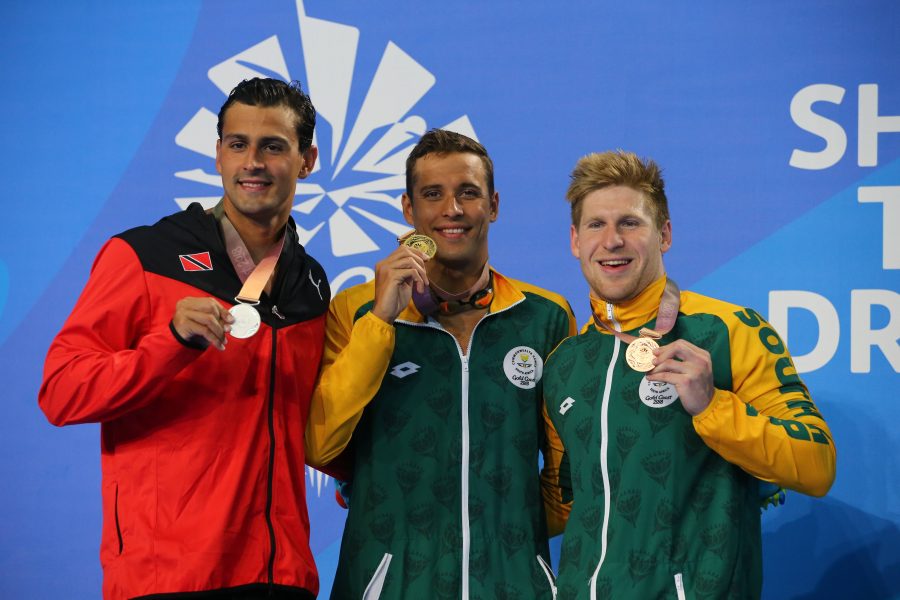 Two gold medals within the space of 20-odd minutes, with a medal ceremony and national anthem thrown in between finals? Impossible if you're a mere mortal, but when it comes to Le Clos, he's capable of the extraterrestrial.
The dream was on – for him and for us. Especially after he raced to the gold medal in the 50m butterfly to take his tally of Commonwealth Games golds to five, and his overall total to 13. Even there he's closing in on the all-time record of Australian shottist Phillip Adams' 18.
But, ultimately, even South Africa's Superman found it a little too much.
'I think another 10 to 15 minutes might have made the difference. I actually didn't realise that it was already time for the 200m free until they started calling me after the medals ceremony for the butterfly, "Chad, you've got to come". Standing on the blocks for the 200m with that much lactate in my legs … I needed more minutes (to recover).
'But, it is what it is, I've still had a good night,' said Le Clos after tiring to finish seventh in the 200m freestyle. He'd reacted well to the buzzer and set the pace in lane six, leading the field through 50m in 24.03 and at halfway he was still in front. To those in the stands in the impressive open-air Optus Aquatics Centre, it seemed 'on'. The 'it' being back-to-back golds. You don't see that every day, or night for that matter.
However, Le Clos knew he was in trouble and as Australia's Kyle Chalmers led a line of swimmers moving up to challenge, the green cap of the South African looked to be going backwards. A split of 28.29 between the 100 and 150m walls was to later confirm the story of the muscle tiredness taking over his body.
'I was confident going into the race. This morning's 200m heats were easy. My tactic in the final was to try to smoke these guys in the first 100m. I was surprised to see the Aussies take first and second. The one is a 400m guy and the other a 100m guy. I thought I could bang these guys in that first 100m. But the short turnaround between finals caught me. The 200m free is the most strenuous race for me in any case, and I'm always throwing up after a race. That's where I'm going in five minutes,' he said. He was only half joking.
And such is the belief and expectation around Le Clos, that discussion was around his 200m freestyle attempt, rather than the fact he'd just delivered South Africa's second gold medal of these Games, and the first in the pool, in the 50m butterfly. It was also the first major long course 50m butterfly gold medal of his career.
'Last night [in the semis] I was holding back in the 50 fly. I came to the pool tonight confident of gold. I knew I was the favourite and am obviously happy to have won. My start wasn't great but I felt in control,' he said of his 23.37sec effort, a late surge getting him to the wall ahead of surprise silver medallist Dylan Carter of Trinidad and Tobago.
Taking the bronze was the man next to Le Clos in lane three, fellow South African Ryan Coetzee. He was credited with a 23.73 for his first major medal of his career and was understandably delighted with his swim. Normally someone who doesn't like losing, finishing third here was like a victory for the 22-year-old. He and Le Clos have been training together here in Australia and it's made a big difference to Coetzee.
'We've been having a lot of fun. There's been banter between the two of us and before the race we were bouncing around. We've been doing a lot of work, which has been fun, off the blocks and having Chad next to me made me relax. I'm very, very happy.'
Le Clos returned to the pool two hours later and produced the second fastest split of the 4x100m men's final, a 47.97 that was only bettered by Australia's Jack Cartwright, who timed 47.71. Taking off after Calvin Justus had opened with a 49.98, Le Clos carved his way through the water and left South Africa in third place at halfway. Brad Tandy and Coetzee tried hard to bring home the medal, but ultimately couldn't.
It was a night of swimming when Team SA reminded the world what a force they are in the pool.
Cameron van der Burgh booked his place in the final of the 100m breaststroke, to be swum on Saturday night (local time). The 29-year-old has been a superb ambassador for the sport and his country over the years and is seeking his third straight Commonwealth Games medal in his favourite event. He qualified third fastest for the final, in 59.74 and is determined to go out on a high in his final appearance at these Games.
Overwhelming favourite to take gold is England's Adam Peaty – who let Van der Burgh set the early fractions in their semi-final, before moving past to touch in 58.59 – while another Englishman, James Wilby, who won the other semi-final in 59.69, finished second on the overall list.
Further back, in 10th, was Bishops matriculant Michael Houlie and the Cape Town teenager, who only took up the sport seriously at the age of 15, was all smiles after his PB 1:01.47. He'll be in the stands on Saturday night but will have learned plenty from swimming in the same semi-final as Peaty and Van der Burgh.
South Africa's 2012 London Olympics 100m breaststroke gold medallist and multiple world record holder Van der Burgh doesn't believe the final will necessarily become the 1-2 English celebration as many are predicting. 'I sure that the final will be faster and even my time will be a little quicker but we won't see anywhere near a world record. This is a pool that suits those who "race" and not go against the clock. I've set myself up for a good swim in the final and I'm looking forward to racing,' he said.
Elsewhere on a busy night for Team South Africa, Tatjana Schoemaker said she was 'very happy,' following an African record 30.82 in the 50m breaststroke final which left her in fourth position, one away from the bronze. At this juncture, she looks a decent prospect for a 200m breaststroke medal.
Ayrton Sweeney was another to reach a final, the 400m IM, where he too finished fourth, while 19-year-old Erin Gallagher qualified for the 50m freestyle final with a semi-final swim of 25.03.
South African swimmer Chad le Clos has won his first GOLD medal at the Commonwealth Games. He won the 50m butterfly. Congratulations Chad! ?#GC2018 ?? pic.twitter.com/lvUFDDEvV1

— South African Government (@GovernmentZA) April 6, 2018