All kinds of colours, cultures and creatives surface at Sikis Coffee Café in Khayelitsha, Cape Town, South Africa… writes Sebastian Daniels.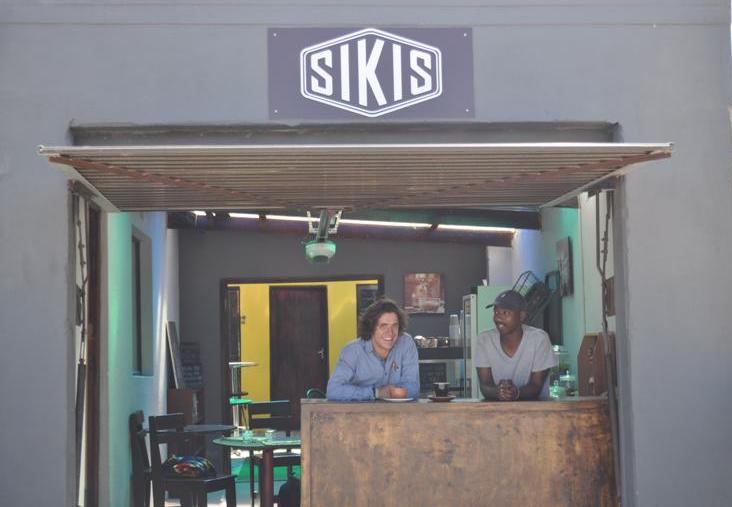 Models stroll in to meet with their photographers, comedians converse over a cuppa about their next performance while white faces pop up occasionally like white spots on a domino.
This review is incredibly close to my heart. It's about a man who dropped out in Grade 9, went to the mountain, returned to work at VIDA (a South African Coffee Franchise) for years in Cape Town and London… and then started his own coffee shop almost two years ago in an attempt to bring coffee culture to Khayelitsha.
Siki – founder and owner of Sikis Coffee Café – opened the coffee shop in the garage of his mother's house. He invested everything he had into it… and expected a great reception from the start.
But unfortunately this never happened. After opening, Siki spent many lonely days just watching people walk by and wave.
However, as time went on, Khayelitsha began to develop… and so too did its eco-system. The creative scene began to grow and Siki's soon became the obvious place to have meetings.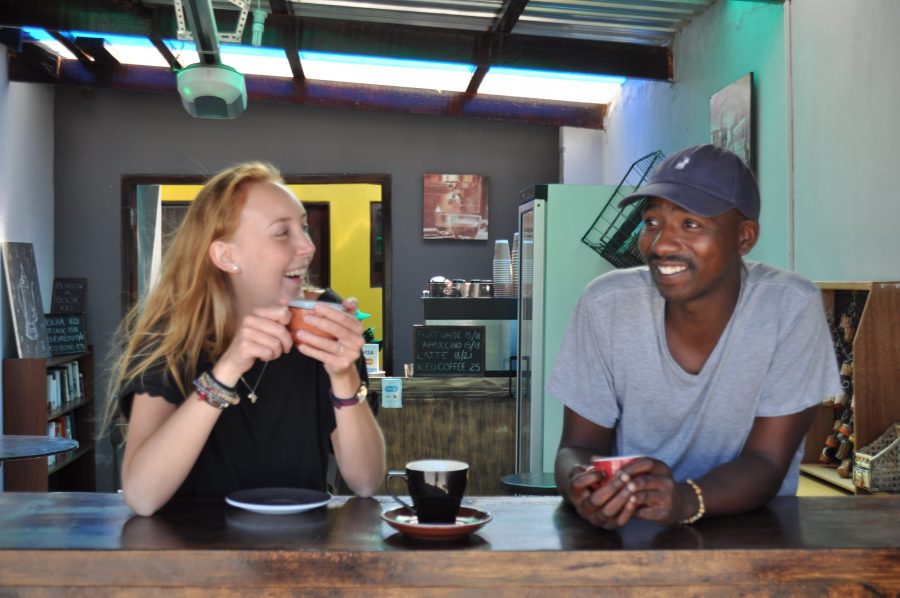 Siki – with his vast knowledge of coffee – began explaining and educating people on Coffee, introducing them to the Mocha before the move to more bitter coffees. His local audience began to grow, with most of the locals chatting about social consciousness, art and how they can expand their businesses. Tourists, both local and foreign, also started rolling in to get a taste of the township.
Siki's coffees come beautifully presented in artistic cups ranging in shapes, colours and sizes.
The coffee is beautifully presented with a Latte' leaf lying above the blissful blackness below. The micro-foam feels as if it could sit on top for hours, so much so that I felt it could be for insulation. The taste is tender on the tongue, loud on the lips and maintains composure for a while, ensuring the caffeine kicks in.
The coffee is bitter and real smooth – both at the same time, rolling off the tongue and down towards the belly as if the coffee were Jonah being swallowed by a whale.
Siki has his own special blend which is made up of 70% Speciality beans and 30% Arabica beans, all African and all local in an attempt to grow the economy of Africa. A Flat White will set you back R17.
There's a special coffee on the menu though, it's called a Power Special and if it's hot and you're in the mood to meet your mojo, give it a go and see if it'll make you go "wow" or "no".
The food is simple yet delicious. Toasted sandwiches are on offer for R20 a pop and surprisingly, there are some vegetarian options too. If you're not down for a full sandwich, there are muffins for R8 or cookies for R2. That's about it hey, but in the future they are looking to upgrade and extend the menu further.
The aesthetics are a mix of browns, books, benches and blokes interacting as if they all had a prior connection. It's a backyard special with the toilet having no seat or light but it's a work under progress and Siki recognizes this.
He's just trying to create something, saying that nothing great was created in one go, it's all about the process. Sound in the background mixes between the smooth jazz, blues and kwaito that is played in order to ease the heart and further inspire the creativity of Khayelitsha.
Siki is still small and growing but his determination and vision are what has got him to where he is today. He's for sure one of the best baristas in Cape Town and is always down to have an awe-inspiring chat.
If you're on your way from Cape Town to Stellenbosch (or anywhere else for that matter), make sure to stop at Sikis Coffee Café along the way – located at 9 Ntaba Street, Village 1 South in Khayelitsha…  the ultimate coffee shop for social thought and integration.
Photographer Sithembele Jnr says "Siki's Kofee Kaffe is a university I tell you…. The amount of books there and inspiration is mind blowing… And obviously, the coffees do the thing…"
Another Siki fan, Lindile Ndzama took a selfie with a friend and said: "I want all my Mornings to Be Like this. A good jog ekasi, good Coffee and a good life."
Hani du Toit wrote on Facebook: "Siki's welcoming smile is the best reception. A great place to bring visitors to Cape Town to experience our culture and entrepreneurship. Love the coffee (okay, my Brit visitor had tea!), the vibe and the co-creative space the coffee shop has become 🙂 Highly recommended!"
See the original article and more photos here.
***
Sebastian Daniels is a writer and social entrepreneur with a passion for integrating people of all races, cultures and genders. He lives and works between the worlds of Khayelitsha and Cape Town. His website Coffee Shop Blues is a review based website aimed at making Africa the centre of coffee culture, bringing it back to where it was born.
MORE
Find out more about Sikis Kofee Kafe on Facebook:
https://www.facebook.com/pages/Sikis-Kofee-Kafe/298328167185365
Check out "A Taste of the Township here:
http://coffeeshopblues.co.za/baristacupcoffeeshopreview/
Siki's Kofee Kaffe is a university I tell you…. The amount of books there and inspiration is mind blowing…And obvious, the coffee's do the things….

Posted by Sithembele Jnr on Wednesday, April 4, 2018