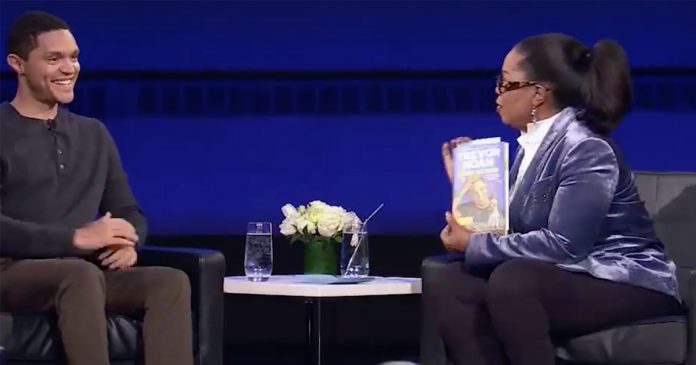 Billionaire talk show host Oprah Winfrey sat down with South African comedian Trevor Noah for a live interview on 'SuperSoul Sunday' yesterday.
The book show queen gave Trevor's memoir 'Born a Crime – Stories from a South African Childhood' the ultimate accolade, starting the interview off by saying: "I LOVE this book."
Trevor revealed that it was only while writing the bestseller that he discovered how much his family had protected him from the harsh reality of apartheid. For instance, his grandmother pointed out that all those times he thought it was so cool that his family played a game with him and told him to hide under his bed, it was really because the police were at the door… and Trevor was the evidence of his mother's 'crime'. (In those days it was illegal for his black mother and white father to have had a relationship.)
He and Oprah shared the common memory of growing up so poor you have an 'outhouse', and the meaning of 'black tax'.
Trevor also recalled the first time former Daily Show host Jon Stewart called him – while he was walking through Harrods – and he turned him down; and his feelings for America ("If I didn't love it, I wouldn't be here"… but he is concerned about how divided along partisan lines the country is feeling, with both sides not seeing the other as human beings anymore.)
WATCH Oprah Winfrey interview South African comedian Trevor Noah
South African funny-man Trevor Noah sits down with Oprah Winfrey to share what making it big in America has taught him.

Posted by SuperSoul on Sunday, April 15, 2018