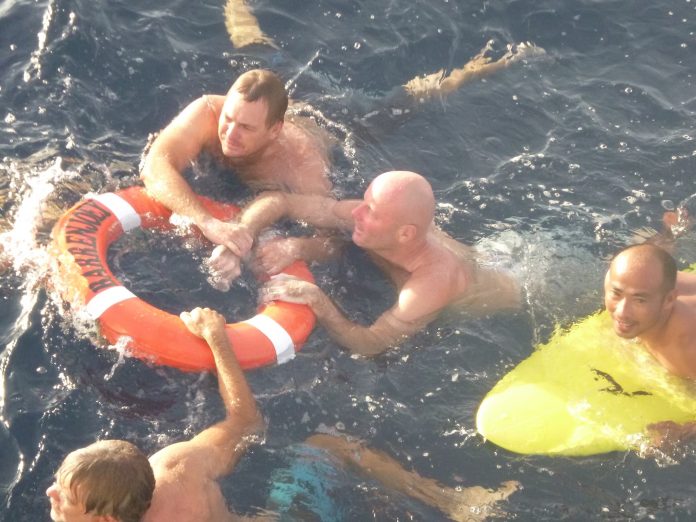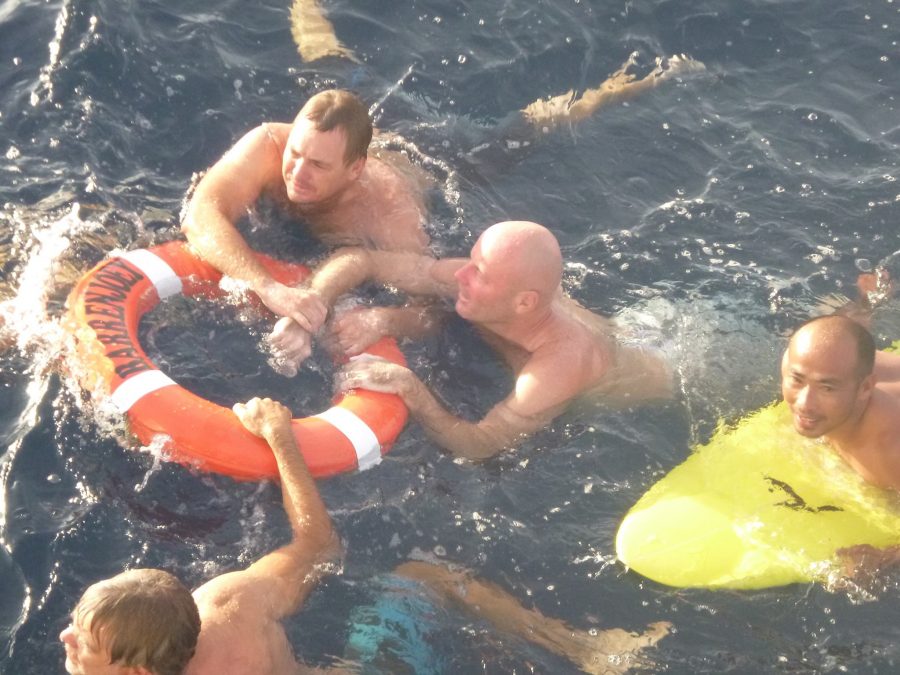 Brett Archibald, the South African who refused to give up hope when he fell overboard into shark-infested waters in Indonesia, today celebrated five years since his incredible rescue after surviving at sea for over 28 hours on his own.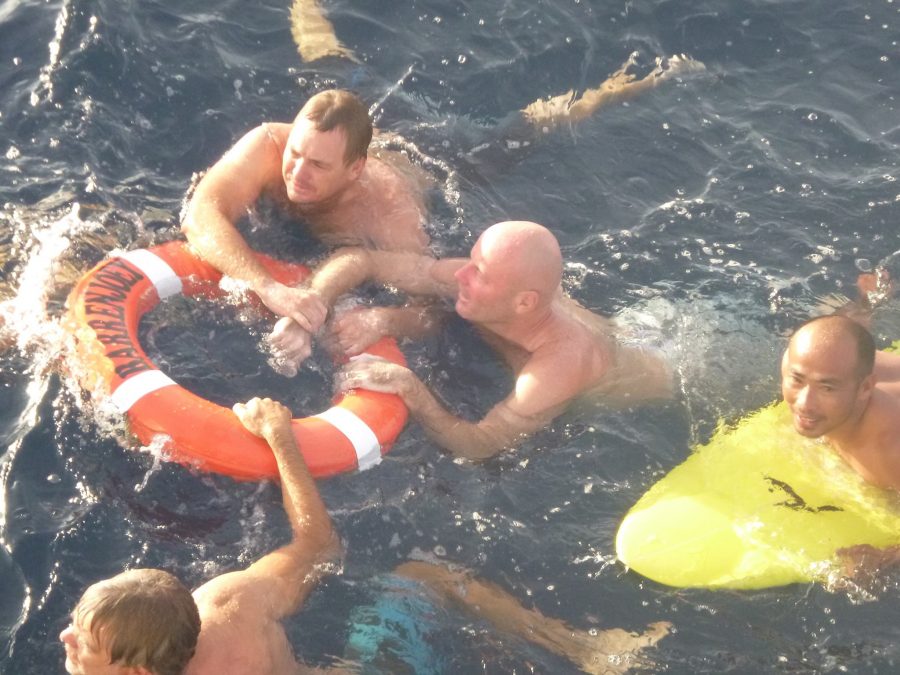 The picture above is the moment that Brett was pulled to safety by Australians aboard the Barrenjoey boat. Brett's ordeal had begun 28 hours earlier when he had fallen overboard after being ill and throwing up.
His friend, fellow South African Jean-Marc Tostee who was on a surf trip with Brett, said at the time that it was "lucky for us their boat picked him up before we got to him, as they had doctors and medical supplies on board which we didn't have… and I reckon that was the final key to Brett still being alive today, because they knew how to resuscitate him better than we could have on our boat."
Brett described the scene in the picture: "They had dived in and swum to me as I was sinking under, having exhausted myself trying to get their attention! I had nothing left in me… and had it not been for those lads, our boys, and all of you special folk out there I would not be here today! Dave Carbon got his arms around me and said "We've got you mate, we've got you". There are no words to describe how grateful I was at that moment. Eternally grateful. I would not be here today!"
Five years later and Brett is still as grateful to be alive.
Today he wrote:
Wow Wow Wow!!!! 5 years have flown by since our horrific ordeal in the Mentawaii Straight and my subsequent incredible rescue. Yesterday I spent 3 hours surfing and reflecting on that time and it affirmed my love for the ocean and the fact that it is my Happy Place – my Church and the place where I am closest to God. Today, I officially turn 5 – Benjamin Button move over!

As I sit here and write this post looking out over the Ocean, it is a cloudy, wet and miserable day in Cape Town (please God we get some rain), yet it is so fitting for today! So many memories come flooding back!

I will never forget that day, on some days it might just be a fleeting thought or moment, other days I can brood deeply as I remember things in excruciating detail. However, not a day goes by where I do not thank God for ensuring that I survived and for all those many people that played a role in my still being here today!
He then thanked each person individually – from the Australians who gave up their last day of surfing to search for him, to his own friends and crew, and those that set up the 'Searching for Brett Archibald Facebook Page' and the "thousands and thousands of people that prayed and posted messages for me during that time – I will be forever grateful!"
He went on to say:
All those prayers were the wind beneath my wings that kept me going! There is no shadow of doubt in my mind that God was with me every step (stroke) of the way during that horrific swim, and every day I feel blessed that I get to see my family, who for so many hours I did not think I would ever see again.

FAITH, FAMLY and FRIENDS is my motto and I can openly share with you all – that when those facets of my life are in sync, the rest is all peripherals!!! I am BLESSED and forever GRATEFUL to you all!!!

NEVER EVER GIVE UP – AND ALWAYS BELEVE IN THE IMPOSSIBLE. God Bless!!!!
If you'd like to read the amazing, uplifting story, you can find Brett's book – ALONE – on Amazon, Kindle and Google.
#HeyBrett #GratefulYouAreAlive
RAW footage of the moment Brett Archibald was rescued
WATCH: ALONE – the Brett Archibald Story