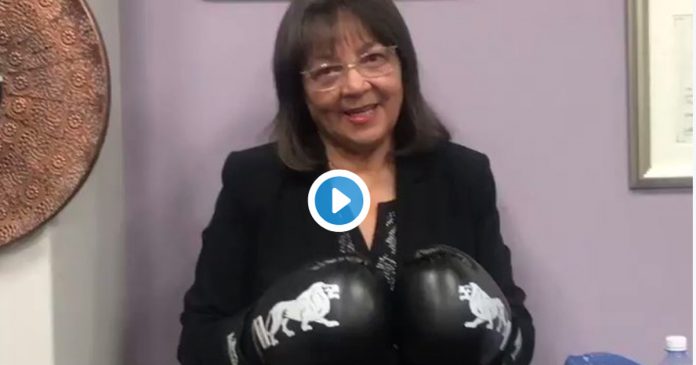 Cape Town Mayor Patricia de Lille has come out boxing after tonight's DA FedEx (Federal Executive) meeting in which an overwhelming number of councillors voted for the Motion of No Confidence (MONC) in her leadership.
Ninety-seven councillors voted for the motion, 41 voted against, 15 abstained or were absent and there was one spoilt ballot.
The DA said tonight: "It is clear that an overwhelming 70% of the councillors in the caucus have expressed that they have lost confidence in Ms De Lille's leadership."
After the meeting De Lille posted a feisty video on Twitter about the fight not being over. Watch below. Wearing boxing gloves, De Lille was carefully positioned beneath a Cape Times headline stating "Don't let racists speak for you".
WATCH Patricia de Lille comes out boxing from MONC
Next round! Let's go! pic.twitter.com/z6McUFUlos

— Patricia de Lille (@PatriciaDeLille) April 25, 2018
Meanwhile Natasha Mazzone, DA Deputy Chairpoerson of the Federal Council, said DA FedEX will consider the way forward after the De Lille MONC.
Mazzone cited several reasons for the City of Cape Town Caucus requesting permission to proceed with a MONC, including De Lille's recent comment that she "is no longer cooperating with the DA", which – says Mazzone – means she cannot effectively govern on a DA mandate.
Mazzone said the FedEx will now provide De Lille with the opportunity to make submissions as to why she should not step down.
"The FedEx will then deliberate on the submission and come to a decision on how to proceed which could include the fact that Ms de Lille will be asked to resign, in line with the Accountability clause," she said, adding that "despite numerous claims to the contrary, the Accountability Clause which was formally adopted the DA's Federal Congress, is not about de Lille.
"In fact, the clause has already enabled the DA to hold an executive member in the Matzikama municipality to account. This case was the first time the clause was used. We have also received a request from Stellenbosch municipality invoking the same clause."
Mazzone said: "Claims that this clause will be used to unfairly remove executive members are untruths peddled to detract the public eye from serious leadership flaws and faults."
In her statement, De Lille said that councillors "voted with their stomachs and represented their jackets". She said over the past eight months she has received thousands of messages of support, proving the MONC is about individuals' feelings and not the public will.
My statement in response to the outcome of tonight's motion of no confidence in me: pic.twitter.com/cal7icCxUc

— Patricia de Lille (@PatriciaDeLille) April 25, 2018