This month we interview Jenni Baxter, Co-founder and Editor at SAPeople.com, a community site which connects, celebrates and matches South Africans in South Africa and around the world. She gives us a rare glimpse into the daily runnings of a site that aims to entertain, inform, connect and inspire readers with the latest local news and happenings around the country – and always being one step ahead.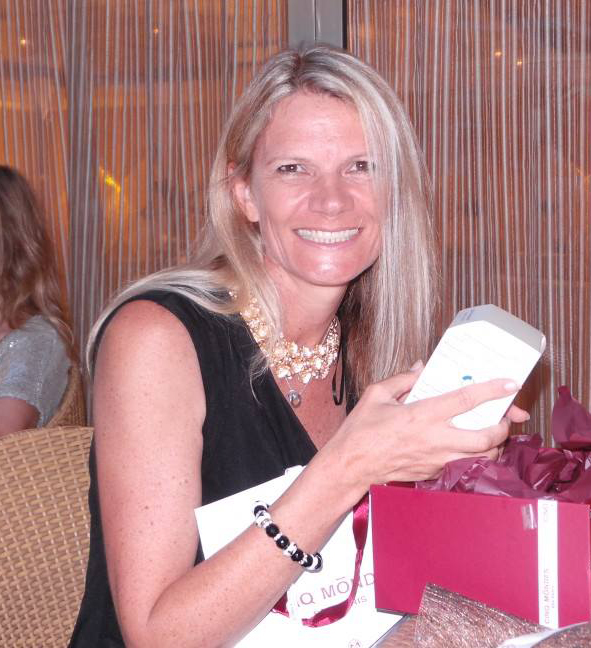 I cannot start my day without…
A croissant. I live in the South of France so it's compulsory! I also check for the latest messages and news on SAPeople's social media feed before I leave home (and maybe post a story or two), make breakfast for my daughters, and then head to the office, where I start the day in a sunny courtyard with a couple of friends, drinking a cup of… Rooibos!
I love my job because…
It keeps me connected to my roots – to South Africa and South Africans. I get to chat to awesome people all day long – from struggling small business owners to famous sports stars. And our site gets to sometimes help in a small way to make a difference for important things like rhino sanctuaries. The bonus is that I can do my job anywhere in the world, from the beach in Cyprus, to a safari in Tanzania.
Can you tell us a bit more about how SAPeople got started?
I've lived in London, Australia and France and wherever I've gone, I've always loved hearing the stories about South Africans doing well anywhere in the world. So I figured other expats would feel the same way. I'm a journalist by training, and originally left SA for London to further my career (where I interviewed Charlize Theron amongst others). In Australia I co-owned a web design studio which built and managed SAReunited, the biggest reuniting website in SA. I also co-wrote a book about expats called 'The Expat Confessions'. So the journalism, web design, expat interest and SAReunited links all came together – and SAPeople was created!
How is SA People different from other SA community sites?
SAPeople is for ALL South Africans, rather than just one tiny niche. Expats tell us it makes them feel connected to SA, while those in SA say it makes them feel proud of the gorgeous country they call home, and all get to enjoy reading about South Africans accomplishing great things at home and abroad. Together with our sister site (SAReunited), we provide a platform for South Africans to connect with each other anywhere in the world – whether it's to find old friends or to ask questions about their new country, travelling in SA, anything – and if our community can't answer the question on social media, we'll personally phone the DHA or whoever to get the answer for our members.
You have over 220,000 followers on Facebook. What advice do you have for website owners who want to build their brand through social media?
Stay connected. I think it's really important to engage with your followers, even just liking their comments so they know you've read them. (I do actually read as many comments as I can so I know how the followers are feeling, what posts they're needing or wanting etc.)
Post regularly. For SAPeople we try to post at least once every four hours. But on a good day, we'll post at least once an hour.
If you have the budget, it can really help for a month or so to spend a little on a daily campaign to increase your reach and hopefully convert new followers.
Vary your offering. Have a mix of video, articles and photos, and have a mix of light to serious posts.
How do you manage content?
Not as well as we'd like to! We're a tiny team and we have thousands of articles in draft form waiting to be published. We have amazing contributors from SA and around the world who submit content. Plus we generate our own – often based on tips or suggestions SAPeople followers have sent us. Our daily schedule includes SAPeople's wonderful administrator and chef, Faz Olla-Logday, creating all the drafts; and then I edit and publish. We're flexible though, and I get a real buzz when unexpected stuff comes in that's perfect to post right that minute! It often happens – a wonderful feeling of being in sync and working together with people who are sharing content simply because they're passionate about SA.
How does SA People work with Affiliate Marketing?
We have a fantastic relationship with AdMarula who provide hassle-free campaigns for us to run on SAPeople – all we have to do is embed the code provided. We have two other affiliates – a white label dating site and a global financial service.
We then try to publish as much content as possible to generate visits to the site and hopefully trigger conversions for our affiliates. The fantastic thing with our affiliates is that we are left to focus on our site and providing content for our community, while the affiliates provide the revenue that makes the site possible.
What analytical tools do you use to measure the performance of your online channels?
We are signed up to Hootsuite, but tend to depend almost entirely on Facebook's own Insights and on Google Analytics. I keep GA open permanently in a tab on my screen so at all times I know which stories are trending and from which channel. At this point, most of our traffic comes from Facebook, but one of our objectives this year is to grow our other social media platforms.
The best thing about being South African is…
…the insane, wonderful, wild memories of growing up in a country where my brother and I would pick guavas and eat sugar cane on the way home from school (Salt Rock, KwaZulu-Natal), swim in an ocean so wild (compared to the beautiful, but mainly flat Mediterranean) and sit around a fire at night in the Zululand bush tickling the thighs of these baby rhino who were attracted by the flames. I've met amazing people in exquisite countries around the world, but nobody shares these kind of memories.
The other great thing about being South African is that your accent gives you away plus most foreigners LOVE meeting a South African, and telling you about that one time they went to the Kruger or to Cape Town, or just met another South African who was the friendliest person they'd ever met!
This article first appeared on www.admarula.com and is republished here with kind permission.