Following President Cyril Ramaphosa's announcement last night that the African National Congress (ANC) will support a proposed amendment to the Constitution – allowing for land expropriation without compensation – the South African Rand has fallen.
The Rand was trading at 13.3525 on Wednesday at 07h12 local time, 0.58% weaker than at close on Tuesday. Government bonds also weakened on Wednesday morning, according to Nasraq.
Ramaphosa was speaking after the ANC's two-day NEC Lekgotla in Tshwana where several issues were discussed.
Addressing the nation on television, Ramaphosa clarified two burning issues in South Africa – the land and the economy.
WATCH President Ramaphosa on Land Expropriation without Compensation
He said: "We thought that it was important for the President of the ANC to clearly and unambiguously articulate the position of the organisation on two matters that are critical to the economic development of our country and the well-being of its people."
Ramaphosa thanked everyone from the unemployed to farmers and urban dwellers for expressing their views on the land expropriation question. Hearings have been held around the country on whether there is a need to amend Section 25 of the Constitution.
The President said "it has become patently clear that our people want the constitution to be more explicit about expropriation of land without compensation".
Ramaphosa said the ANC Lekgotla "reaffirmed its position that a comprehensive land reform programme that enables equitable access to land will unlock economic growth by bringing more land in South Africa to full use, and enable the productive participation of millions more South Africans in the economy.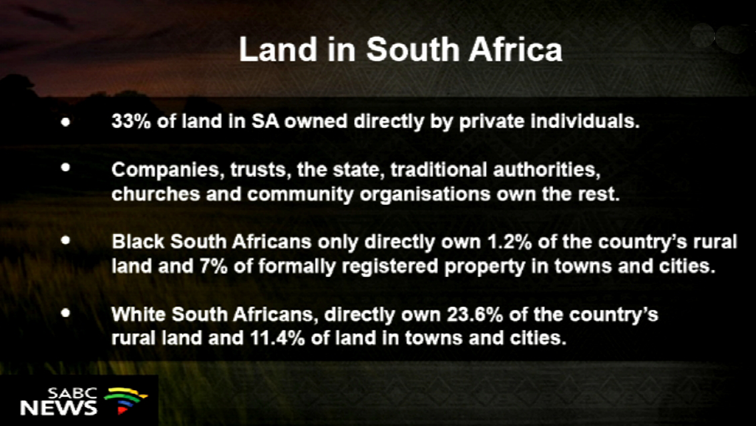 "Accordingly the ANC will through the parliamentary process finalise a proposed amendment to the constitution that outlines more clearly the conditions under which expropriation of land without compensation can be effected."
The South African President stressed again that these reforms will not compromise food security or economic growth (as occurred in Zimbabwe).
He said: "The intention of this proposed amendment is to promote, redress, advance economic development, increase agricultural productivity and food security.
"It will also transform the unjust spatial realities in urban areas."
Ramaphosa revealed the ruling party has directed government to urgently initiatie farmer support programmes in depressed areas before the first rains this year.
He also said the South African unemployment statistics released yesterday were "quite worrying" and the ANC has directed government to urgently develop a stimulus package to ignite a growth of jobs, particularly in rural communities and townships.