South Africa has made a major dent in crime, with incidents of the infamous Cash-in-Transit (CIT) heists, dropping by more than half from April to June 2018, according to SA Police Minister Bheki Cele. The results are thanks to a special operation in Gauteng to end crime and restore safety.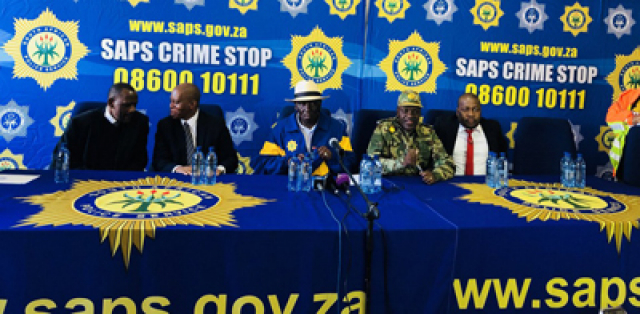 Cele told a press briefing that thanks to concerted efforts by the SA Police Service (SAPS) to combat aggravated robberies, CIT heists have dropped by 63%… with Gauteng, the hardest hit, dropping from 20 CIT robberies to seven.
The drastic drop is largely due to 42 suspects being arrested, including alleged kingpin Wellington 'Bibi' Ceneda.
Ceneda – who hails from Tembisa on the East Rand – was allegedly behind 20 heists in Gauteng, the North West, Limpopo and Mpumalanga. His crimes total over R46-million!
Last week he was arrested in the Free State, and is expected to make his first court appearance on 20 August. His alleged 'henchmen' have also been arrested.
The arrests form part of Operation Buya Mthetho – a nationwide stabilisation operation, responding to the "clarion call" by government for an urgent plan to address crime and restore public safety and confidence.
The operation has also seen the recovery of millions of rands, 48 firearms, 54 vehicles, 47 explosive devices and over 150 rounds of ammunition used in the heists.
A determined Cele said: "We are serious about turning the tide. We will not rest until we win the war on crime. We are breaking the backs of the criminals in the CIT space."
Other crime categories – including the sale of illicit cigarettes, abuse and hijacking – have also been targeted, with great improvements in Joburg.
Cele said that in Tembisa alone 84 suspects have been arrested in the past 36 hours, including four who were on South Africa's Top 15 Most Wanted list.
Cele said over 22,000 vehicles were hijacked in Gauteng alone in the previous financial year. The minister said most are used in CIT crimes, while others are taken across the border to neighbouring countries.
Police visibility is to be increased in Gauteng where 50% of the crime in SA is committed.