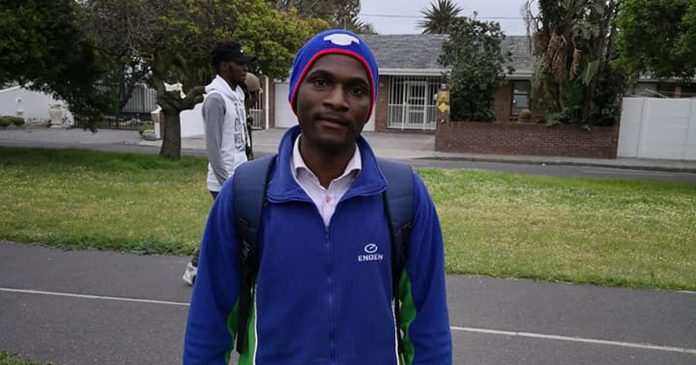 A brave Engen petrol station cashier is South Africa's latest hero. Lawrence Kananji, who originates from Malawi and now lives in the Western Cape, risked his own life to rescue a woman who had been attacked in Cape Town.
Lawrence's brave actions came to the attention of South Africans when Glenn Trevor Skip Bradfield posted a couple of photos on Sunday 19 August saying: "This is my hero for today. Lawrence came to the assistance of the lady after a gang of thugs in a blue ND vehicle threw her to the ground and robbed her in Ascot rd.
"Ladies its not safe to walk alone. Thank you Lawrence for your help and concern for this elderly lady. She was only a few steps away from her flats in broad daylight."
Thousands of people have liked and shared the post, and applauded Lawrence for springing into action and being a guardian angel for a woman who was a stranger to him. "You are an example to others", "you restore my faith in humankind" and "what a super hero" were just some of the praise that was showered on Lawrence.
Glenn has confirmed that Lawrence has seen all the hundreds of messages of gratitude, thanks to his boss at Engen at the Rietvlei Convenience Centre, Tableview Bayside, who has shown him.
Last night Lawrence said: "Blue car parked along the road i saw from far, as I was still walking one guy jumped out of a car and attacked a lady. I saw it happen. Then I walked fast to them…" but they quickly threw her down and were beating her to get stuff from her, he said.
Lawrence says they then jumped in their car and drove off, pointing something at him which he couldn't make out.
"I was not scared of that… wanted to save the lady from them. Glory be to the Lord. Thank you all."
One social media user said: "Lawrence my man…. A man after my own heart…. May you be protected always."
Another said: "Please give Lawrence a S.A national identity, he deserves it + a reward…"
To those thanking him, Lawrence said: "It's a pleasure bro. thank you."
He also thanked Glenn – "I stopped him to take the lady home."
As one social media user said to SA's latest hero: "You've got guts, your bravery and you're a solidly decent human being."