Heavy hail and rain in Gauteng, South Africa, over the past 24 hours has had some social media users doubting the authenticity of photos of the storm. One Facebook user called for someone to be blocked and reported after the person posted photos from Laudium, Pretoria, that seemed too unreal to be true!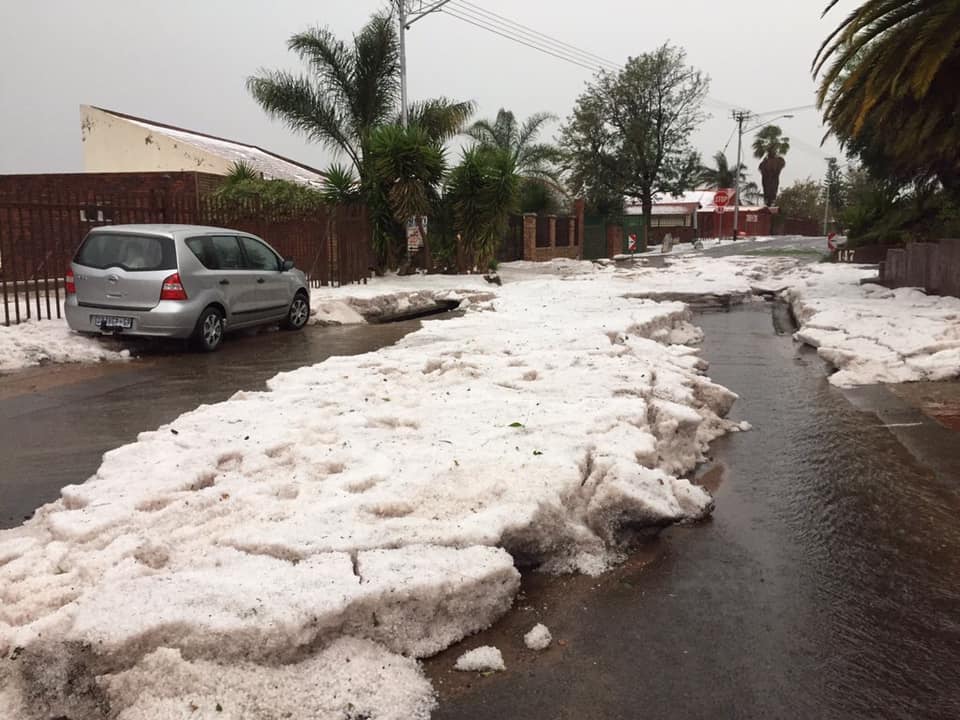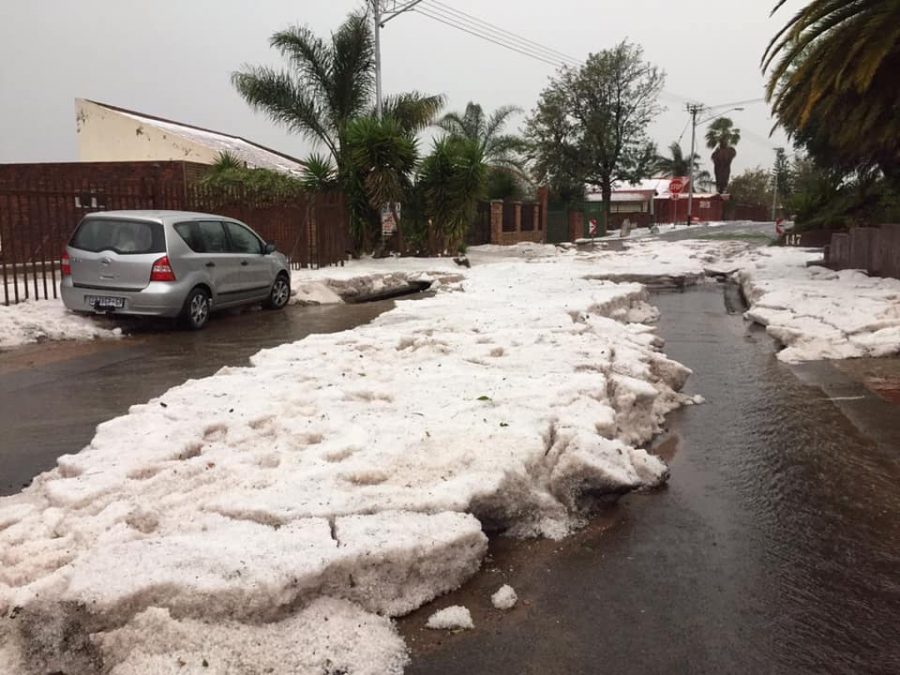 But the hail (also experienced in Vereeniging) and heavy rain – and the damage they caused – were very real. Some routes were closed as cars fast became trapped or swept away by flooded roads.
The South African Weather Service (SAWS) had on Friday predicted stormy weather for parts of South Africa.
Motorists were urged to drive safely (if at all) during the heavy downpours… but still, unfortunately at least 20 accidents were reported on Johannesburg roads during the downfalls.
Avoid Rodger Dayson road Pretoria west road flooded cars trapped in the water @_ArriveAlive @TrafficSA @tWeatherSA pic.twitter.com/kfHu4euTHI

— First Help (@firstgroup_FRT) October 13, 2018
@SAWeatherServic Hectic stuff in Ga-Rankuwa last night. Still thunderstorms this morning with threats of jeavy downpour. pic.twitter.com/i0nOgp8dkN

— Mathews_mpete (@MathewsMpete) October 14, 2018
🌊 Flooding in parts of Pretoria West with multiple reports of a number of cars being swept away pic.twitter.com/8B3dWSv8Te

— Gauteng Weather (@tWeatherSA) October 13, 2018
Vroegoggend op 13 Oktober'18 geneem. Tans reën dit nog lekker by ons. #Florauna #Pretoria_Noord. 📷: R Glenewinkel @tWeatherSA @TshwaneWeather @RekordNewspaper @Beeld_Nuus @SAWeatherServic @venter_annette @debeer_anika @kobusbotha @JoelGuy_ pic.twitter.com/Px0mfKRFFt

— ReenvalSA (@ReenvalSA) October 14, 2018
pretoria kolonade

Posted by William Miles on Saturday, October 13, 2018
Hail like golf balls in Hartbeespoort…
The hailstorm cloud as it was approaching Harties…
Other parts of South Africa also experienced heavy rainfall. De Aar in the Northern Cape – where water is desperately needed – received 70mm, according to Facebook users.
Mooinooi, Rustenberg, North West this morning:
So het ons wakker geword op Mooinooi naby Rusterburg in #Noordwes vanoggend met #hael en #reënPrentjie mooi 📸 Nelie de Vries @SAWeatherServic @sawx_sa_weather @maroelamedia @Netwerk24 @debeer_anika @venter_annette @huisgenoot @zarsg pic.twitter.com/noSpeYrx2C

— ReenvalSA (@ReenvalSA) October 14, 2018
DON'T MISS TONIGHT'S EPISODE OF CARTE BLANCHE if you're in South Africa, featuring a segment on Global Warming. (The show is available to South Africans abroad from Tuesday on Showmax – you can try a 14-day free trial here.)