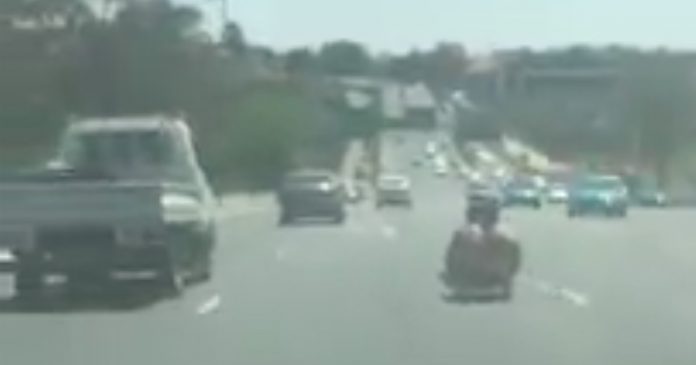 South Africans have had mixed reactions to a video posted on Sunday showing two guys weaving through the traffic on Grayston Drive in Sandton, Gauteng… on a trolley.
"Nothing serious, just some guys on their way to Sandton via Grayston Drive on a trolley!" wrote Intelligence Bureau SA, when they uploaded the video.
The two trolley-riders are waste-pickers, part of a growing trend in South Africa to rifle through bins on waste-collection days to find recyclable goods… which they sell to companies which buy the salvaged goods and on-sell them to larger corporations.
In a recent Fin24 article, waste-pickers were heralded as "the true ecowarriors of the throw-away age". The waste-pickers – whose work is hard and dangerous, and benefits society – are desperate for government assistance to cut out the middle-men, who they say don't pay enough, and have designated areas where they could store and sort through their goods and then sell directly to large companies, said Fin24.
The reactions from fellow South Africans watching the video below ranged from those who welcomed the opportunity to laugh at the lighter side of life, to those who were outraged by the blatant disregard for law and safety… to those who reminisced about their own youth. See comments below the video.
WATCH waste-pickers hurtle though traffic in Sandton, South Africa on a trolley
Nothing serious just some guys on there way to sandton via grayston drive on a trolley!

Posted by Intelligence Bureau SA on Sunday, October 14, 2018
Here's a selection of comments posted on Intelligence Bureau SA's Post. Click here to read more:
Sonja P: They are not doing it for fun! They are on their way to collect scrap. When it weighs over 400kg they have to push it uphill for kilometres. So let them enjoy the fast downhill ???
Mavimbela FV: Totally illegal, action needs to be taken ASAP… To all motorists, what is funny there? If it happens you run over these guys and kill them both, will this still be a joke to you? Nonsense South Africa, Nonsense…
Charmaine R: #ProudlySouthAfrican ?✌they only earn a living. Drive better than some of us ??? have to have a good laugh at ourselves now and then. Too much hurt happening nowadays. Still love you South Africa ???
Xolani M: Soon that will be the normal mode of transport to Sandton considering the soaring fuel prices & traffic
Susan F: This is not funny. I'm sick of all the illegal activity on the road. Driving is so stressful when you are trying to watch vendors dancing around moving traffic and now these stupid guys and then the taxis… the road is for licensed roadworthy vehicles driven by law-abiding motorists ?Will they laugh when they are knocked down and killed?
Sisa P: Been there, got a beating and shouting of my life that made me to retire with immediate effect.
Stanley TN: These guys work so hard hope someday someone will invent something safe to transport their Gold….if u have spare reflectors do hand over to them l see them along Comaro road around 4am it's too dark
Paulette S: I recognize these 2 bright sparks… you should see them in rush hour Sandton Traffic.. They're so skillful?and brave
Quattro MD: Waste pickers' life, they play a significant role in the waste sector yet not formalized… Brovo guys.. Keep riding that trolley at 80km /h.
Sbu PM: We grew up doing this in rural areas but now we r doing it on freeways doing some business, go African Brothers go, at least you r not part of VBS nton nton, go Jitas