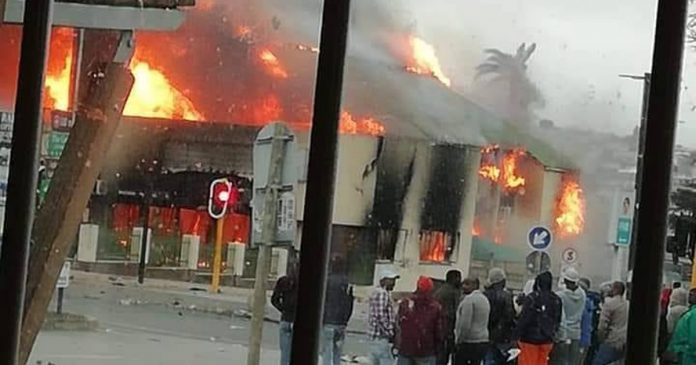 The South African Police Service (SAPS) says it has arrested 18 people in Stutterheim in the Eastern Cape, on charges of public violence and malicious damage to property. This follows the shocking protests which began yesterday.
SAPS said the arrests followed protest action in Mlungisi Township this morning "during which police vehicles were damaged and a shop was burnt down at Mlungisi Commercial park."
SAPS is maintaining a presence in the area, it said.
A heavy police contingent had been deployed to Stutterheim yesterday to monitor the violent protest, after angry protesters set fire to at least three municipal buildings and a clinic.
One black social media user who lives in the Eastern Cape said: "Black people will speak about Apartheid till they pyega (die) but won't dare to talk about the fact that black people are tearing down their own communities today!!! I'm sorry but I refuse to stand with people that think all this is ok."
The protestors, who numbered around 100, were reportedly protesting against unemployment.
According to News24 a man was hospitalised yesterday after allegedly being shot by a rubber bullet by police who were trying to disperse the crowd. The case will be investigated.
#sapsEC Stutterheim: 18 Arrested for public violence & malicious damage to property following #ProtestAction in Mlungisi Township this am during which police vehicles were damaged and a shop was burnt down at Mlungisi Commercial park. #SAPS maintaining presence in the area ME pic.twitter.com/eYCQP3cm2c

— SA Police Service (@SAPoliceService) October 17, 2018
Look what's happening in Stutterheim….absolute anarchy! This town is already compromised, now there is sweet f-all left of municipality and clinic! Why the Clinic??? Such a poor region! pic.twitter.com/uaZufjQVwH

— Meryl Kriel (@mheidtman) October 16, 2018
Protesting in Stutterheim, Eastern Cape. @MYANC please explain. @Abramjee @eNCA @MbalulaFikile @crimeairnetwork pic.twitter.com/DNqlopYCns

— Kenrique patrick (@kautharken) October 16, 2018
Stutterheim in the Eastern Cape in flames. Our thoughts and prayers go out to all the residents of this beautiful little town. This is a sad day and so pointless.

Posted by Faye Heuer on Tuesday, October 16, 2018
Municipal buildings set alight in Stutterheim including the historical town hall 🤬 pic.twitter.com/zXXXoDaZtR

— lydia van der merwe (@DerLydia) October 16, 2018