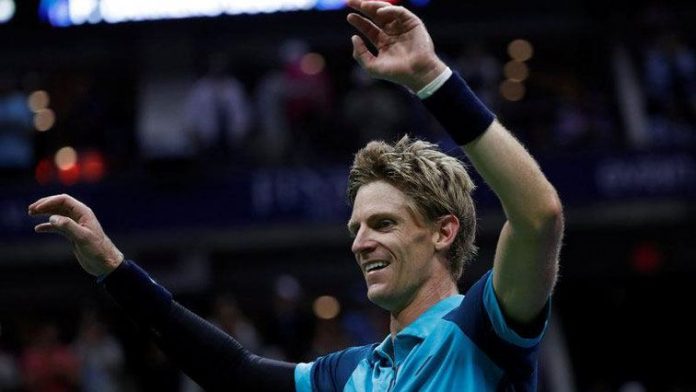 Kevin Anderson has clinched his biggest tournament win of his entire career, by winning the 2018 Vienna Open, an ATP 500 event!
The victory means that the South African expat, who is based in the USA, has qualified for the ATP Finals in November… making him the first singles player from South Africa in 23 years to secure this spot! (The last time was Wayne Ferreira in the 1995 finale in Germany.)
Anderson beat Japan's Kei Nishikori 6-3, 7-6  on Sunday in Austria to secure the spot.
"I want to congratulate Kei on a great week," Anderson said on court after receiving the trophy. "You've been a world-class player year-in and year-out so best of luck for the rest of the year."
Anderson, who's now based in Florida, was runner-up to Novak Djokovic at Wimbledon this year but the Vienna win represents the biggest title of his career.
His amazing achievement earned him a congratulatory tweet from tennis legend Billie Jean King (which he naturally retweeted!).

Kevin said on Twitter: "I can't quite put into words how it feels to qualify for my first @ATPWorldTour Finals. The hard work this year isn't over yet but wow this moment feels great! Looking forward to making some more great memories in London soon 😄"
He said it had been such a week and thanked everyone at Erste Bank Open. "This means so much," he tweeted.
The ATP World Tour announced that Anderson has officially qualified for the 2018 Nitto ATP Finals, which this year will be held at the O2 in London from 11-18 November.
It will be Anderson's debut at the event, and at 32 – he will be the fourth-oldest first-time qualifier at the season finale.
Anderson will join Rafael Nadal, Novak Djokovic, Juan Martin del Potro, Roger Federer and Alexander Zverev at the elite eight-man 2018 event. The two final places will be decided at next week's Rolex Paris Masters, said the ATP Tour.
Anderson said: "It's been a huge goal of mine all year to make London. I've said that right from the beginning, so to finally put my name there, it feels fantastic."
Anderson now finishes the year in the Top 10 of the ATP Rankings for the first time!
This has been the best season of Anderson's career!
#GoKevin #MakingSouthAfricansSOProud #WatchHimAtTheO2IfYouLiveInLondon!
WATCH Kevin Anderson Qualifies for Nitto ATP Finals 2018
What a week in Vienna 🙏🏆 Thank you to everyone at the @ErsteBankOpen. This means so much! pic.twitter.com/ggd1wiLzlJ

— Kevin Anderson (@KAndersonATP) October 28, 2018
The 🏆s are great, but the 😘 are what counts, @KAndersonATP #ErsteBankOpen pic.twitter.com/jUTVyTeJea

— Tennis TV (@TennisTV) October 28, 2018
Nothing makes press more fun than this little one 😍 @ErsteBankOpen pic.twitter.com/OAiXiO1whV

— Kevin Anderson (@KAndersonATP) October 27, 2018