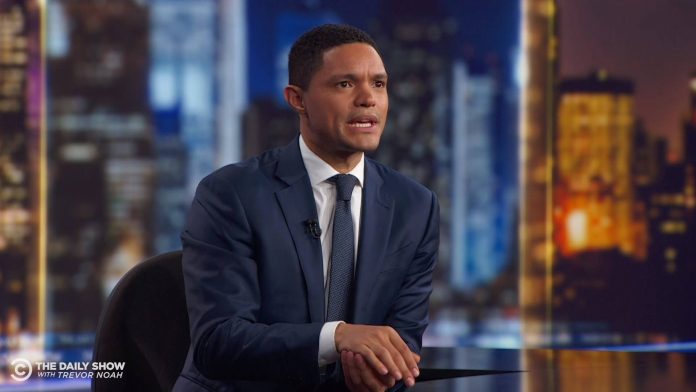 After reading South African comedian Trevor Noah's best-selling memoir 'Born a Crime',  many people were left with more questions than answers… like "what happened to Teddy?"
Teddy was Trevor's best friend in primary school. During childhood they would shoplift together… until they were bust one day. They ran like the wind but Teddy was caught.
Security footage had also captured the two on film… but the security camera was black and white in those days, and Trevor showed up as white (his father is a white man from Switzerland, while his mother is a black Xhosa lady from Soweto)… and so since Teddy never dobbed him in, and the police were after a totally white guy – Trevor got off scott free… but Teddy was expelled and Trevor never saw him again during his school days.
Last week a member of the audience asked Trevor "what happened to Teddy?" during the South African expat's 'Between the Scenes' segment.
Watch below as Trevor reveals all, finally answering the question so many were wondering about.
One Trevor Noah fan said this evening, after Trevor posted the video on Facebook: "OMG. Thank you for sharing! After reading your book I Googled, "what happened to teddy" and never found anything. Mystery solved!!!"
WATCH What happened to Teddy? – Trevor Noah, Between the Scenes
Ever wonder what happened to Teddy from my book, "Born a Crime"?

Posted by Trevor Noah on Monday, November 26, 2018
If your device can't view the above, please watch below:
Btw – if you haven't watched the Behind the Scenes episode when actress Anna Kendrick joined Trevor for his usually private chat with the audience, it's worth a watch:
WATCH Anna Kendrick's Between the Scenes Takeover with Trevor Noah