Banyana Banyana may have lost in the AWCON final on Saturday night in Ghana… but for South Africans they are winners nonetheless, and congratulatory messages have still been pouring in for the silver-medal winners who have booked themselves a spot in the Women's World Cup in France next year.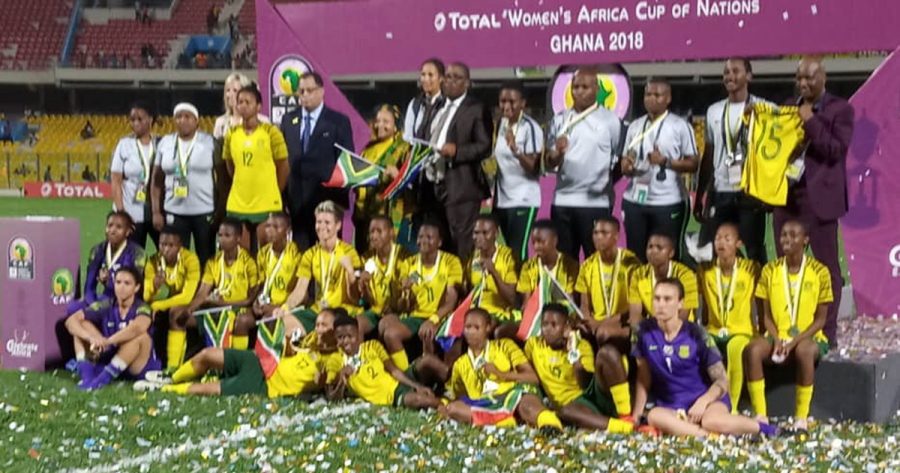 SAFA Acting CEO Russell Paul thanked the team and all involved for their "excellent performance" in the final.
"As a team, you went out there with pride, you wore the badge with honour, you carried your hearts on your sleeves and above all – played with determination right to the end.
"There is nothing you need to be sad about. SAFA is indeed proud of all of you, and the Nation will certainly carry you on their shoulders, as you brought victory to our country with your commitment, energy, discipline and respect for fair play. Walk tall our warriors, as you prepare to take on the world!"
On Tuesday night South Africa's women's national football team made history by qualifying for the 2019 FIFA Women's World Cup – to be hosted in France – for the FIRST time ever.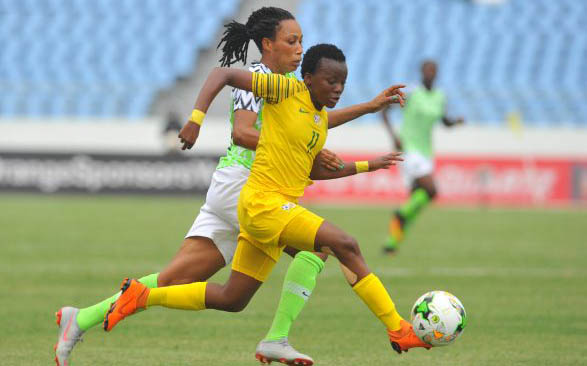 Hopes were high that Banyana Banyana could win the Final tonight, but despite playing a brilliant match, that saw SA and Nigeria deadlocked 0-0 after 120 minutes of gruelling football… the Nigerians just beat the South Africans in a 4-3 penalty shoot out.
SAFA said:
It was a bitter pill to swallow for the Desiree Ellis side who were the better side throughout the normal playing time. In fact, Banyana Banyana played some scintillating football throughout this AWCON tournament in Ghana and will feel hard done by the final result, but such is football.
Dr Dlamini Zuma tweeted:
So close … @Banyana_Banyana … well done … we will lift that cup soon … now to 🇫🇷
Sponsors Sasol said:
Team @Banyana_Banyana, we are proud of you. Today you went on that field and gave it your ALL🙌. We may have not won #AWCON2018 but you have awakened and given our nation hope. We now look forward to the future which is the 2019 @FIFAWWC!
Banyana Banyana are expected to receive a hero's welcome when they return home on Sunday at 17h30.
Yet another title in the bag for @NGSuper_Falcons. Their 9th title overall:
1998 🥇🏆
2000🥇🏆
2002🥇🏆
2004🥇🏆
2006🥇🏆
2010🥇🏆
2014🥇🏆
2016🥇🏆
2018🥇🏆#TotalAWCON18 pic.twitter.com/1G1j5LkP8Z

— Total Women's Africa Cup of Nations (@CAF_AWCON) December 1, 2018
I am still very proud of this team @Banyana_Banyana…
The only lose in the tournament with great performance
Ticket to the @FIFAWWC ✔
Silver medal ✔#WomenInFootball 🇿🇦⚽👑

— Simphiwe (@Simphiwe_Dludlu) December 1, 2018